Graeme McDowell column: Ryder Cup will cap life-changing year
Last updated on .From the section Golf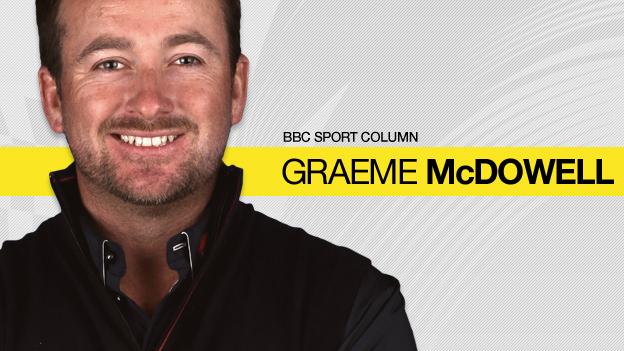 It might have been the week when my Ryder Cup spot was finally confirmed but, to be honest, much of my attention was elsewhere and for the very best of reasons.
Since becoming a father for the first time last Monday, my mind has been 99% on the new mum, baby and nappies. We have called our daughter Vale Esme and emotionally it's still all kind of sinking in.
There's a switch inside me that's flicked and I know things have changed forever.
There was, though, that 1% which led me to flicking on the European Tour app every now and again to see how Stephen Gallacher was getting on in the Italian Open.
I wished Stevie well last week. You certainly would not have begrudged him a place in the team if he'd got the top-two finish he needed to go past me in the standings. He certainly made a brilliant effort to grab the last automatic qualifying place and only came up a fraction short.
Final-day drama in Turin
Gallacher
needed to finish in the top two at the Italian Open to supplant
McDowell
in the final automatic qualification spot but, despite a final round of 65, he ended up third, a shot behind runner-up David Howell. The Scot is now in contention for one of three wildcard picks alongside the likes of
Ian Poulter, Lee Westwood and Luke Donald.
Given the way he's played throughout this year, and because of the type of player that he is, he would have thoroughly deserved it, especially with him being a Scot and the Ryder Cup being at Gleneagles.
To me Stephen is somebody who would bring a lot to a Ryder Cup team. He's a big hitter, he's upbeat and a positive personality. As far as rookies go, he wouldn't be a problem.
If I was captain Paul McGinley, I'd be thinking long and hard about putting him on the team. I think he would bring a lot to the dynamic of the side.
Paul has three picks, but as we have been joking all year that the team will be made up of nine automatics, two picks and, of course, Ian Poulter, for his past Ryder Cup heroics.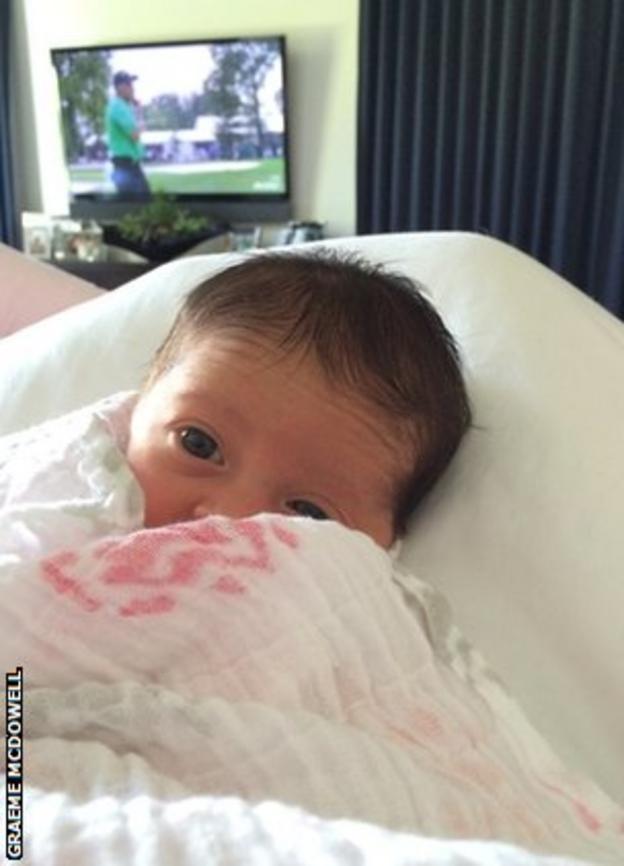 Seriously, though, when it comes to the selections on Tuesday it's a case of whether Paul wants to go with experience. It is a big ask to pick someone to play his first Ryder Cup, so it will be very interesting.
I feel like I did my qualifying job reasonably well. From the US Open through until the WGC at Firestone, I was extremely happy with the performances I put in.
I showed consistency and form, putting numbers on the board and showing Paul that I'm ready and up for it. I felt I reaped the rewards for the way I have paced myself this season.
The only disappointing performances came in the final stretch of the qualifying period. At the PGA at Valhalla, I think the wet weather made that golf course out of my reach. In New Jersey last week, I could have finished the weekend better but mentally I wasn't quite there.
They were perfectly reasonable circumstances to be distracted, though, because I wanted to be home with Kristin knowing our baby would soon be with us.
There was a big part of me wanting to get into the team through the automatic places, probably because there is that unsaid pressure on a player who has been picked.
I hope at some point I will get a pick when I need one, but you don't want to start using those up quite yet, do you?
The automatic qualifiers

Rank

US

Europe

1

Bubba Watson

Rory McIlroy (NI)

2

Rickie Fowler

Henrik Stenson (Swe)

3

Jim Furyk

Victor Dubuisson (Fra)

4

Jimmy Walker

Jamie Donaldson (Wal)

5

Phil Mickelson

Sergio Garcia (Spa)

6

Matt Kuchar

Thomas Bjorn (Den)

7

Jordan Spieth

Justin Rose (Eng)

8

Patrick Reed

Martin Kaymer (Ger)

9

Zach Johnson

Graeme McDowell (NI)

European captain Paul McGinley will name three wildcards on Tuesday at 12:30 BST, with American counterpart Tom Watson doing the same at around midnight BST.
Paul's been a great captain throughout the summer. He's been talking to a lot of the guys looking for feedback on how to structure the week, what guys prefer, what works well, what works badly, talking about potential partnerships.
He's been a very, very open book with the players. He's made a point of speaking with us while not trying to single out guys, so trying to keep a large pool of players in the loop about potentially what could happen.
His message all summer to all of us has been to stick to your schedule and try and keep your head down and play your game, let the rest of it take care of itself.
From my point of view, I just can't wait for Gleneagles. It's going to be a very, very special week. I've just had one of those, of course, but in golfing terms it doesn't get much better than playing for your continent and trying to defend that precious trophy.