Ryder Cup 2014: Graeme McDowell wants McIlroy pairing
Last updated on .From the section Golf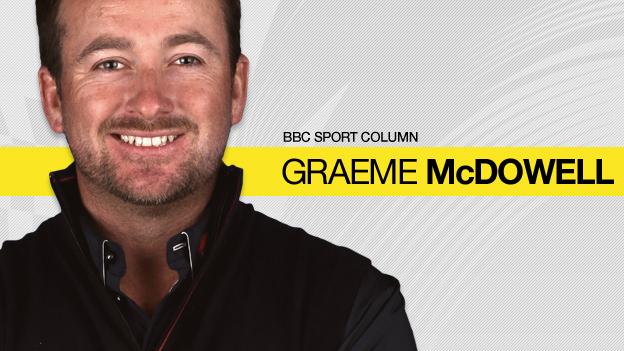 2014 Ryder Cup, Gleneagles
Dates:
26-28 September.
Coverage:
Live commentary on BBC Radio 5 live, highlights on BBC Two and live text commentaries on the BBC Sport website each day via desktop, mobile, tablet and app.
The big week is upon us and I could not be more excited about playing in my fourth Ryder Cup.
I will also be delighted if I resume my partnership with Rory McIlroy at Gleneagles and just cannot wait for the unique feeling all 12 of us will have when we meet up in the team room on Monday evening.
Myself and the other 10 guys would all love to be paired with the world's number one player. There would be a queue out of the door of players wanting to partner Rory and, absolutely, I would be among them.
Who wouldn't want to team up with the guy who has played the best golf all summer?
Yes, it has been a rough time over the last couple of years on the business side of things for both me and Rory because he has been involved in a lawsuit with my management company.
And it certainly has put a stress on our relationship, but we have put those things behind us this year. If anything, our friendship has been strengthened by what we have experienced.
We have talked about it and we would certainly love to renew our partnership again.
There is always a special bond between us Europeans and I have been experiencing it already in my preparations for Gleneagles. It was a tough decision not to play at the Welsh Open, but with our baby so young I knew where I should be and that was at home.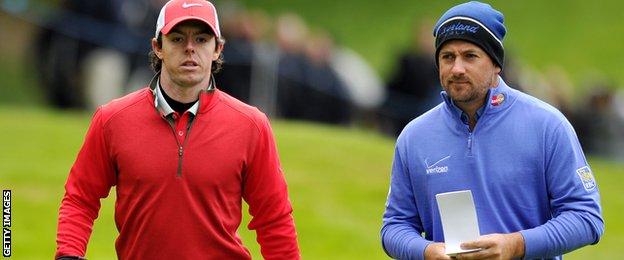 I also knew I would have company back in Lake Nona with my team-mates Ian Poulter and Henrik Stenson. We created a Ryder Cup practice area at the back of the range, getting out our PGA Centenary Course yardage books and recreating the shots we will need.
As expected, Poulter is already running through brick walls with his enthusiasm and that kind of attitude is infectious. None of us feel like we have been out of the loop even although we have been thousands of miles from Scotland.
Captain Paul McGinley's big instruction was to arrive at Gleneagles on Monday night free from jet-lag, refreshed and ready to go. That is why I flew over from Florida on Friday before working on my game at Queenwood in Surrey over the weekend.
That initial meeting on Monday will be the first time we all get together and it will be very, very special.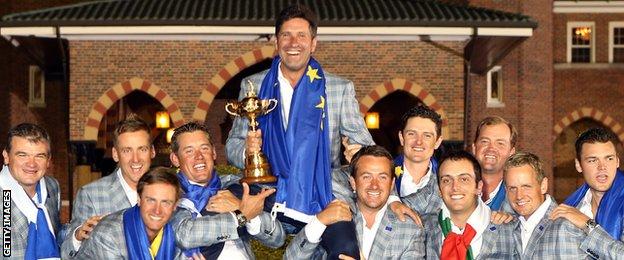 When we check into the hotel in the afternoon, there will be a plethora of goodies in our rooms. It is a bit like Christmas when you go in there and see what is waiting for you.
We will have our suits and clothes laid out per event and per session. There will be the gala dinner suit, the opening ceremony suit and our clothing for the golf.
As someone who likes his fashion, I am always impatient to know what we will be wearing when we go into battle.
I reserve an hour just to try on all the stuff. There will be a couple of tailors on site who will be very busy in the days leading up to the Gala Dinner as we get our suits adjusted.
More importantly, you want to make sure your golf shirts and sweaters are fitting well. They will make sure we are feeling comfortable and looking sharp come Friday morning.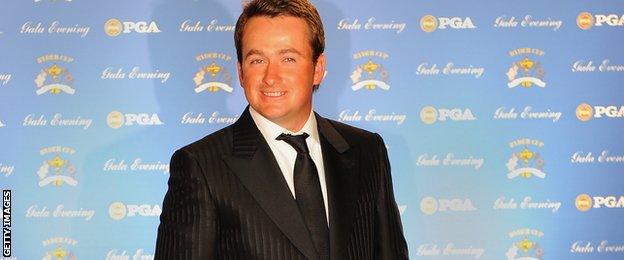 There are always lots of goodies, belts and memorabilia for us. I am not a big hoarder of stuff, but I always make sure I keep nicks and nacks from the Ryder Cup.
Aside from my replica US Open trophy, my most cherished possessions are probably the golf bags from my Ryder Cups and the 2001 Walker Cup.
When you see a golf bag emblazoned with the European flag and your name on it, there is a realisation that you have achieved something very special in golf.
But it is stressful too.
Europe's Ryder Cup team
Qualified automatically via European points list:
Rory McIlroy (NI), Henrik Stenson (Swe), Victor Dubuisson (Fra), Jamie Donaldson (Wal)
Qualified automatically via World points list:
Sergio Garcia (Spa), Justin Rose (Eng), Martin Kaymer (Ger), Thomas Bjorn (Den), Graeme McDowell (NI)
Wildcard picks:
Stephen Gallacher (Sco), Ian Poulter (Eng), Lee Westwood (Eng)
You feel more pressure in a practice round at a Ryder Cup than in any other form of the game, the Majors included. Not only are you scouting the course and working on your game, you are also trying to impress the captain and his assistants.
We all want to play the full five games and prove ourselves and give the vibe that we are ready and playing great. You feel like you are playing for your place as soon as you arrive.
We will start our practice rounds on Tuesday, which is our most loose warm-up. We will be told to go out and just familiarise ourselves with the course.
Then comes Wednesday and Thursday, when the practice rounds are more competitive. This is where the partnerships will start to develop and this is really important in terms of the alternate shot foursomes.
One of the key things is the golf ball. That is one question the captain will be asking. "Is there a make of golf ball you have a problem playing?"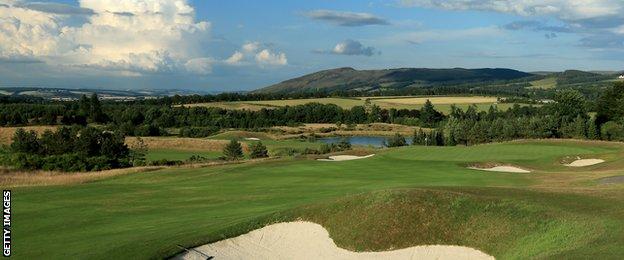 So we will be driving the balls of potential partners and making sure we are comfortable with how they come off drivers and irons and around the greens.
Chemistry between players is important as well. You have got the spectrum of, say, Poulter at the most intense and emotional and certain players will enjoy that.
Others might not need it though; the slightly more chilled-out guys such as Martin Kaymer and Stenson, who sit at the other end of the spectrum.
The great thing, though, is that we have a team full of successful potential pairings and 12 players who could partner anyone else in the team.
I am certainly ready to play with whoever captain McGinley chooses and, of course, that list includes the man I have partnered in the last two Ryder Cups.
And he just so happens to be the best player in the world right now.