Rory McIlroy's charitable foundation backs Irish Open
Last updated on .From the section Golf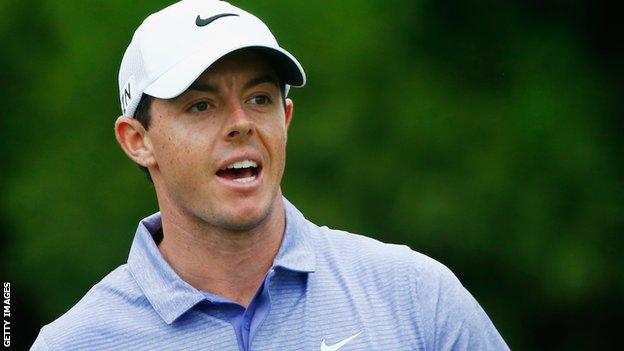 Rory McIlroy has announced that his charitable foundation will be the official hosts of the 2015 Irish Open to be staged at Royal County Down.
It will be the first time in 75 years that the tournament will be played at the Newcastle links course.
McIlroy made his final appearance as an amateur there in the 2007 Walker Cup.
Finland's Mikko Ilonen won this year's Irish Open at Fota Island and the 2015 championship at Newcastle will be staged from 28-31 May.
McIlroy said: "Since making my debut in 2005, the Irish Open has always been a special tournament to me."
One of the major beneficiaries of the Rory Foundation, the Cancer Fund for Children, is just a few miles from the Royal County Down course.
McIlroy added: "It's a coincidence, but a nice one, allowing the Cancer Fund for Children to be introduced to other golfers who would be moved and engaged by what it does."
George O'Grady, chief executive of the European Tour, said: "When I first met Rory when he was playing for Europe in the 2004 Junior Ryder Cup team in Detroit, I could sense he was not just a remarkably talented golfer, but also a remarkable young man.
"It has been a true pleasure watching Rory's transition from one of the world's leading amateur golfers in 2007 to the number one golfer in the world and a four-time major champion.
"The European Tour is thrilled that Rory and his Foundation would wish to partner with the Tour and become more closely involved in the development of the Irish Open.
"Today's announcement further demonstrates Rory's uniquely special qualities and his commitment not simply to his national Open, but also to The European Tour."