Ryder Cup 2014: The greatest sporting show on earth?
Last updated on .From the section Golf577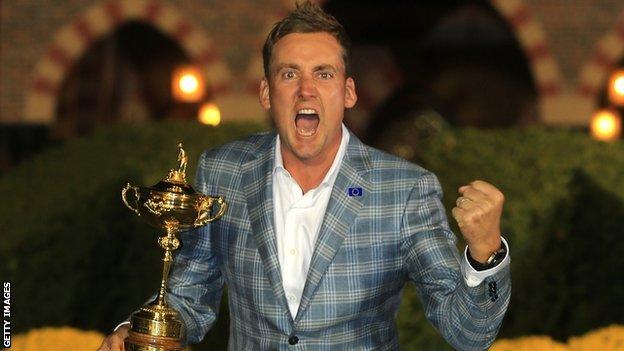 A man I thought was wise once said to me: "The Ryder Cup is like Christmas, because it's always special and it always delivers." But this wasn't wise at all.
Like a lot of high-profile sporting events, Christmas is the humdrum dressed up in tinsel: we desperately want it to be special but often end up feeling sick and slumped on the sofa with our eyelids flickering, listening to Dot Cotton arguing with Phil Mitchell.
Christmas is for kids. But what makes the Ryder Cup the greatest sporting event of all is that it never fails to deliver and, largely for that reason, never stops making you feel youthful.
It makes the stomach flutter in anticipation, jumps out at you in strange places, grabs you by the neck and goes "boo!", causes you to howl in wonder and guffaw in disbelief.
I know what some of you are thinking: what about the football World Cup? Well, the thing about the 2014 World Cup was that it reminded me of Christmas: no sooner had it started than people were falling over themselves to ordain it "the greatest World Cup ever", which all seemed a bit like forced jollity.
In hindsight, I'm struggling to remember one truly great contest.
Last 10 Ryder Cups

Year

Venue

Result

2012

Medinah, USA

Europe won 14½-13½

2010

Celtic Manor, Wales

Europe won 14½-13½

2008

Valhalla, USA

USA won 16½-11½

2006

K Club, Ireland

Europe won 18½-9½

2004

Oakland Hills, USA

Europe won 18½-9½

2002

The Belfry, England

Europe won 15½-12½

1999

Brookline, USA

USA won 14½-13½

1997

Valderrama, Spain

Europe won 14½-13½

1995

Oak Hill, USA

Europe won 14½-13½

1993

The Belfry, England

USA won 15-13
The most apt sporting-event-as-Christmas analogy (I'll stop going on about Christmas in a minute) involves the Super Bowl, in which the game itself has become almost a support act to the half-time gig, the celebrity fans and the expensive adverts, and is now so overblown its original meaning has almost been forgotten.
Modern Ryder Cups are drenched in hype but the hype is crammed into a relatively narrow time frame. Ryder Cups are short, sharp shocks, unlike cricket or rugby World Cups, which start amid much fanfare but quickly turn into a drizzle of one-sided and largely irrelevant contests and are still chuntering along a month and a half after they kicked off.
Once a Ryder Cup has put all the pomp and pageantry and slightly awkward military-style ceremonies and speeches behind it, its gladiatorial and therefore slightly cruel format - you try making a six-foot putt on the 18th green to nick half a point with thousands watching, plus millions more on TV - is what makes it so gut-churningly brilliant.
Twelve Europeans and 12 Americans going at it over three days with a couple of captain-cum-generals thrown in, drawing up war plans, toying with formations, driving up hills in buggies and surveying battle scenes. When Seve Ballesteros captained Europe at Valderrama in 1997, he resembled Wellington at Waterloo.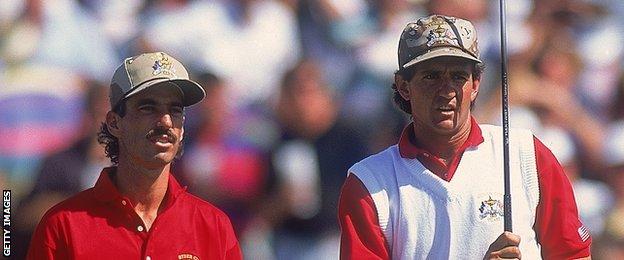 Since Europe first won the Ryder Cup in 1985, nine of the 13 contests have been won by three points or less, with one draw. That's not a lot of dead shots. Compare that to cricket's Ashes, which have been decided before the final Test in 13 of the last 15 series during the same period. That's a lot of anti-climaxes.
And when you have so many closely fought contests, the one-sided maulings are fun, especially when it's the Americans getting the mauling, as in 2004 at Oakland Hills and 2006 at the K Club (unless you were an American, of course).
The United States doesn't really do male team sports on the international stage. When it does, it struggles to take it seriously, as with baseball (which doesn't really have much of a following in Europe anyway). And when it does take it seriously, it usually drubs everyone, as with basketball (the US have won five of six Olympic titles since NBA players were allowed to compete in 1992).
Americans take golf very seriously indeed, which is why they invoke real war, with actual guns and dying (think Corey Pavin and Steve Pate wearing 'Desert Storm' caps at Kiawah Island in 1991) and start crying when they lose (think Hunter Mahan breaking down after muffing a chip and losing his crucial singles match against Graeme McDowell at Celtic Manor in 2010).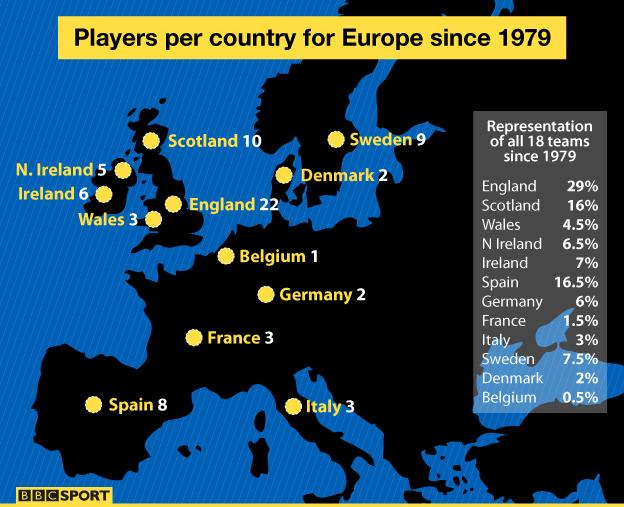 It is the prospect of taking down the supposed might of the United States that so galvanises the Europeans, and seeing a German hugging a Northern Irishman hugging a Swede hugging a Spaniard is a strangely heart-warming and optimistic scene.
It is also a discombobulating scene, because strokeplay is a pursuit for lone wolves. Consequently, some illustrious Ryder Cup players, such as Tiger Woods, appear lost among a pack or thrown together with a hunting partner. Who can forget the look on Woods's face after Phil Mickelson drove into a fence at Oakland Hills in 2004? A look that said: "Who is this idiot I'm playing with?"
Others, such as Colin Montgomerie, puff themselves up, snarl and bare their teeth in defence of their team-mates. Montgomerie is an intriguing psychological case, given that he is a self-described loner.
Then there are the noises. Hark! What was that roar? Was it that long putt from Ian Poulter? Wasn't Phil Mickelson in a bunker when we last saw him? Wasn't Sergio Garcia standing on the tee at the par three? What was that groan? Someone has gone and missed a tiddler…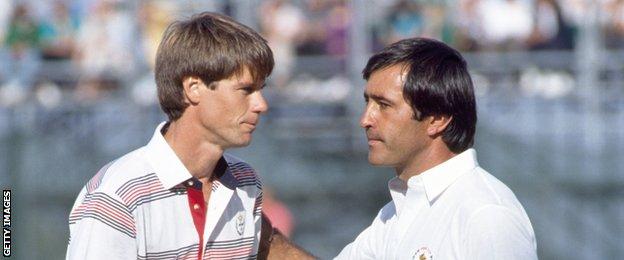 All of this is why the Ryder Cup is a genuine watch-it-down-the-pub event, unlike strokeplay tournaments, including the majors, which just don't pack the same emotional punch.
The gladiatorial nature of the Ryder Cup brings out the beast in players on both sides. Think Ballesteros and Paul Azinger accusing each other of gamesmanship in 1991, Americans dancing all over Jose Maria Olazabal's line at Brookline in 1999, Poulter's bulging eyes during the 'Miracle of Medinah' in 2012 and Ian Woosnam shooting Guinness out of his nostrils in 2006.
Here's what American skipper Tom Watson has to say about the Ryder Cup: "As captain you are the stage manager. You set the stage for the players, for the actors, to go and perform." And Old Tom has just about nailed it.
Ryder Cups are plays, with clearly delineated acts and scenes. They are ensemble pieces in which the actors have equal space to perform, with reverential silence regularly punctuated by uproarious applause.
I wish Christmas was like the Ryder Cup and I wish it could be the Ryder Cup every day. On Friday morning, those butterflies fluttering away in my stomach will feel more like seagulls as I wait for it to deliver again.