Ryder Cup: Rory McIlroy has outgrown me - Graeme McDowell
By Rob Hodgetts
BBC Sport at Gleneagles
Last updated on .From the section Golf
Graeme McDowell admits Rory McIlroy may have outgrown him as a Ryder Cup partner.
The pair's close relationship has also been tested by a legal wrangle with their former management company, but McDowell, 35, says any split would be for golfing reasons.
"The older brother, younger brother thing that we had is not the same any more," he said.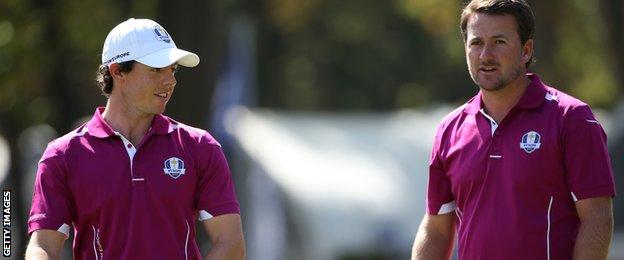 "He is a four-time major winner and the world number one. The dynamic between the two of us may have changed forever and maybe I need that leadership role."
McIlroy, 25, and McDowell have played six Ryder Cup matches together, winning two and halving one.
Both victories came in the foursomes, the alternate shot format, with a half and a defeat in fourballs - where players hit their own ball and take the best score.
"I found the betterball format with him in Medinah very hard because he would hit it 350 yards down the middle off the tee and I would be standing over my tee shot and find myself thinking 'there is not a lot of point in me hitting this' while trying to throw everything into it," said McDowell at Gleneagles ahead of this week's biennial contest with the USA.
Graeme McDowell in his BBC Sport column:
On McIlroy: "I will be delighted if we resume our partnership."
On Poulter: "He is already running through brick walls with his enthusiasm and that kind of attitude is infectious."
Read more from McDowell
"It was not good for my game.
"I would embrace the chance to play foursomes with Rory. I think everyone in the world would love to play off his tee shot.
"But I have spoken to [captain Paul] McGinley about this and he had something similar with Padraig Harrington when he became the star and it changed their partnership."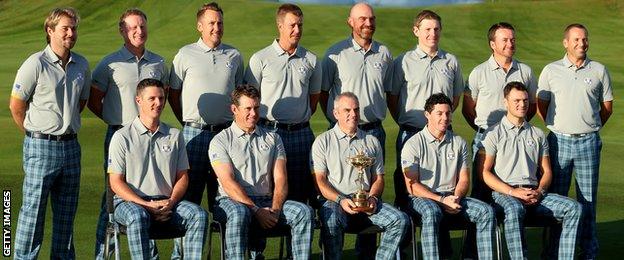 McGinley hinted at his news conference on Monday that the pair were not a certainty to start together in Scotland.
"It's not like these guys are written in stone," said the Irishman. "They are not a formidable foursome - not a formidable fourball pairing that's unbeatable. I've got lots of options with them."
Ryder Cup 2014 on the BBC
Friday:
BBC Radio 5 live 08:30-19:00. Highlights: 20:30-22:00 BBC Two, BBC Two Scotland and BBC Two NI; 23:05-00:35 BBC Two Wales
Saturday:
BBC Radio 5 live 08:30-18:30. Highlights: 20:30-22:30 BBC Two
Sunday:
BBC Radio 5 live 11:00-18:30. Highlights: 19:30-21:30 BBC Two
Live text & radio commentary, and video highlights, of all three days available on the BBC Sport website.