Ryder Cup: The art of captaincy - 'They play, you've got to pray'
By Rob Hodgetts
BBC Sport at Gleneagles
Last updated on .From the section Golf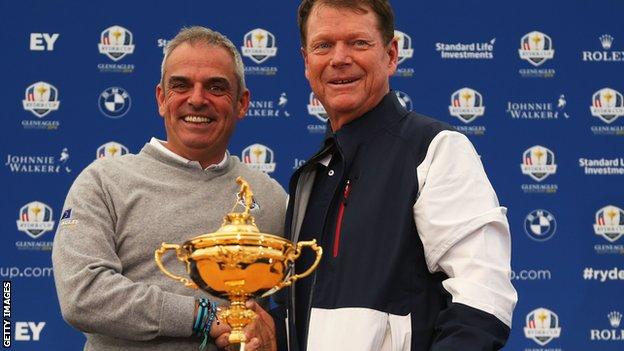 Picking a team? That's the easy bit. A Ryder Cup captain's job is complex, and that's before a shot is even struck on Friday.
From bonding your team to fighting the phoney war and selecting your pairings to plotting Sunday's knockout blow, your every move is scrutinised. Every utterance is analysed. Signs of weakness are probed.
So what challenges do Europe's Paul McGinley and USA's Tom Watson face at Gleneagles this week, both in the build-up and once the action tees off?
Forging a band of brothers
Moulding 12 players into one team is an art in itself. Especially when that dozen are driven individuals for the rest of the year. "The first thing I said to them was you have to leave your egos at the door," said four-time European captain Tony Jacklin.
The team room, a concept created by Jacklin, is the focal point. Not just a private place to eat, drink and bond with your brethren. And play endless "ping pong" if you are American. But somewhere that has taken on near-mythical status. Somewhere magic happens. Literally, in the case of The K Club, when mind guru Jamil Qureshi dazzled Ian Woosnam's men with tricks and mind-reading games.
Sir Nick Faldo drafted in Iron Maiden drummer Nicko McBrain and DJ Spoony to 'loosen' people up in his team room at Valhalla in 2008.
The atmosphere was still questioned by some. Not "buzzing" they said. Faldo said they should already be inspired. Faldo's counterpart Paul Azinger copied the US Navy Seals pod system, buddying up his players in three groups of four to develop camaraderie.
For motivation, Ben Crenshaw employed future US President George W Bush to read a letter from the Alamo ahead of the final day in 1999. Something clicked, as his side came back from 10-6 down to win.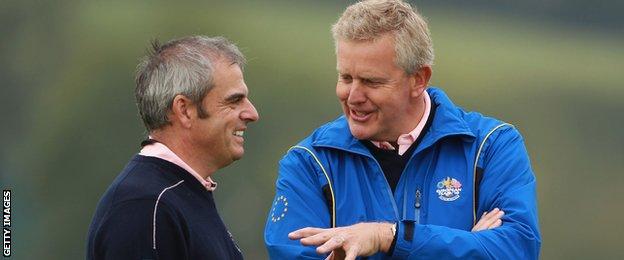 In 2010 Corey Pavin turned to celebrated F16 pilot Major Dan Rooney for some inspirational words. In contrast, his opposite number Colin Montgomerie barked, "If they need motivating, they shouldn't be here."
But he did pipe an ailing Seve Ballesteros on speaker phone into the team room. And organised for video montages of his players' best moments to loop on the walls. A team room rocket on the Saturday sparked Europe's revival.
McGinley has enlisted Sir Alex Ferguson for a pre-match address, and erected a sign on the locker room door, bearing a quote from the late Bob Torrance. It reads: "Happiest days of your life." Watson is uniting his players with the very public message that this is a "redemption trip" after what happened at Medinah.
But how much can a captain, close team-mate or inspirational orator really help you when faced with a double-breaking downhill 20ft putt with millions watching you?
"I'm very much in the camp that the captain has a big influence on what happens," said McGinley. "Ultimately, though, it's down to the players."
Fighting the phoney war
In the build-up to the first tee time at 07:35 BST on Friday, the captains are being watched intently. Their actions are pored over and dissected. Clues sought, conclusions drawn.
Positives and negatives are judged. Some observers will proclaim one or the other team is already "one up" after some perceived masterstroke or faux pas. Faldo was filmed clutching a sheet of paper with his pairings on.
He tried to laugh it off as the sandwich order, which only made it worse. Pavin's USA waterproofs leaked in 2010, and a minion was dispatched to the pro shop. Fail for the captain? Or just fun fuel for the phoney war?
The opening ceremony is the last chance to grab the psychological edge, and much importance is attached to the captains' speeches. "I wanted my players to leave thinking, 'Captain Monty', we'll be alright with him," said Montgomerie.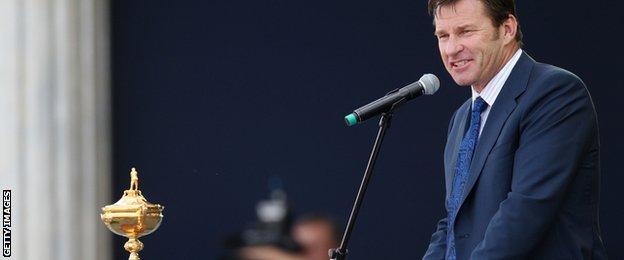 Many fret over the public speaking and seek formal training. Sam Torrance had a lectern installed in his garage to practice his lines. At Valhalla, Faldo tripped over the names and nationalities of several of his players. Azinger left the stage "one up".
"The captains are forever trying to get an edge," says former Ryder Cup player and 1999 assistant captain Ken Brown. "'My speech was slightly better than your speech, my shoes are shinier than your shoes...' Each little ingredient, even if only in your own mind, is to give your team a little edge."
With little controversy in their wildcard picks, McGinley and Watson appear comfortable, polished and well-matched, but their bonhomie masks their competitiveness.
"The psychological warfare started ages ago," said three-time European captain Bernard Gallacher. "Every time Paul and Tom are in front of cameras answering questions, the messages are to their players, not to the media."
Match made in heaven, or the odd couple?
Arguably the most pivotal job for the captain is selecting his pairings for the opening two days. With rookies, veterans, talismen, wildcard picks, friends, even enemies, different nationalities, short hitters, long hitters, birdie machines, steady eddies, there are myriad combinations to ponder.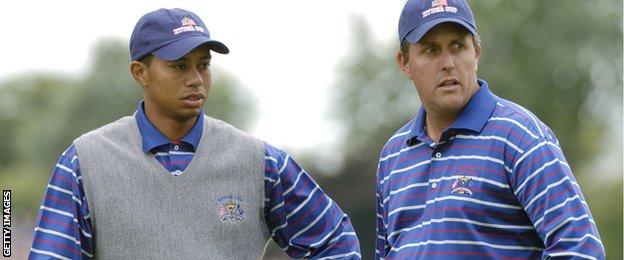 Get it right, and you can strike a telling blow. Get it wrong - such as Hal Sutton's disastrous pairing of Tiger Woods and Phil Mickelson in 2004 - and you can significantly damage your cause.
"In foursomes you are looking for guys who hit a lot of fairways, a lot of greens, don't make a lot of mistakes. It's really about pars," said Gallacher.
"In fourballs, you are looking for players who get lots of birdies, even if there are a few bogeys thrown in. But then you have a pairing like Seve and Ollie. Even though they played a different type of game, they gelled because they were proud Spaniards."
McGinley has notable pairings at his disposal, such as good friends Ian Poulter and Justin Rose, who won both their foursomes at Medinah, but he hinted he may split up Northern Irishmen Rory McIlroy and Graeme McDowell for tactical reasons.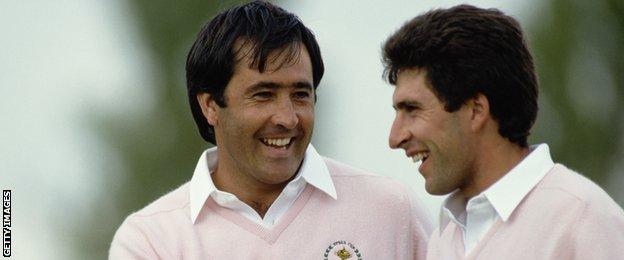 For the US, Phil Mickelson and Keegan Bradley won three points out of three at Medinah and will form Watson's spearhead. Webb Simpson was chosen as a wildcard largely on the strength of his partnership with Bubba Watson two years ago, winning two out of three by 5&4. "The pairings will evolve throughout the first two days," said Watson.
Do they all get a game before the singles? Most captains think so. Mark James left three rookies out of the first two days in 1999 and his side surged to a 10-6 lead.
So arguably a decent decision. But with his top-guns misfiring and his rookies untried, Europe suffered a US backlash on the final day as the home side roared back at Brookline.
Early knockout or sting in the tail?
Sunday's singles order is often the defining moment of your captaincy. The challenge for McGinley and Watson is to have the right man in place to deliver the fatal blow.
Tied 8-8 going into the singles in 2002, Torrance put his best players out first. Opposite number Curtis Strange left Phil Mickelson and Tiger Woods to the end. Torrance's masterstroke led to a European win before Woods had finished.
Or you could do a Monty. The 2010 captain employed reigning US Open champion McDowell as tail-end Charlie at Celtic Manor. The dramatic win against Hunter Mahan on the 17th made Montgomerie look like golf's Gary Kasparov.
"It all depends on the situation," said Gallacher. "At Kiawah Island [in 1991] we were level going into the singles. Being a real close match, I was also looking at who is going to play one and 12. I led off with Nick Faldo and finished with Bernhard Langer. I thought if anybody can handle the pressure if it does go down to the wire, he can. After that you just try to get a balance.
"At Oak Hill [in 1995], we were two points behind going into Sunday. The only problem was we knew Seve wasn't playing very well. In the end I put him out first, knowing he would lose, but I had my strength in the middle and it worked pretty well as Faldo came back to win a crucial match against Curtis Strange.
"Why would you put Tiger Woods at number 12? It looks great when the match comes down to the wire, but there are too many variables that need to fall into place. If you've got the best player in the world, you may as well get his point right away."
The alternative theory
Maybe we're all overcomplicating it. Maybe, despite the intrigue, the drama, the gossip, the razzmatazz and ceremony, it boils down to something far more straightforward: golfers hitting golf shots and holing putts.
Lanny Wadkins, the American captain who lost out to Gallacher in 1995, said: "I get so tired of you guys trying to read too much into stuff and trying to second guess. Why did we lose that Ryder Cup? Because we did. Sometimes some guys just play better than other guys."
Jacklin agrees. "Sometimes there is too much thinking and you can outsmart yourself.
"Matchplay is a fickle thing, anybody can beat anybody at any time. They've got to play, you've got to pray."
Ryder Cup 2014 on the BBC
Friday, 26 September:
BBC Radio 5 live, 09:00-19:00. The Ryder Cup Highlights: 20:30-22:00, BBC Two; 20:30-22:00 BBC Two Scotland; 23:05-00:35 BBC Two Wales; & 20:30-22:00, BBC Two NI.
Saturday, 27 September:
BBC Radio 5 live, 09:00-18:30. The Ryder Cup Highlights: 20:30-22:30, BBC Two.
Sunday, 28 September:
BBC Radio 5 live, 11:00-18:30. The Ryder Cup Highlights: 19:30-21:30, BBC Two.
Live text & radio commentary, and video highlights, of all three days available on the BBC Sport website.