Rory McIlroy backs Darren Clarke for Ryder Cup captaincy
Last updated on .From the section Golf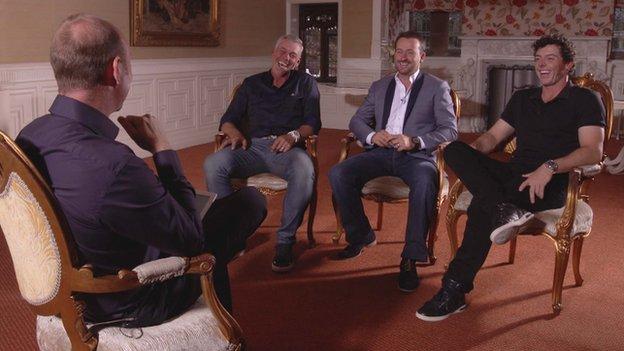 Rory McIlroy has told the BBC that his fellow Northern Irishman Darren Clarke would make an ideal European captain for a Ryder Cup in the United States.
McIlroy, Clarke and Graeme McDowell were interviewed exclusively for 'Major Champions', to be aired on BBC1 NI on Wednesday and BBC2 on Thursday.
Clarke was a vice-captain for the European triumphs in 2010 and 2012 but is not involved at Gleneagles.
"There would be no better candidate from the European side," said McIlroy.
"He is absolutely loved over there. He would be just as well received in the United States as probably the United States captain.
"So, it can only be an advantage for the European team if Darren was to lead us out," said the world number one of the 2011 Open champion.
The 2016 Ryder Cup is to be staged at Hazeltine in Minnesota.
Major winners McIlroy, Clarke and McDowell were talking to BBC Northern Ireland's Stephen Watson for an hour-long film to be screened this week.
It is the first time the three golfing stars have sat down together for an extended in-depth interview and they talk about their relationship with each other and how their combined total of six major triumphs have changed their lives.
They also talk about their families, jet-set lifestyle, relationships, charity work, retirement and how each of them have come to terms with living their lives in the glare of publicity.
The programme also elicits the Northern Ireland players' thoughts on transatlantic accents, hairstyles and questionable fashion mistakes throughout their careers.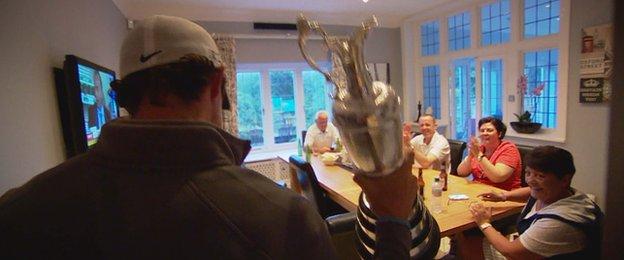 Stephen also interviews three time major winner Padraig Harrington, golfing mega star Tiger Woods, Bangor-born golf pundit David Feherty and Ryder Cup captain Paul McGinley to get their thoughts on the trio and spends some time with their fathers, Godfrey Clarke, Kenny McDowell and Gerry McIlroy as they enjoy a game of golf together and speak proudly about their sons.
Presenter and producer Stephen Watson described the programme as "the most difficult logistical project I have ever been involved in".
"Because of Darren, Graeme and Rory's hectic schedules and commitments around the world it was very tough to get them all together in the same room at the same time.
"It was pretty intimidating interviewing all three together as they are all such big personalities, but I hope the programme will give everyone a unique insight into their lives on and off the golf course."
Major Champions is on BBC One Northern Ireland on Wednesday, 24 September at 22:35 and BBC Two on Thursday, 25 September at 13:30.