Ryder Cup 2014: Victor Dubuisson plays it cool at Gleneagles

By Tom English
BBC Scotland at Gleneagles
Last updated on .From the section Golf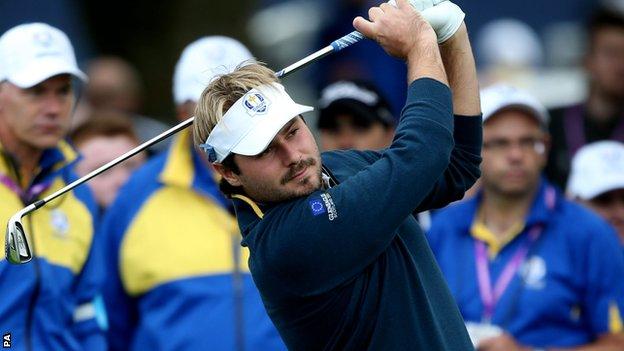 2014 Ryder Cup, Gleneagles
Dates:
26-28 September
Coverage:
Live commentary on BBC Radio 5 live, highlights on BBC Two and live text commentaries on the BBC Sport website each day via desktop, mobile, tablet and app.
It was back in March when the intrigue around Victor Dubuisson really started to grow.
He was being interviewed at the WGC Cadillac Championship at Doral and, for the Frenchman, the line of questioning was far too close to the bone.
There'd been a rumour - there are so many when it comes to Dubuisson - that he had left school at 10 in order to concentrate on his golf game. "It was 10 or 12, something like that," he said.
"And what did your parents think?" he was asked.
"Well, my parents…I was more by myself…No more personal family questions, please. I'm sorry but I don't like to think about that."
Dubuisson shot to prominence last November when he held off the challenge of Tiger Woods and Ian Poulter to win the Turkish Open.
After that, he played wonderfully - evoking comparisons with Seve Ballesteros - to make the final of the Accenture Match Play in Arizona, losing in the final to Jason Day.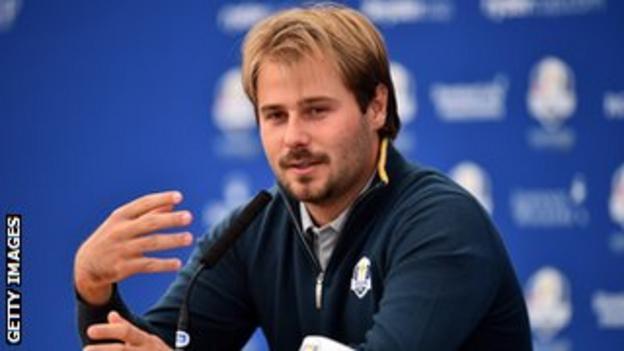 His countryman Thomas Levet knows the mystery of Dubuisson, but he's not telling. "It was not an easy childhood," he said last spring. "Let's leave it at that. Let's not talk about bad things."
We have no right to pry, but the information vacuum ignites the fascination. Dubuisson has been described as golf's Greta Garbo.
In his press conference at Gleneagles ahead of the Ryder Cup he said team sport is not really for him, which begs the question about how he will fare this week.
He has the game to be a sensation but, equally, he has the personality that could cut himself off from the group, an unreachable presence in European captain Paul McGinley's team room.
"I played tennis [when I was young]," he said. "I tried to play football, but I didn't really like it. I prefer sports like tennis and golf. You're on your own and make your decision. I don't think I could play in a collective sport."
He said he's not much different to any other golfer, but the evidence suggests otherwise. "Honestly, you can ask the other players," he stressed. "I'm a very funny and cool guy. I just prefer to be quiet and humble."
Earlier in the year, just after Dubuisson did some remarkable things at the Match Play championship at Dove Mountain, a reporter from Le Journal du Golf, a French magazine under the umbrella of L'Equipe, sat down for an interview with a man they called the greatest golfer the country has ever produced.
Victor Dubuisson's 2014 in majors

Made the cut at Masters in April

Finished tied for 28th at the US Open

Claimed a share of ninth at the Open Championship

Tied for seventh at the US PGA
The journalist, Ben Cadiou, and his colleague, Martin Coulomb, always had a professional relationship with Dubuisson.
They knew that he was secretive about his private life. They knew that there was darkness in his childhood that he did not want to talk about.
They did not go there. "We'd heard the rumours but all they are is rumours," said Coulomb. "Lots of rumours. We'd heard that what happened to him as a young person was very bad, but he's never said anything about it and we didn't bring it up."
Instead, Cadiou asked him about his passions away from golf. What was he into? Did he have hobbies? When he was not being France's greatest golfer, destined for the Ryder Cup, what did he get up to?
After ducking and diving, Dubuisson eventually reached into his pocket and pulled out a set of car keys with the unmistakeable Ferrari logo. "Cars," he said. "I love cars."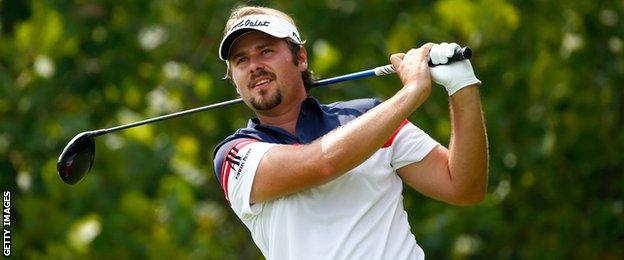 He spoke briefly about what he owned and why he owned them and then the conversation moved on.
Cadiou was happy that he had finally found out something about the mysterious Dubuisson. It was not exactly gold, but it was an insight where before there was none - "apart from rumour, rumour, rumour".
Before the interview was written, word reached the magazine that Dubuisson was not happy. He was worried how the Ferrari thing would look to the ordinary people of France. And he was angry that he was ever asked about it in the first place.
Le Journal du Golf took cognisance of Dubuisson's feelings and pulled the Ferrari story from the published interview. Still, Dubuisson did not forgive them.
"If I saw him now, here at Gleneagles, then I doubt he would even look at me," says Coulomb.
"We said to him at the time, 'Victor, we didn't even use the story, it was never in the magazine' but he doesn't speak to us now. I wish we could sit down and find out what the problem is.
Graeme McDowell on Victor Dubuisson
"I've heard him described as an enigma and a tough guy to get your head around."
"He doesn't need us but we need him. He's the most naturally gifted French player there's ever been, a brilliant player who will achieve brilliant things. But he's complicated, you know. He's a complex man."
For a person who doesn't say much, Dubuisson sparks an awful lot of interest.
"How well do you know Victor?" Thomas Bjorn was asked when he did his press conference on Tuesday morning.
"Does anybody really know Victor?" he replied with a smile.
"What do you make of him?" Lee Westwood was asked.
"It's very difficult to know what to make of Victor," he said. "He's quite shy, quite unpredictable."
Graeme McDowell spoke next about golf's Greta Garbo. "I've heard him described as an enigma and a tough guy to get your head around. I've been trying to get close to him the last few months."
So, too, has McGinley. The European captain has known for most of the year that Dubuisson was a certainty for his team, so he's done his own homework on what makes the Frenchman tick. McGinley recognises that integrating Dubuisson into the team is a "challenge".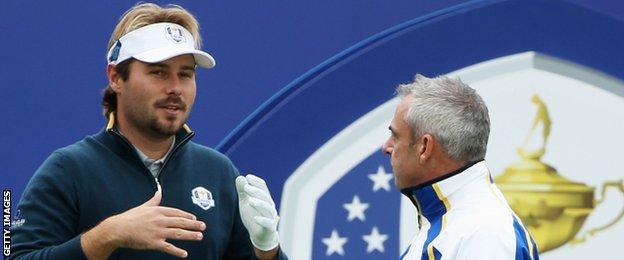 "Every player is different," he said. "Not everybody is Ian Poulter. He's a challenge, too, but for a different reason.
"My job as captain is to get to know each player, what their personality is, what their background is. I like to get a real good profile of them, their family background, where they live and how they live.
"I made it my business to get to know him over the last six months, which I think I have done. He's a really great guy. I like him. He's got flair and charisma. He's got Hollywood looks.
"There's something special about him and I kind of like the fact that he's different."
Dubuisson would dispute that he's all that different. And he rejected the notion that he has a problem with the French media - apart from Le Journal du Golf. "It's only one magazine," he explained. "Unfortunately, it's the biggest one.
"I have good relations with a lot of journalists, as long as they don't…they will ask you one question about golf and nine about your private life because they only want to make the story.
"People used to be not very interested in golf in France. If it was an article only about golf, they will not read it. So it's not what they're looking for. Unfortunately, it's the biggest magazine that I still have troubles with."
The Journal boys reject the notion that they are more interested in his private life than his golf. Coulomb says he does not want to make it personal, but that Dubuisson is wrong. He's not sure if the relationship will ever heal, but he hopes it will.
"French golf needs him as an ambassador," adds Coloumb. "He's the greatest we've ever had. It's sad that we don't speak."