Ryder Cup: Stephen Gallacher raring to go at Gleneagles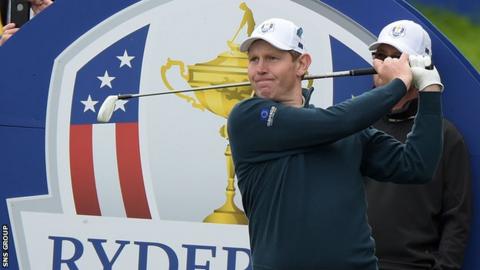 Sergio Garcia was talking about the special nature of the first tee at a Ryder Cup - the sights and sounds, the nerves and the exhilaration.
Then the Spaniard was asked about how it might be for the rookies this week, how it might be for wildcard selection Stephen Gallacher. "You can see it in his eyes that he's willing and ready," said Garcia, 34, of the Scot.
It was a nice line and it was not the only one. Rory McIlroy gave some advice to Gallacher.
The Northern Irishman took us back to the Italian Open, the last qualifying event for the European team and the week that Gallacher played magnificently while falling one shot short of automatic entry to Paul McGinley's Europe side.
"I thought even if Stevie didn't do what he did at the Italian Open he should still be on the team," said McIlroy, 25. "He's had a very solid couple of years. Being from Scotland and being able to play in the Ryder Cup in your home country is huge. So I love that he's on the team.
"As a rookie, you just go out and embrace it. I remember my first match at Celtic Manor in 2010. I was so uptight and didn't really want to make a mistake - and that isn't the way to approach it. You have to almost go out and be carefree and freewheel.
"Whenever Stevie plays, I'll just say to him, go out and enjoy it. Go out and take it all in."
When Gallacher spoke on Wednesday morning, he had the air of a relaxed man.
Maybe it was a front, but he sounded chilled and ready to roll. He talked about the good luck messages he's received, one of them coming from Martin O'Neill, the former Celtic and Sunderland manager and a good friend of McGinley's.
"He just said 'Well done on getting in and you'll love the team environment, probably one of the best weeks of your life'. And he's right," explained the 39-year-old.
Gallacher is accessible and so generous with his time that his story has been told a hundred times in the preamble to this Ryder Cup. At various points in his career he lost hope that he would ever make it to this stage.
"I definitely thought I had missed my chance," he said.
The catalyst was watching compatriot Paul Lawrie at Medinah two years ago, another man who had to battle through difficulties in his game, who had to show great character to make a second Ryder Cup team 13 years after making his first.
"I knew I had to have to best year of my life to get in," said Gallacher. "And I've had the best year of my life. I can take a lot of pride from that. I'm happy to be sitting here just now. That's what the hard work and the sacrifices and everything's all about."
Gallacher has a fair idea who he's going to be playing with on Friday - and when. McGinley said that his running order is pretty clear in his head. Nobody's saying, of course.
It would make sense for Gallacher to go out in the morning fourballs - as opposed to the more stressful afternoon foursomes - and it would also make sense to pair him with a veteran.
There has been talk of him being grouped with Ian Poulter or Thomas Bjorn but Lee Westwood is also a possibility. When McGinley talks about staying true to the successful template of his immediate predecessors in the captaincy role, then part of that template is pairing Westwood with a rookie on Friday morning.
In 2010 at Celtic Manor, captain Colin Montgomerie put the Englishman out with Martin Kaymer in the opening match. Kaymer was playing in his first Ryder Cup and the Europeans won a point from Phil Mickelson and Dustin Johnson.
Two years later, Jose Maria Olazabal paired Westwood with a rookie in Friday afternoon fourballs at Valhalla and again it worked, Westwood and Nicolas Colsaerts taking the scalp of Tiger Woods and Steve Stricker, the supposed go-to American combination.
It would not be a surprise if McGinley entrusted Westwood with the job of minding Gallacher on Friday. That said, he's not short of options on that score. If he's looking for an experienced man to lend a guiding hand he could pick any of one of six or seven.
From Gallacher you get the sense that he just wants to get out there. The build-up has been fun. The evening with Sir Alex Ferguson a highlight. But time cannot pass quickly enough now.
"I'm hoping I enjoy it," he said. "You come under the tunnel on the way to the first tee and the last person you see is an image of Seve Ballesteros," he said. "You're seeing all the greats on both sides. You go up the hill and walk around and it's like walking into a football stadium."
Not a football stadium, but one hell of an arena. To continue the Sir Alex theme - a theatre of dreams.
2014 Ryder Cup on the BBC
Venue: Gleneagles, Scotland Dates: 26-28 September Start times: 07:35 and 13:15 BST on Friday and Saturday and 11:36 BST on Sunday.
Coverage: Live radio and text commentary on BBC Radio 5 live, online, tablets, mobiles and BBC Sport app. Highlights on BBC Two.