Ryder Cup: Rory McIlroy laughs off Phil Mickelson dig
By Rob Hodgetts
BBC Sport at Gleneagles
Last updated on .From the section Golf
Rory McIlroy has laughed off Phil Mickelson's joke about Europe's Ryder Cup team spirit being affected by the court case involving the world number one and Graeme McDowell.
Mickelson, 44, said: "Not only are we able to play together, we also don't litigate against each other."
McIlroy said it was "all good fun" and he had "got a couple of jabs back".
Mickelson's light-hearted jibe was in response to questions about the American team's perceived lack of togetherness in past Ryder Cups. Speaking on Thursday, McIlroy said he and McDowell "took it well".
The current Open and US PGA champion said: "I got a couple of jabs back at him at the gala dinner. I know Phil well and we had a couple of laughs about it."
And 2013 US Open champion Justin Rose said the "bit of banter" caused no issues between the teams.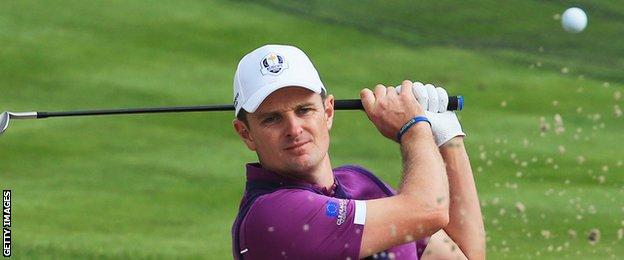 "We don't have a problem with that at all," said Rose. "There's no real angst between the players. In our team room, it's a non-issue.
"Phil came up to Rory last night and was like, 'hey, this and that'. It's no real big deal.
"Amongst friends, which I assume was his intent, Phil loves the banter and he loves to throw a few barbs out there, which is great. Everyone responds to that, and that's why he's fun to play practice rounds with."
Rose said there was no tension between McIlroy and McDowell, adding: "They have been getting on great and playing golf and hanging out and having dinners together. The atmosphere is fantastic in our team room."
McIlroy and McDowell, who have managed just two wins in six Ryder Cup matches together, insist they are still close friends and they could still partner each other.
But Europe captain Paul McGinley has already hinted he may split up the pair at Gleneagles this week for tactical reasons.
Mickelson's team-mate Rickie Fowler said: "Phil's always Phil. That's why we love him.
"He's a lot of fun to be around, and we hear a lot of those one-liners in practice rounds in Tuesday games. So it's nothing new to me."
Mickelson, a five-time major champion, admitted USA were the underdogs, but was confident his side could rise to the challenge of winning a first Ryder Cup on away soil for 21 years.
"Certainly we're here without Tiger Woods. We're without Dustin Johnson. We're without Jason Dufner," he said.
"And we're playing a team that has players like Rory McIlroy and Henrik Stenson, who have played incredible golf over the years.
"But rather than focus on what we don't have, what we do have is a great group of 12 guys that really enjoy each other's company, have a lot of fun together, and are hopefully bringing our best games to Scotland, because we are going to need it to make it a tight race and a close one for Sunday."
US captain Tom Watson has preached a public message of "redemption", to make amends for the defeat at Medinah two years ago, when the home side led 10-6 going into the singles before Europe's remarkable final-day fightback.
Mickelson, though, denied Watson had used that as motivation in team meetings.
"That actually has not been mentioned one time that I've heard of in the team room," he said. "That really has no play as to what goes on this week."
Mickelson will play in a record 10th Ryder Cup this week, but when asked in a relaxed news conference if his relatively poor record - won 14, lost 18, halved six - was a "blot" on his career, the genial left-hander could not resist another one-liner.
"I wouldn't say it as eloquently as you did by calling it a blot, but I think that it's a record that I'd like to improve on," he said.
Mickelson revealed he will again partner Keegan Bradley this week after the pair won all three of their matches together at Medinah.
"I don't think I'm letting go of any secrets here," said Mickelson. "If you've noticed, we've played together these first few rounds and we seem to have a good partnership, and he brings out some of my best golf."
Ryder Cup 2014 on the BBC
Friday, 26 September:
BBC Radio 5 live, 08:30-19:00. The Ryder Cup Highlights: 20:30-22:00, BBC Two; 20:30-22:00 BBC Two Scotland; 23:05-00:35 BBC Two Wales; & 20:30-22:00, BBC Two NI.
Saturday, 27 September:
BBC Radio 5 live, 08:30-18:30. The Ryder Cup Highlights: 20:30-22:30, BBC Two.
Sunday, 28 September:
BBC Radio 5 live, 11:00-18:30. The Ryder Cup Highlights: 19:30-21:30, BBC Two.
Live text & radio commentary, and video highlights, of all three days available on the BBC Sport website.