Mixed-gender 'Ryder Cup' backed by number one Stacy Lewis
By Saj Chowdhury
BBC Sport
Last updated on .From the section Golf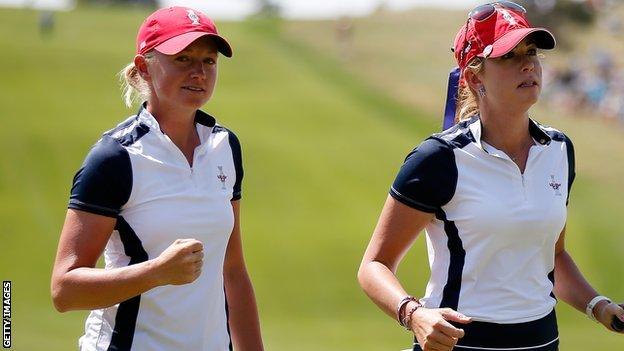 World number one golfer Stacy Lewis has backed the idea of a mixed-gender 'Ryder Cup' tournament.
A competition of such stature does not exist in golf, although a mixed event was introduced for the first time at the Youth Olympics this year.
In an interview with BBC Sport, the 29-year-old United States player said: "It would be a great thing.
"Anything like that would help sell our sport. I'd be a huge fan. I'd be all over it and love to play."
Stacy Lewis's best major performances
Kraft Nabisco Championship:
Winner 2011
LPGA Championship:
T2 2012
US Women's Open:
2nd 2014
Women's British Open:
Winner 2013
The Evian Championship:
T6 2013
She added: "If I was to pick someone to play with in the fourballs or foursomes it would be Rickie Fowler or Jordan Spieth. They are both good putters under pressure."
Lewis has played in the previous two Solheim Cups, which currently take place during odd years, while the Ryder Cup takes place in even years. In the seasons between Ryder Cups, a USA team play against International counterparts in the established Presidents Cup.
Europe won the 40th Ryder Cup 16½-11½ against the United States at Gleneagles last weekend.
Two-time major winner Lewis conceded that it might be difficult to find room in the calendar for a new mixed-team event.
"The scheduling will be the hardest part and if anybody would get it started it'd be the PGA [the men's governing body in the US]," added the 2013 British Open champion.
"We have a Women's PGA championship (formerly the LPGA Championship) beginning next year, so we're establishing a relationship with the men's game - maybe that could lead to something."
PGA chief Pete Bevacqua told BBC Sport there were currently no plans for a new matchplay event.
"It's an interesting idea, but it's not on our radar screen," he said. "But never say never."
"As the women's game continues to develop and grow then maybe that is something that is down the road.
"It's so difficult to find three, four, five days in the season. It becomes increasingly difficult to give serious thought to creating new events.
Stacy Lewis on attitudes towards women in golf
"It's getting better - there are still forces which are a little bit more strict with women."
"But the more we can do mixed events, the better it will be for the game. Anything we can do to make golf more attractive and compelling is something we should be looking at."
Lewis stated that the women's game was in a "really good place", with 33 events scheduled for next season, 10 more than in her rookie year of 2008.
In response to a question about attitudes in the US, the Ohio-born player said there had been an improvement.
She cited the recent vote by the R&A to allow women members for the first time in 260 years as an example of the shift in thinking in golf.
"It's getting better," added Lewis. "There are still forces which are a little bit more strict with women.
"But in general you look at that vote - it's 85%. They seem to be over it. The times are changing so who knows what it leads to down the road."
"I haven't experienced too many problems myself. I remember growing up as a kid and not being able to play with my dad until after 12 o' clock.
"But it's not quite the issue that it has been in the past."