Ryder Cup: No miracle for Ian Poulter on day one at Gleneagles

By Tom English
BBC Scotland at Gleneagles
Last updated on .From the section Golf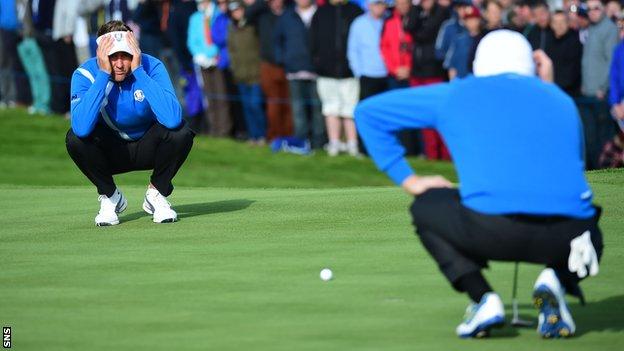 If you're the type to believe in omens then Bracken Brae, the opening hole at Gleneagles, was full of them for the much heralded but ill-fated pairing of Stephen Gallacher and Ian Poulter.
They marched on to the tee just before 08:00 BST, Gallacher saluting the crowd while Poulter beat his chest like some kind of golfing Tarzan.
This was the dream group for so many, the meeting of The Man and the local man against two American rookies - Jordan Spieth and Patrick Reed - the youngest partnership that the United States have ever put out in these matches.
Fodder, in other words.
Those omens? Gallacher found the bunker off the first tee and then dumped his second in the swamp.
Like so often, Poulter was on his own. He had a putt to halve the hole, the kind of putt upon which his legend has been built. He's holed so many, but now he missed.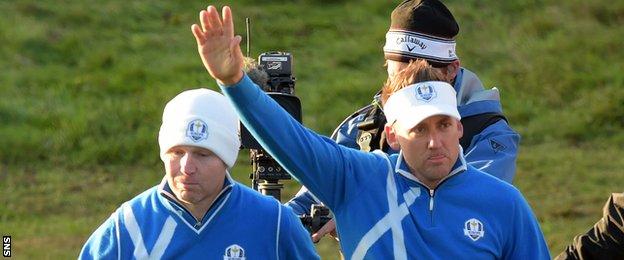 We muttered our way to the second tee. Only one hole down and painfully early to be making any grand predictions about the state of Poulter's game or Gallacher's ability to handle the occasion. And yet there was a dread.
It came courtesy of the law of averages and the fact that Poulter was going to have to hit the Ryder Cup wall at some point in his stellar career. Poulter was heroic in 2010 and 2012 on the back of good form going into the Ryder Cup. Before Celtic Manor and Medinah he'd had a fine run, a string of top fives and top 10s, some excellence in the majors and all the confidence he needed.
This time, there's been none of that. He has hardly figured all year. A 40th here, a 50th there, a missed cut, then another and another.
What made us think that Poulter could come to Gleneagles and find a game that has been missing for nine months? Poulter has done some wondrous things in this remarkable event, but the morning fourballs were a step too far.
He came here as a captain's pick, selected more on reputation and hunch than any certainty that he could elevate himself above the mundane stuff he's produced for too long.
His performances demanded selection, but it was on a wish and a prayer. And it did not pay off.
There were moments out there when you thought that something might happen for the Europeans, but these feelings came and went in quick order. Gallacher recovered from his train wreck beginning to sink a birdie putt to halve the second hole.
"That's them up and running now," we thought. "They'll kick on from here."
Poulter failed to get on the first, second and third greens in regulation but, even still, that third green was another of those fleeting instances where you thought things might be about to spark.
He sank a 10-footer to save the Europeans going two down. He fist-pumped his way off the green. We did not see a lot of that for the rest for the day. The fist-pump king was silenced by the American tyros.
Spieth and Reed played beautifully. Nobody really expected them to win and that lack of expectation almost liberated them from the suffocating pressure. They freewheeled at times. The pair of them dovetailed, back-slapped and charged into a lead they never, ever looked like relinquishing.
Even before the deluge of lost holes, Gallacher and Poulter were hanging on. Gallacher's tee shot on the fifth found the whins on the right. His tee-shot on the par-3 sixth found sand on the left. On the seventh he hit his best drive of the day, then hoiked his approach with just a wedge in his hand. Then he fluffed his chip.
Spieth birdied to stretch their lead to three up.
The point of no return? You might say it was the eighth. Yes, as early as that. Ridiculously early, but true none the less. Gallacher played the hole nicely; an accurate drive and a gorgeous approach to four feet. It matter not that Poulter had chunked his chip into the bunker a few yards in front of him. Gallacher had a short putt to win the hole and stop the bleeding.
And he missed.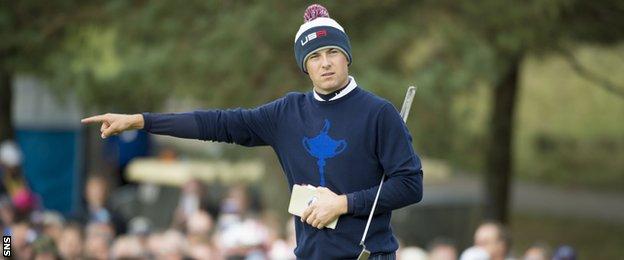 That was the killer blow. The kick to the gut. Gallacher left the green and looked back at it as he went, as if not quite believing what had happened. When you're three down and playing poorly then you cannot miss chances like that. You just cannot do it.
The Americans were sensational in taking advantage. The ninth hole is a long par-5 that sweeps around the side of a pond. Emboldened by a fine tee shot, and perhaps also by desperation, Poulter decided to take on the drink and got wet.
Very wet.
His ball landed in the middle of the water, a veritable mile from dry land. It was a shot that made you blink such was its awfulness. In that moment, had you known nothing about Poulter's Ryder Cup back story you would have dismissed him as just another journeyman, a regular Joe instead of the colossus of the last two matches.
Gallacher was left to fight the two Americans on his own on that ninth hole. He had a birdie putt - and it slipped by. Reed had one of his own and he made it. Four up. Only halfway round and the only thing up for discussion was how bad a beating was this going to be.
Coming down the 10th - a par-3 - a cry went up from the gallery. "Five birdies, Poults! Five birdies!" Poulter had his head down at the time. His body language was oh so different to what we are used to. There was no birdie for Europe, but there was for America. The marvellous Spieth making it again.
Five up after 10 holes. The truth is that the home team were lucky that it was only - only! - five. It could have been worse. It could have been over.
Soon it was. Spieth and Reed took it 5&4. They not only took down Europe's number one guy, they embarrassed him. This was the win they wanted most of all. For America, somebody needed to drain the life out of Poulter and golf, in all its unpredictable brilliance, decreed that the pair who did it were the youngest of the lot.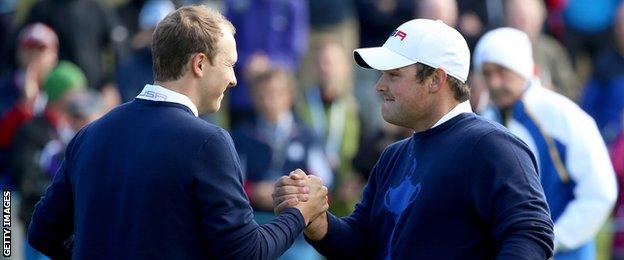 The Americans were a combined five under. Rookies no more. For them, this was an unforgettable morning, a buzz that will live forever in their memory. For Poulter, it was a reality check, a reminder that though he has played like God, he cannot keep producing miracles.
For Gallacher, a sobering experience. Most Ryder Cup players have known days like this. Only the best of them have recovered. That's the challenge now. Two days left. Two days to get his head right and fix the damage done.
Ryder Cup 2014 on the BBC
Friday, 26 September:
BBC Radio 5 live, 08:30-19:00. The Ryder Cup Highlights: 20:30-22:00, BBC Two; 20:30-22:00 BBC Two Scotland; 23:05-00:35 BBC Two Wales; & 20:30-22:00, BBC Two NI.
Saturday, 27 September:
BBC Radio 5 live, 08:30-18:30. The Ryder Cup Highlights: 20:30-22:30, BBC Two.
Sunday, 28 September:
BBC Radio 5 live, 11:00-18:30. The Ryder Cup Highlights: 19:30-21:30, BBC Two.
Live text & radio commentary, and video highlights, of all three days available on the BBC Sport website.