Ryder Cup: Stephen Gallacher tips fans to be Europe's '13th man'
Last updated on .From the section Golf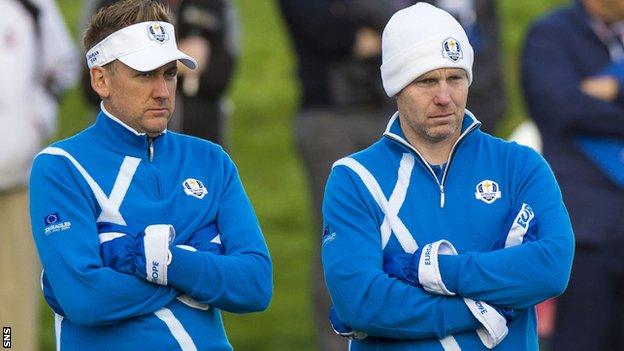 Stephen Gallacher believes the fans at Gleneagles will play a key role as Team Europe bid to defend the Ryder Cup.
Ryder Cup debutant Gallacher was disappointed with his display, but has taken heart from the backing the Europeans are getting from the crowd.
"The fans here will be cheering us on for the next few days and they might become the 13th man," he said.
Gallacher received a rousing welcome when he walked on to the first tee, and revealed it was a moment he will cherish.
"It was a special reception, something that I will remember for the rest of my life," the 39-year-old said.
"It was euphoric, I was really excited. First tee at the Ryder Cup is special but first tee in your own country takes it to another level.
"It's just a pity about the result really."
As the only Scot in the European team at Gleneagles, there has been a huge amount of focus on Gallacher. He is adamant, however, that nerves did not get the better of him.

"With your first Ryder Cup there's a bit of excitement and you don't really know what to expect," he added.
"There's nerves any time you play but you learn to channel it, that's why you've got pre-shot routines.
"I didn't feel under pressure at all, I was really looking forward to it and it just didn't pan out. I didn't play that well and when I did start to play well I didn't capitalise on it by holing the putts."
America were 2½-1½ ahead after the morning session with neither Gallacher nor Poulter used in the afternoon by European captain Paul McGinley.
Ryder Cup stalwart Poulter, however, says there is no chance he will let the defeat by the American rookies affect his performance over the weekend.
And he urged Gallacher to stay positive as well.
"I said to Stevie, walking off the course today, that when I played with Darren Clarke in 2004, the first time I ever played, we had our butts kicked, and we've had that today," Poulter said.
"But things can change very quickly and we have to keep our heads up right now.
"My record has been pretty good so taking a dent this morning, I can shrug that off and look forward to tomorrow."
Ryder Cup 2014 on the BBC
Friday, 26 September:
BBC Radio 5 live, 08:30-19:00. The Ryder Cup Highlights: 20:30-22:00, BBC Two; 20:30-22:00 BBC Two Scotland; 23:05-00:35 BBC Two Wales; & 20:30-22:00, BBC Two NI.
Saturday, 27 September:
BBC Radio 5 live, 08:30-18:30. The Ryder Cup Highlights: 20:30-22:30, BBC Two.
Sunday, 28 September:
BBC Radio 5 live, 11:00-18:30. The Ryder Cup Highlights: 19:30-21:30, BBC Two.
Live text & radio commentary, and video highlights, of all three days available on the BBC Sport website.