Ryder Cup: Tom Watson faces up to his biggest challenge yet

By Tom Fordyce
Chief sports writer at Gleneagles
Last updated on .From the section Golf132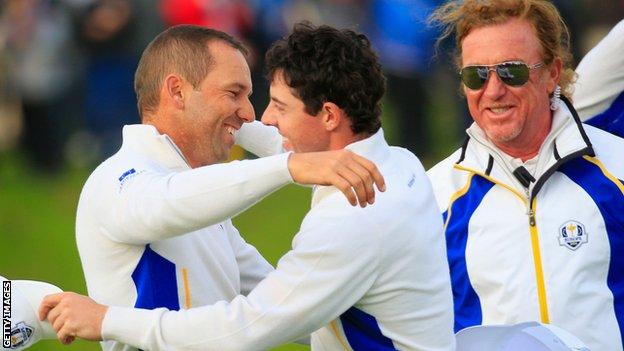 Watching cigar-smoking European vice-captain Miguel Angel Jimenez hug the victorious pairing of Rory McIlroy and Sergio Garcia on Saturday night like a mob family don welcoming home his favourite hitmen, you might assume that the town is already theirs.
With Europe leading 10-6 going into Sunday's singles, the temptation is to write history early: the Glory of Gleneagles, the Pummelling in Perthshire.
Recent Ryder Cup precedent suggests that would be unwise. The Miracle of Medinah last time out sprang from the same score. The US overturned the same advantage in Brookline in 1999, having so nearly done it from 10½-5½ down at Valderrama two years before.
You could read the words of US captain Tom Watson and believe it could happen again. "We're gonna smoke 'em," he said, in time-honoured gunslinger fashion. "We gotta take 'em out."
Then you might listen to how wearily he spoke them, and look at his slumped shoulders and heavy eyes, and see only a cowboy with no bullets in his chamber and only kids by his side.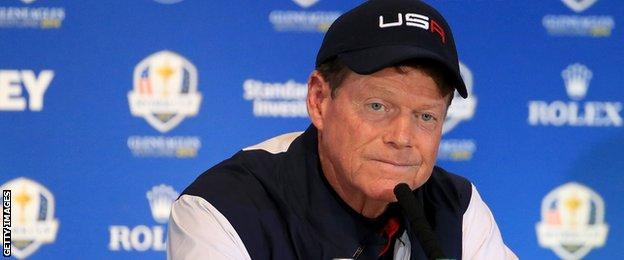 Watson's selections for Sunday would have made no sense even two days ago. His first man is 21-year-old Jordan Spieth, his second 24-year-old rookie Patrick Reed. Five-time major winner Phil Mickelson is buried down at fifth, double Masters champion Bubba Watson a match later.
Now they are his only hope. Spieth and Reed have two-and-a-half points each from a possible three. Bubba has none; Mickelson appears cut adrift.
This is a fight-back founded on a simple plan: front-load with form, forget reputation, pray for momentum.
That was how Jose Maria Olazabal sparked the impossible two years ago. Luke Donald was followed by Ian Poulter, Rory McIlroy by Justin Rose. All four brought their points home. It is how Sam Torrance sealed it at the Belfry in 2002: Colin Montgomerie out first, Sergio Garcia on his heels, Bernhard Langer and Padraig Harrington close behind.
Final day singles draw (Europe names first, all times BST)
11:36:
Graeme McDowell v Jordan Spieth
11:48:
Henrik Stenson v Patrick Reed
12:00:
Rory McIlroy v Rickie Fowler
12:12:
Justin Rose v Hunter Mahan
12:24:
Stephen Gallacher v Phil Mickelson
12:36:
Martin Kaymer v Bubba Watson
12:48:
Thomas Bjorn v Matt Kuchar
13:00:
Sergio Garcia v Jim Furyk
13:12:
Ian Poulter v Webb Simpson
13:24:
Jamie Donaldson v Keegan Bradley
13:36:
Lee Westwood v Jimmy Walker
13:48:
Victor Dubuisson v Zach Johnson
Will it work? Watson, indomitable in close combat as a player, knows the lines that must be recited.
"In the team room, there's a special feeling that the players have for each other," he said dutifully as others tried to open the inquest early.
"What they exude is the belief that they can do this. I know that. I see it. I get that feeling from them. All I've asked of them is that they have the belief in themselves, because I sure as hell believe in them."
Whether he convinced anyone, even himself, is another matter. Miracles do happen. To expect a second in two stagings of the Ryder Cup is to have the sort of faith that others might see as delusion.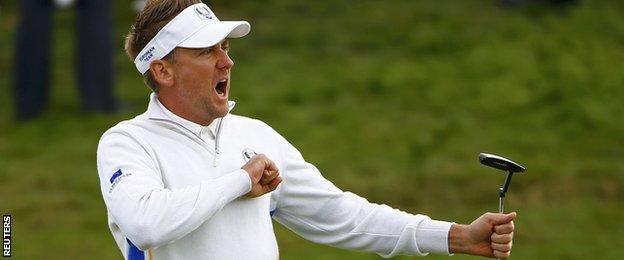 Medinah, seemingly so similar, was already at this stage significantly different. Europe, thanks to Poulter's five birdies in five holes late on Saturday that saved them from 11-5 or even 12-4, had already begun the resurgence. "We have a pulse," he told them in the team room that night, and he was right.
This time, the momentum is with the team in front. Europe won three of Saturday afternoon's foursomes. They rescued a half in the other on the final green. Everywhere you looked, there were American putts staying up and American heads going down.
There is still a pulse. But it is fluttering rather than beating strong. "In the infamous words of our President, we got shellacked this afternoon," admitted Watson, with the honestly of a 65-year-old too tired to argue.
Saturday's foursomes results (Europe first)
Jamie Donaldson & Lee Westwood bt Zach Johnson & Matt Kuchar 2&1
Victor Dubuisson & Graeme McDowell bt Jimmy Walker & Rickie Fowler 5&4
Sergio Garcia & Rory McIlroy bt Jim Furyk & Hunter Mahan 3&2
Martin Kaymer & Justin Rose A/S with Jordan Spieth & Patrick Reed
He has spoken about wanting to replicate the sensation of his winning charge as captain at the Belfry in 1993, when he looked up with the late Payne Stewart on the decisive Sunday afternoon to see half-full grandstands and thousands of natives streaming for the exit. It has been his aim and exhortation again all week: empty the stands, boys, empty the stands.
Those squeezed in to the heaving throngs around Gleneagles on Saturday might suggest he will look up on this final day in vain.
When matches were on the green, the support was immense. When they were elsewhere - and the thousands all around were glued to the gathering European charge on the giant screens - it was like watching with a bunch of friends on the world's biggest sofa.
It is Watson's opposite number Paul McGinley whose hunches have come off and whose men are on the charge.
Graeme McDowell and Victor Dubuisson appear so close they would share a toothbrush. Rose has putted like a man in a trance. Even Poulter, his form as fallible for the first two days as it has been all summer, conjured up an impossible chip-on and a critical putt to salvage a crucial half before the afternoon stampede.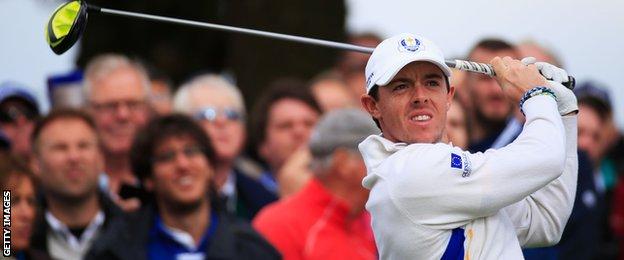 McIlroy is starting to fire. Lee Westwood, after his 2&1 win alongside Jamie Donaldson in Saturday's foursomes, has gone past Seve Ballesteros as his team's all-time highest Ryder Cup points scorer.
And Watson's key men? Fowler looked exhausted by the end of his fourth match, although his young limbs should recover overnight. Mickelson is less of a certainty. So desperate to play on Saturday that he not only tried to persuade Watson face-to-face not to rest him but then sent him a text message, he is a hot potato left out in the cold.
Bubba's form has gone. The rest are up and down. It is a heavy burden indeed on Spieth and Reed, even if they have responded magnificently this far.
Watson has had another theme this week: redemption, for the pain that Medinah caused those who blew the show rather than stole it. This is his perfect chance: same score, same doubt, the ideal happy ending to a career in golf that has surpassed all but a special few.
What Watson would give for a fit Tiger Woods to lead the singles charge. But he must work with what he has, and he must conjure up a wonder that would out-do anything in his illustrious playing career.