Ryder Cup 2014: How the players and captains rated
Last updated on .From the section Golf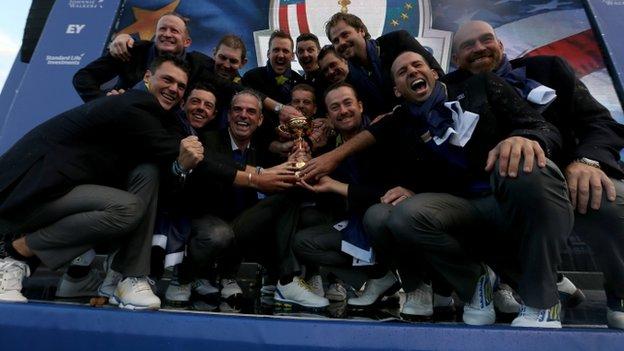 Europe defended the Ryder Cup with a convincing 16½-11½ victory against the United States at Gleneagles.
England's Justin Rose led the overall scoring with four points while Europe's Stephen Gallacher and American Bubba Watson failed to put a point on the board.
Here, BBC Sport's Rob Hodgetts analyses the contribution of all 24 players and both captains.
Team Europe
Rory McIlroy 9

Took on the workload of a world number one, playing all five sessions and delivering two halves and two wins, with three matches going to the 18th. His resounding 5&4 singles victory over Rickie Fowler showed his true class against one of the season's form players and laid the foundations for Europe's triumph.
Henrik Stenson 8

The ice-cool Swede formed an indomitable partnership with Florida neighbour Justin Rose, winning all three of their matches together. Rested for Saturday foursomes and lost a ding-dong singles battle against pumped-up rookie Patrick Reed after missing a short putt for a half on the last.
Victor Dubuisson 8

The quirky Frenchman was an unknown quantity coming into the week, but formed a formidable partnership with Graeme McDowell to win both their foursomes matches. Dubuisson was said to have come out of himself in the team room and became an integral part of the set-up. Sent out in the final match, Dubuisson earned a half with Zach Johnson to the 18th with his entire team waiting to open the champagne.
Jamie Donaldson 7

The 38-year-old Welsh rookie will always be remembered as the man who earned the winning point for Europe at Gleneagles 2014. Bonded well with English veteran Lee Westwood to win two of their three matches and took down Keegan Bradley 4&3 to secure the Cup.
Sergio Garcia 8

The Spaniard, like Seve Ballesteros and Jose Maria Olazabal before him, has the Ryder Cup in his blood. Though arguably not in the form that has taken him to third in the world this season, Garcia won one, lost one and halved one in his three matches before the singles. Against US veteran Jim Furyk, Garcia found himself in a scrap but an eagle on the 16th took him ahead and he bagged another point for Europe, albeit after the Cup was won.
Justin Rose 9

The rock of Europe. Won all three matches with Henrik Stenson and grabbed a crucial half with Martin Kaymer in Saturday afternoon's foursomes to give Europe the momentum going into Sunday. Came up against a gritty competitor in Hunter Mahan in the singles, but did not panic at four down after six and fought to the end to secure a half on the last.
Martin Kaymer 8

The German came away with just a half alongside Thomas Bjorn after leading throughout against Rickie Fowler and Jimmy Walker in the Friday fourballs, but earned a crucial half point alongside Justin Rose to snuff out a momentum-changing win for US rookies Jordan Spieth and Patrick Reed on Saturday afternoon. Kaymer and Bjorn also suffered a heavy defeat to Spieth and Walker on Saturday morning. On Sunday he hit a ruthless vein of form similar to his dominant US Open victory earlier this year to trounce Masters champion Bubba Watson 4&2 for Europe's third win on Sunday.
Thomas Bjorn 6

The Danish veteran, 43, back in the Ryder Cup as a player for the first time since 2002, earned a half point alongside Martin Kaymer in the Friday fourballs but came up against the hot US rookies Jordan Spieth and Patrick Reed to lose his only other fourball match. Never ahead against Matt Kuchar, he went down 4&3 in the singles.
Graeme McDowell 8

Captain Paul McGinley had a specified role for the Northern Irishman and he played it to perfection. Chosen to take Frenchman Victor Dubuisson under his wing, McDowell got the best out of his debutant partner as they romped to two heavy foursomes wins. Sent off first in the singles because he is a "fighter", according to McGinley, McDowell's gritty comeback from three down against Jordan Spieth for a 2&1 victory set Europe on the road to glory.
Stephen Gallacher 5

Chosen as a captain's wildcard, the local hero was sent out on the first morning with Medinah talisman Ian Poulter to fire up the home crowd. The pair struggled, though, losing heavily to US rookies Jordan Spieth and Patrick Reed, and Gallacher sat out the next three sessions before succumbing 3&1 to Phil Mickelson in the singles.
Ian Poulter 7

Europe's Medinah hero and the leading points scorer in the last three Ryder Cups was a less pivotal figure this time around after needing a wildcard to make the side, but espoused the team ethos throughout the week. Chosen to partner Scottish rookie Stephen Gallacher in the first session, but the pair failed to spark either themselves or the crowd and lost 5&4 to Jordan Spieth and Patrick Reed. Nicknamed the "postman" in past Ryder Cups because he always delivers, Poulter conjured some magic on Saturday morning, chipping in on 15 and a birdie on 16 to help rescue a half alongside Rory McIlroy to stem the rising American tide. Halved with Webb Simpson in the singles.
Lee Westwood 7

The 41-year-old needed a wildcard to play in his ninth Ryder Cup and paid the captain back handsomely in the father figure role to win two points out of three alongside rookie Jamie Donaldson. Westwood, who reached fifth on the list of all-time Ryder Cup points scorers with 23, came up against in-form US rookie Jimmy Walker in the singles, losing 3&2.
Paul McGinley (Captain) 10

The Irishman outwitted counterpart Tom Watson at every turn to eclipse his previous Ryder Cup highlight - sinking the winning putt at the Belfry in 2002.
Professional, organised, calm and clear-headed, Europe's captain had a plan for everything and worked to his template. From inspirational images on the walls of the team room, to motivational speeches and lines of communication, an inclusive atmosphere to include caddies and family, an invite to Sir Alex Ferguson to address the team, and meticulously planned pairings, McGinley left no stone unturned. "He did an amazing job," said seven-time Cup veteran Sergio Garcia. "A little different to other captains, more modern, but it worked."
Team USA
Bubba Watson 3

The colourful left-hander comes with plenty of swagger and the crowd love his first-tee antics, but no points in three matches is a disappointing return for the two-time Masters champion. Reprising his successful Medinah partnership with Webb Simpson, the pair crashed to Justin Rose and Henrik Stenson. Rested that afternoon, he lost to Rose and Stenson again on Saturday, alongside Matt Kuchar. A 4&2 singles defeat by Martin Kaymer ended a miserable week for Watson.
Rickie Fowler 6

Three half points from a possible five is not too shabby at this level but Tom Watson might have expected more from one of the most talented young players on the PGA Tour. Having challenged for every one of this year's majors Fowler found himself assailed with Bianca-like shouts of "RIC-KAAAY!" on every hole, and was thrashed by McIlroy on the pivotal Sunday afternoon.
Jim Furyk 7

Now has the unwanted record of having lost more Ryder Cup points than any American in history. He was far from his team's worst player at Gleneagles and remains a possible future captain, and took Sergio Garcia all the way to the 18th on Sunday.
Jimmy Walker 7

The 35-year-old rookie was one of the US bright spots and became one of captain Watson's go-to men, playing in all five sessions. Alongside Rickie Fowler, Walker earned three half points and beat Lee Westwood 3&2 in the singles after the match was over. Watson suggested one of his mistakes was overplaying a tired Walker but the laconic three-time PGA Tour winner said he was raring to go.
Phil Mickelson 6

The most charming of the American players on the course, Lefty played smiling assassin to his captain in the inquest afterwards. "Unfortunately, we have strayed from a winning formula in 2008 for the last three Ryder Cups, and we need to consider getting back to that formula that helped us play our best," he said, praising former skipper Paul Azinger as he took Watson apart. Rested on Saturday, he would have his revenge.
Matt Kuchar 3

One of his captain's big dogs, but responded with a whimper. The 36-year-old could muster only one point from a possible four, in a match against Thomas Bjorn that had minimal impact on the week's momentum.
Jordan Spieth 8

Ryder Cups are meant to be no place for 21-year-old tyros. But just like his foursomes partner Reed, Spieth rose to the challenge magnificently, only faltering down the stretch as McDowell fought back. Could even have won more points had Watson trusted him and Reed on Friday afternoon.
Patrick Reed 9

Making big noises across the pond, the 24-year-old rookie was by far his country's best player, not only going unbeaten across the three days but becoming almost the only player to show genuine aggression and obvious passion in the face of European domination.
Zach Johnson 4

Another experienced hand outperformed by those with none of his years of PGA golf. Without a win in his three matches, he could bag just a single half, and that courtesy of the first poor shot Victor Dubuisson had hit all week on the final hole in the singles.
Keegan Bradley 5

The go-to man with partner Phil Mickelson two years ago and a wildcard pick for Watson as a result, but after a win in Friday morning's fourballs he lost in the afternoon's alternative ball format, was rested for the whole of Saturday and was hammered by Jamie Donaldson in Sunday's singles. Not his finest week.
Hunter Mahan 5

Lost two and halved one of his four contests, another one of Watson's supposed barnstormers who failed to make hay in the Scottish sunshine. You want your wildcard to justify his selection and lead the storming of the enemy fortress. Mahan was more hunted than Hunter.
Webb Simpson 4

Beaten on the first morning, he then sat out until the Sunday singles when he squeaked a half-point from a significantly out-of-form Ian Poulter when the match was over. For a wildcard he was both a strange choice and one that backfired.
Tom Watson (Captain) 3

Hand-picked to restore American honour in the Ryder Cup but ended up looking all of his 65 years, and publicly criticised by Phil Mickelson in the final press conference. Mickelson said Paul Azinger had the best template for success in 2008 and, by extension, that Watson didn't. While the Europeans were tripping over themselves to praise Paul McGinley, not many Americans rushed to endorse their own skipper. Admitted he may have made a mistake by using tired players, such as Jimmy Walker, too often.