Ryder Cup 2014: Phil Mickelson 'wrong to criticise Tom Watson'
Last updated on .From the section Golf
Former Ryder Cup captain Mark James has said Phil Mickelson was wrong to criticise USA captain Tom Watson after Europe easily retained the Ryder Cup.
James, Europe's 1999 Ryder Cup captain, said: "You stand by the captain and the captain stands by the team.
"It's pretty much an unwritten rule. You don't criticise the players and the players don't criticise you."
Mickelson, who was left out by Watson on Saturday, said the Americans should have stuck with the system that worked so successfully for Paul Azinger in 2008, the last captain to guide the US to victory.
The 44-year-old, who won two out of a possible three points, said Watson had "strayed from a winning formula".
But a number of former European captains have said the ex-world number two should have aired his opinion in a private conversation.
Nick Faldo, under whose stewardship Europe lost to Azinger's team in 2008, said Mickelson had "thrown his captain right under the bus".
And James told BBC Radio 5 live: "Tom Watson has an unblemished record among his peers and has great respect from them all.
"It's all well Mickelson having a go at Watson for not trying the Azinger method but the last two captains didn't use the Azinger method either so Mickelson has had six years to say something."
BBC Radio 5 Live commentator and former golf professional Jay Townsend on USA's lack of cohesion
"You win together and you lose together. The reason the Europeans win, in my mind, is because they are such a team. I think the Americans play more as individuals. I don't know if they have it in their DNA right now to play as a cohesive team. I don't think the meaning of winning as a team in the Ryder Cup is there, the way it is with the passion that the Europeans have. That's the difference."
Listen to the full interview
In contrast, Europe's players have been praising their captain Paul McGinley for his meticulous attention to detail, but the Irishman has ruled out captaining the team in two years' time.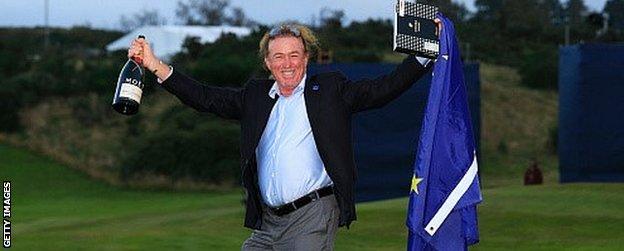 "We've got some great guys waiting in the wings," he told BBC Breakfast.
"It's a great honour to be a Ryder Cup captain but, for me, it's one term only and I'll gladly step aside and wish the next captain, whoever that may be, the best of luck."
James, a defeated captain during America's memorable comeback victory in Brookline, said Spain's Miguel Angel Jimenez, 50, and Northern Ireland's Darren Clarke, 46, were leading contenders for the job.
"Darren Clarke, definitely soon," James said of the man who was vice-captain at Medinah two years ago when Europe fought back from 10-6 down to win.
"Miguel Angel Jimenez has a great case to be captain. He has a long impressive career. Those two would be, in my mind, the next two for captain."