Ryder Cup 2014: Stephen Gallacher eyes spot in 2016 team
Last updated on .From the section Golf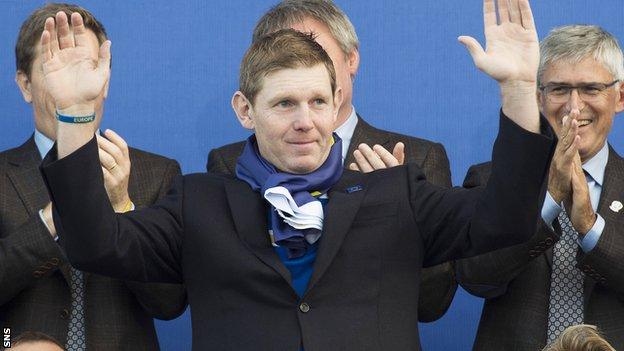 Stephen Gallacher is already dreaming of securing a spot in Europe's team for the Ryder Cup in 2016.
The Scot failed to pick up a point from two outings on his Ryder Cup debut at Gleneagles as Europe beat America 16½-11½.
And the 39-year-old is desperate to be involved in the bid to defend the trophy at Hazeltine in two years.
"I don't think I need much motivation to try to get myself to Hazeltine now," Gallacher told BBC Scotland.
"Martin Kaymer and a few of the boys were saying that once you get a taste for it, it's hard to give it up.
"I don't know how you can replicate that buzz of the first tee, so to do it again we must get ourselves into the team."
Gallacher and fellow wildcard pick Ian Poulter lost 5&4 against rookie duo Jordan Spieth and Patrick Reed in Friday morning's fourballs.
The Scot's next action was in the Sunday singles against Phil Mickelson and, despite a solid showing, he lost 3&1.
"I played hard and he played hard," Gallacher added. "It was one of those games where it was nip and tuck. I was four under and he was six under. I was trying my best for the team.

"To be there on the first tee as a Scot, I gave it my best shot against one of the world's greatest golfers and that's what it's all about."
Gallacher paid tribute to the "magnificent" job done by European captain Paul McGinley, and piled praise on the Scottish crowd.
"When I was at Valhalla this year [PGA Championship] there was no-one singing glory glory Stephen Gallacher," he said.
"But I got that at the first at Gleneagles in the Ryder Cup.
"To win at the home of golf was massive for the country and massive for Europe, it's all about people hopefully picking up a set of golf clubs now and getting involved in golf, bringing new people to the game."
Skipper McGinley was also keen to highlight the fans' contribution at Gleneagles.
"I don't think the crowd could have been any better, that first tee experience was wow," he told BBC Scotland.
"The crowds were spectacular. We asked them to be noisy and they were noisy, but they were also very respectful to America as well, which was great.
"I can't thank the Scottish people, and all the people who came from all over the world, enough."
McGinley, who said Europe's victory meant he could "retire like a heavyweight champion - undefeated," also dismissed suggestions that America's struggles in the competition could bring its future into doubt.
Europe have now won eight of the last 10 Ryder Cups.
"There's no concern," McGinley said.
"The Americans are very proud of their country and very proud of representing their country. There was a lot of hurt in that American team room yesterday. They'll galvanise themselves, they'll come back and put up an incredibly strong challenge in two years."