Ryder Cup 2014: How captain Paul McGinley out-thought USA

By Iain Carter
BBC golf correspondent
Last updated on .From the section Golf305
Even when the Ryder Cup had been safely delivered back to the European team room, Paul McGinley was ensuring his team made the most of a remarkable week.
At the after-match celebrations the inspired European captain told his players to go easy on the alcohol. "Don't go overboard," he told them. "Make sure you are able to remember this for the rest of your lives."
It was typical of the Irishman.
His thorough, intelligent and measured approach was the difference between his team and the fractured American setup led by Tom Watson.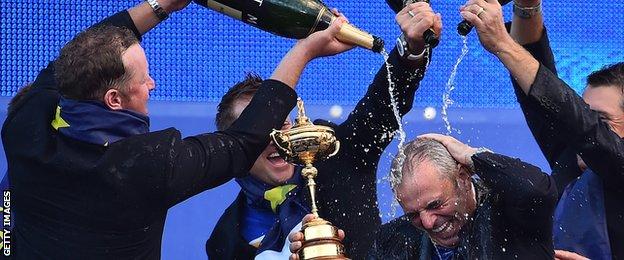 Leadership is everything in the Ryder Cup. Yes, it comes down to the players to sink the putts, but for that to happen effectively their mood, motivation and readiness has to be at the highest level.
And it is the captain who can make sure this is the case.
From before he was appointed, McGinley's every thought and move was designed to create such a platform for his European team.
These are multi-millionaire individual sportsmen for whom there is always next week to provide opportunities of glory and remuneration.
The theory goes that they shouldn't need motivating to perform at a Ryder Cup. It is, after all, the biggest show in golf and commands the game's largest television audiences.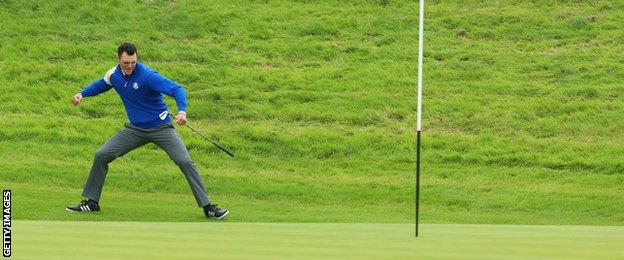 It is watched by its most impassioned spectators and all 24 players on show in Perthshire were, undoubtedly, motivated to win the trophy.
But one side was far better prepared for the task and one team was melded into a single unit. That team was Europe.
Their dedicated area in the Gleneagles Hotel was decked out in the blue and yellow of the continental flag, right down to the tropical fish. They were blue or yellow, too.
Those fish did not help Justin Rose produce his talismanic contribution, but they served as a symbol of the captain's attention to detail.
Each and every European player paid tribute to their skipper for providing the opportunity to perform at their best over the three days at Gleneagles.
"There's lots to digest about what Paul did very, very well," Ian Poulter told BBC Sport. "Tom Watson is way more accomplished as a player than what Paul McGinley is, so he couldn't go up against his record.
"But what he could do was try and out-think him. By doing his homework, by being respectful, by being unbelievably clever in the way that he went around getting all of his statistics to make sure he had the right players on the course at the right time, he did that.
"The master-plan for Paul was to make sure we would be holding the trophy at the end of the week. It wasn't about egos, playing certain players five times. This was about getting hold of that trophy."
McGinley was an outstanding captain, perhaps Europe's finest, and Poulter agreed the role was taken to a new level. He added: "Every player is so proud that they have put that trophy in his hands."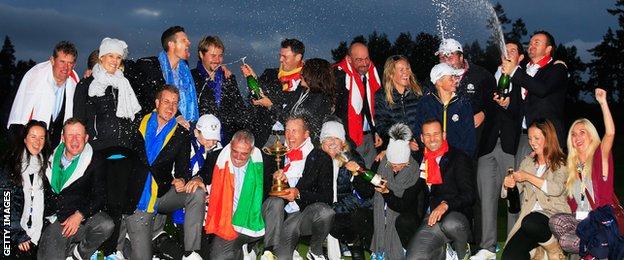 Watson, by contrast, was made to look an out-dated figure. He erroneously contended the only difference to the last time he did the job in 1993 was the increased demands of the media.
The 65-year-old was correct on the astonishing number of interviews now required of a skipper but he totally underestimated the degree of sophistication required to manage an effective team effort.
This was demonstrated at the extraordinary post-match press conference where Phil Mickelson's glowing observations of Paul Azinger in 2008 completely undermined the veteran skipper in 2014.
Such is the ongoing unity on this side of the Atlantic, you would never witness such a show of disloyalty from Europe.
When Azinger's team defeated Sir Nick Faldo's side six years ago there were serious misgivings about the legendary Englishman's leadership. They finally surfaced this week but only after Faldo had branded Sergio Garcia as "useless" in that match.
But it's worth recalling how the losing press conference went at Valhalla in 2008.
Faldo was asked: "Since you became captain, many of your decisions have been criticised. In the wake of this defeat, you'll receive more criticism tomorrow no doubt from the British press. I wonder, do you care, and if not, why not?"
Justin Rose quipped: "Thanks." Faldo looked at his team and then said: "Do I care?" Lee Westwood was first to step in: "No is the word you're looking for, I think."
Poulter, Garcia and Rose all asked if they could jump into the conversation before Westwood added: "We hold the golf clubs and we hit the shots, not the captain. If you want to talk about me being rested Friday morning and Sergio being rested, that's the session we won, so Nick was right to do that. So you tell me whether Nick was right or wrong?"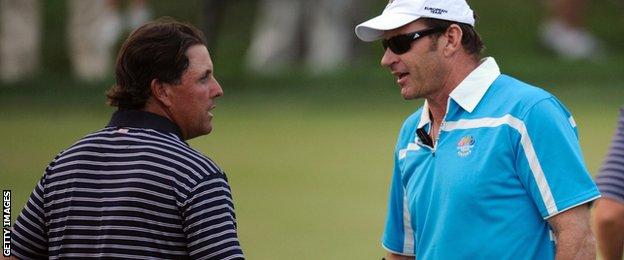 Garcia then added to applause from his team-mates: "Yeah, it's true," before providing more words of support for the under-fire captain.
There was none of that in the US post-match news conference in Scotland. Instead they looked broken, beaten and disunited.
Rumours are rife that Watson's Saturday night speech was undermined in the team-room as he sought to inspire a comeback from 10-6 down.
The fall-out will be brutal for American golf and if they don't learn the lessons from McGinley's blueprint they will continue to lose.
Bitterness and rancour run through the aftermath of this American defeat and there has already been heavy criticism for Mickelson.
On the Golf Channel, respected pundit Brandel Chamblee blasted Mickelson. He said: "That was as close to a one-man mutiny that I've ever seen.
"I think that's a moment that Phil would like to have back. If you're looking for a reason why the United States continues to lose, you just saw it in one man. Phil Mickelson.
"Phil Mickelson, along with the best players of that era, have so corrupted the experience of the Ryder Cup for their fellow competitors by not having records anywhere near what they should, given their rank in the game."
Such forthright criticism is rarely witnessed in a sport so well known for its reserve.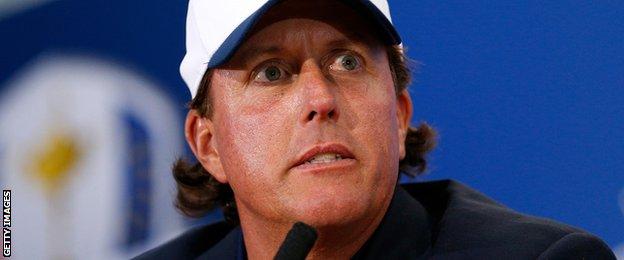 Whoever is tasked with picking up the pieces for the US faces a huge job. The legendary Watson wasn't up to it and the fallout suggests the need for a complete re-think for Hazeltine in 2016.
Azinger was the last American to approach the captaincy in a radical fashion. A similar mindset is needed now.
The next man needs to be meticulous, intelligent, inspiring and articulate. These were the qualities that Paul McGinley demonstrated in abundance and served Europe so well at Gleneagles.