Ryder Cup 2014: Darren Clarke rift will not sway Paul McGinley
Last updated on .From the section Golf
Victorious Ryder Cup captain Paul McGinley says his strained relationship with Darren Clarke will not influence his opinion on who should succeed him.
McGinley is part of a five-man committee that will choose the European captain for 2016.
Clarke initially backed McGinley's bid to be the 2014 captain, only to put himself forward and then move on to supporting Colin Montgomerie.
"I'm going to be very professional in my input," said McGinley.
Former Open champion Clarke wrote to McGinley in 2011, offering his support to the Irishman's bid to lead at Gleneagles.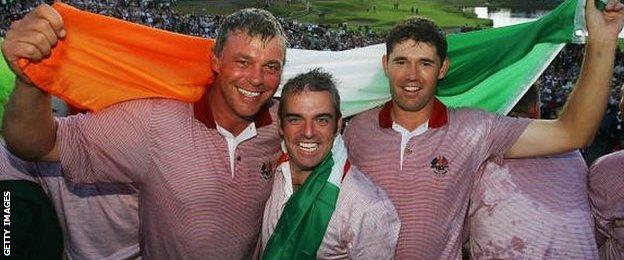 But, in December 2012, Clarke told the BBC that he was in the running to become captain, before appearing to back Montgomerie - who had led in 2010 - after the United States appointed Tom Watson.
"We do have an (unwritten) rule where we don't ask anybody to do it again, but we might have to look at that," said Clarke.
Ultimately, McGinley was named captain in 2013 and took Europe to a 16½-11½ success to earn praise from players Rory McIlroy, Lee Westwood and Sergio Garcia.
McGinley recently admitted that his conversations with Clarke were now "short and sweet", but, when asked if his relationship with Clarke would be a problem for the Northern Irishman's captaincy bid, McGinley said: "Absolutely no problem whatsoever.
"I'm going to get opinions from a lot of players and a lot of people before I put my opinion forward as to what it will be. Just like I was very much pushed over the line by the players, I want to get the opinion of the players.
"We're very fortunate in Europe, a little bit like the Liverpool soccer team and the boot room. A lot of us have benefited hugely from being vice-captains. Darren has been a vice-captain along with many other guys.
"We will see where that all evolves and I'll make a professional decision based on the views of people that I respect."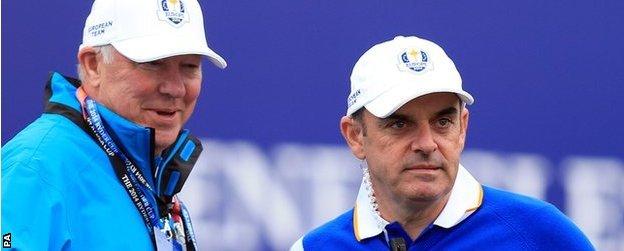 McGinley will choose the new captain along with previous two skippers Montgomerie and Jose Maria Olazabal, the European Tour chief executive and a representative from the tournament committee.
But the 47-year-old, who won the trophy three times as a player, says his Ryder Cup career is now over and that he has no desire to be captain or vice-captain again.
"I don't think I'd be vice-captain to anybody going forward to be honest," said McGinley, who was a vice-captain in 2010 and 2012.
"I'm very happy to help in an unofficial capacity but I don't think I have the personality to go back in as vice-captain.
"That's six I have been involved in and six wins. Like a heavyweight fighter, I will retire undefeated."
Sir Alex Ferguson on Europe's win
"Paul McGinley's detail and preparation was fantastic. Rory McIlroy delivered in a fashion that great players can do - that's why he's the best player in the world. The fans played a fantastic part because they created that atmosphere where the players didn't want to let them down. That's the great beauty of fans like that - it creates an expectation they want to live up to."
McGinley said he would be happy to take on an advisory role, like the one former Manchester United manager Sir Alex Ferguson held at Gleneagles.
"I would certainly like to play a role, if required, a little bit like Alex Ferguson did this week for me," he added.
"I bounced ideas off him. He didn't preach to me. He didn't tell me what to do, but what he did was he solidified my ideas and he gave me confidence that, yeah, my hunches were right.
"I certainly won't be pushing myself forward, but whoever the next captain may be, if he has any questions, I'll help in any single way I can."