Ryder Cup 2014: Paul Azinger will not rule out Ryder Cup return
Last updated on .From the section Golf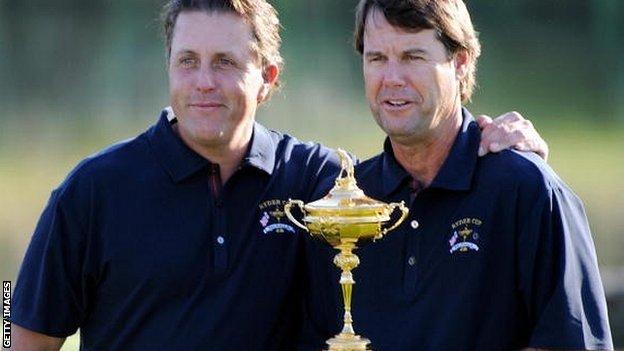 Former Ryder Cup captain Paul Azinger is open to the possibility of leading the United States in 2016.
The 44-year-old told a news conference that captain Tom Watson had not engaged with the players like Azinger had.
Asked about the chances of returning as captain at Hazeltine, Azinger said: "I'm not going to rule anything out."
Azinger, America's only winning captain this century after six defeats in seven contests for the US, said the PGA of America should change its captain selection process.
Of the last 10 US captains, only two had previously been vice-captains and the 54-year-old Azinger said the US should follow Europe's lead and promote from within.
"We have lone-wolf captains," he said. "So the US players have to adjust to a completely unique system to the previous two years.
"It is time for the PGA of America to recognise the great disconnect and formulate the same business model for selecting a captain as it does for selecting its president and officers.
"The PGA of America has officers that move up the ranks, getting sage advice along the way, and then many of them stick around and keep offering advice.
Mickelson questions Watson's captaincy
"Unfortunately we have strayed from a winning formula for the last three Ryder Cups and we need to consider maybe getting back to that formula that helped us play our best."
"I think the PGA of America should recognise their business model is exactly the same as what Europe uses in selecting a captain."
Azinger would not condone or denounce Michelson's criticisms of Watson.
The former world number two, who won two out of a possible three points, said Watson had "strayed from a winning formula" during Europe's 16½-11½ success.