Graeme McDowell: Paul McGinley my standout Ryder Cup leader
Last updated on .From the section Golf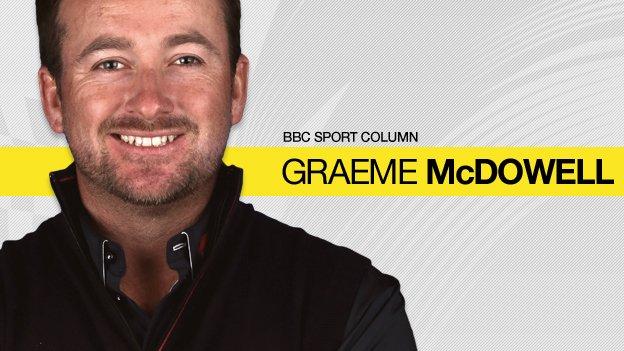 The Ryder Cup has a special place in my heart, as it does for all players lucky enough to wear blue or red sweaters representing Europe and the USA.
With no disrespect to the previous three captains I have been lucky enough to play under, captain Paul McGinley was a standout leader.
His playing credentials didn't make him a first-choice Ryder Cup captain (that's a whole other debate), but his leadership, meticulous attention to detail and way with words helped him command huge respect in the team room.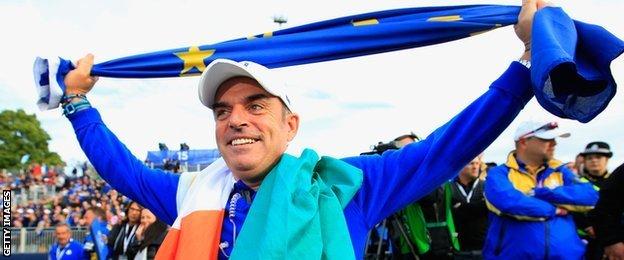 McGinley was a man with a plan, and that plan had been materialising in his mind ever since he was put at the helm of the European team for 2014.
He was hungry for knowledge - everything from in-depth statistical analysis of players and Ryder Cup history, to picking the brains of great man-managers like Sir Alex Ferguson.
The team spent an hour listening to the former Manchester United boss last Tuesday evening, hanging on his every word, United fans or not. We talked about complacency and how we would deal with being the favourites, a tag with which European Ryder Cup teams were not familiar.
Captain Paul McGinley's qualities
Meticulous attention to detail
Great communication skills and leadership
Ability to delegate
Positive attitude and creativity
Ability to inspire
We talked about concentration, work ethic and respecting our opponents.
There was a message that Paul was trying to instil in the minds of each of the 12 players. Every video, speech, picture on the wall and team decision was linked to that message. We were there to do a job.
Each team member had been communicating directly with Paul for many months leading up to the event. Every player was given a role for the week. McGinley listened keenly to players' opinions on what they had witnessed done well and badly at past Ryder Cups.
This also applied to team events in which they had been part. More importantly, there was the issue of which players they felt they could be successful alongside.
When it comes to fourballs and foursomes, pairing up players is an art form. The captain has to consider the dynamics of each player's game, the balls being used and the chemistry between the two.
You have to consider if a player can handle the emotional energy of an Ian Poulter, for example, or perhaps they would prefer the relative calm of playing alongside a Martin Kaymer. You have 12 very different personalities, needs and, of course, games.
Myself, Poults and Lee Westwood were handed the role of 'blooding' the rookies, which is hugely important, especially when the captain has the goal of introducing all the newcomers on that opening Friday.
Stephen Gallacher made his Ryder Cup debut on Friday morning in the fourball format alongside Poults. Unfortunately, they ran into the rookie pairing of Jordan Spieth and Patrick Reed, who played inspired golf.
Stephen didn't see competitive action again until facing Phil Mickelson in the Sunday singles. This is always a very tough situation for a player, especially Stevie, playing in front of his home Scottish fans.
He understood the captain's decision, and handled himself with class. He was a true team player.
One of McGinley's strokes of genius was the appointment of a fifth vice-captain. There was an assistant with each of the four games on Friday and Saturday morning and afternoon.
The fifth was made available throughout both days to manage the practice requirements and expectations of the four players who sat out sessions.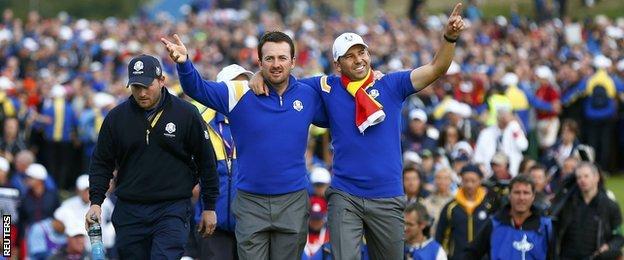 As I was one of the players who sat out Friday and Saturday morning, the level of communication coming in via the fifth vice-captain was huge.
As a result, Lee Westwood, rookie Jamie Donaldson and myself, along with debutant Victor Dubuisson, came out all guns blazing on both afternoons. We contributed 3½-½ demolitions in the two foursome formats.
I have been very fortunate with my playing partners at Ryder Cups: Padraig Harrington, Miguel Angel Jimenez and Poulter in 2008, Rory McIlroy in 2010 and 2012. Pretty decent partners in crime.
This year was no exception. I sensed early that captain McGinley had chosen my potential partner in Victor. This was long before the media got their teeth into whether or not Rory and I would play together because business was getting in the way of our friendship.
The truth of the matter was Rory and I did not have an overwhelmingly impressive record, and at best we might play foursomes together. The captain knew what he was doing.
Victor and I hit it off beautifully and his play was stunning on Friday and Saturday, making my job as sidekick very easy indeed. We picked up two points from a possible two.
After our performance on Friday afternoon, when we beat Mickelson and Keegan Bradley 3&2, we were disappointed not to get the nod for the fourball on Saturday morning.
The captain took me to one side and, in true Sir Alex fashion, told me that leaving me on the bench was part of a bigger role he had for me on Sunday.
He wanted me fresh and ready to lead the team off as number one in the singles matches. It was a huge honour and one that intimidated me slightly when he first told me.
I saw myself as the more steady figure further down the order, maybe a number 12 kind of guy. The captain told me he wanted a battler and a fighter out there as number one, and that I was his man.
We took a 10-6 lead into Sunday - a complete reversal of how we stood in the previous Ryder Cup at Medinah. The big key was that we took a last ounce of momentum out of the Saturday with Justin Rose holing a clutch six-footer as he and Martin halved their match against Spieth and Reed.
Unlike two years earlier, when Europe gained huge belief, despite being 10-6 behind, when Poults birdied the last five holes to win his match alongside McIlroy, we had denied America any momentum.
We took that with us to the team room thanks to Justin's putt.
That night, though, the word "complacency" was talked about at length. We readied ourselves for the storm that would potentially come the following day - and come it did.
Through five holes on Sunday, I found myself three down to a really solid Spieth. He missed an eight-footer on the seventh to go four up, and I followed him in with birdies on eight and nine, just to stay within touching distance.
I wondered whether the captain had given me a task I couldn't deliver. Was I letting the team down and putting the Ryder Cup on the line?
I was three down; Justin Rose was four down. There was a lot of USA red on the board. We were in a storm.
We had talked about being in this position the night before. No matter how bad your situation was, just try to win the next hole. Get the crowd to make some European noise and send a signal to the rest of the team.
Just try to prolong your match, and keep the US point off the board for as long as possible. I knuckled down.
Spieth missed from five feet on 10 to give me a hole back. I nudged in a 15-footer on 11 to get the game back to only one down. All of a sudden I believed. Three putts on the next and a hooked drive on 13 from Spieth, and I floated to the 14th tee one up, scarcely believing what had just happened.
A birdie on 15 and an up-and-down from the bunker on 17 sealed my 2&1 victory, causing a swift release of emotion.
Justin was completing a comeback at the same time, resulting in a very unlikely half point - and an incredible week personally for him. This helped spark our comfortable 16½-11½ victory for Europe.
Rookie Jamie Donaldson sealed the deal in style with his approach to within inches at the 15th which resulted in a concession from Bradley.
This was the cue for the champagne and the celebration. There's nothing quite like the feeling of sharing a victory with your team-mates, a rarity in this game of individuality.
There is often too much emphasis put on decisions made by the winning captain at the Ryder Cup, and the inevitable criticism of the losing skipper.
In this case, McGinley was class personified. He streamlined and sharpened a European winning template, which is no doubt on a roll.
The criticism of USA captain Tom Watson was perhaps a little unnecessary, especially by his own team. It left a sour taste for the US side travelling home.
But it will no doubt motivate and create a hunger for victory in two years' time at Hazeltine National in Minnesota.
Will we see ex-Ryder Cup captain Paul Azinger and his 'pod' system again? Will we see the tried and tested methods of Presidents Cup captain Fred Couples? Who knows.
One thing's for sure: it will be a tough defence for the Europeans and I very much hope I am part of it.