Ryder Cup: Darren Clarke 'odds on' to take over captaincy

By Tom English
BBC Scotland
Last updated on .From the section Golf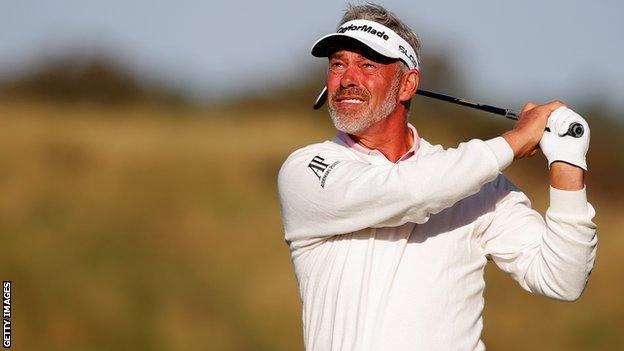 As far as favourites go, Darren Clarke's odds on succeeding Paul McGinley as Europe's next Ryder Cup captain are up there with another great of Ireland's sporting past - Arkle.
Even before Tuesday, when Rory McIlroy reiterated his support of 'Big-D's' candidacy for 2016 at Hazeltine, Clarke was 1-4 to get the job. He was swept into favouritism by the initial endorsement from the world number one and backing from Lee Westwood, who is also in the Northern Irishman's corner.
Scot Colin Montgomerie is in that camp, too, which is useful for Clarke, 46, given that Monty is on the five-man committee who will appoint the next captain, early in the new year.
Arkle was 1-10 when winning his third and last Cheltenham Gold Cup in 1966 - an unbackable favourite. Clarke is galloping towards a similar status.
In racing parlance - a language that the golfer will understand given his fondness for the sport - he is coming into the final furlongs still on the bridle while his nearest rival, Spaniard Miguel Angel Jimenez, is under the whip.
There are sound reasons to go for Clarke as Paul McGinley's successor. He has got the world's best player on his side for one thing. And when McIlroy is with you - as he was with McGinley - then it would take a brave committee to go another way.
McIlroy and Westwood, Europe's second-highest points scorer in Ryder Cup history, are as compelling a pair of supporters as any prospective captain could possibly hope for.
Clarke is also close to the European Tour. He is connected to the real golfing world in a way that McGinley was and US captain Tom Watson was not. He has been a winning vice-captain and he is charismatic, although relations with McGinley have been strained of late. Clarke initially supported McGinley's bid to be the 2014 captain, only to put himself forward then back Montgomerie.
However McGinley, also on the committee, vows to be "professional" in his input.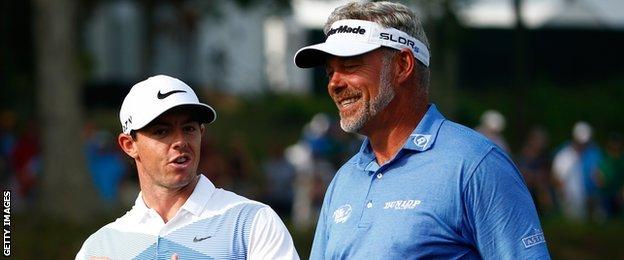 Westwood pointed out that Clarke is also popular in the United States, where the next match takes place, but that's neither here nor there. What the Americans make of the European captain is, frankly, irrelevant.
Some of them - and many Europeans to boot - would have thought that McGinley was out of his depth against the storied Watson, but if Gleneagles taught us anything it is that reputation counts for nothing in the captaincy game.
It is all about intelligence, communication and attention to detail. Instead, Watson went with his gut.
There have only been three non-Great Britain and Ireland skippers in the last 18 - Seve Ballesteros, Bernhard Langer and Jose Maria Olazabal.
Darren Clarke's Ryder Cup record

Played 20 matches over five competitions, 1997 - 2006

Lost just once in nine fourballs outings, winning six

Overall record (W-L-H): 10-7-3

Vice-captain twice - 2010 & 2012 - a winner on both occasions
But there has been a steady increase of continentals in the team, from two in 1979 and three in 1981 and 1983 to five - 41% - in each of the last four contests. The team has truly become a European affair and is all the more powerful because of it.
Continental players have accounted for 36% of the European team over the span of the last 35 years. And yet there has been a continental captain in only 16% of the matches and a Ryder Cup held outside Great Britain and Ireland only once - although that will change when France plays host in 2018.
For 2022, Austria, Spain, Denmark, Germany, Italy, Portugal and Turkey have all expressed an interest.
Like any argument, there are nuances in the captaincy issue. Back in the day, the rest of Europe was not exactly crawling with suitable candidates, but that, too, is changing.
Jimenez has all the experience to be a fine captain. He has been a winning vice-captain under Ballesteros and McGinley. He has played in four Ryder Cups and has won two of them.
If Jimenez does not get it now, he does not get it at all. He will be 52 at Hazeltine. This is his last chance.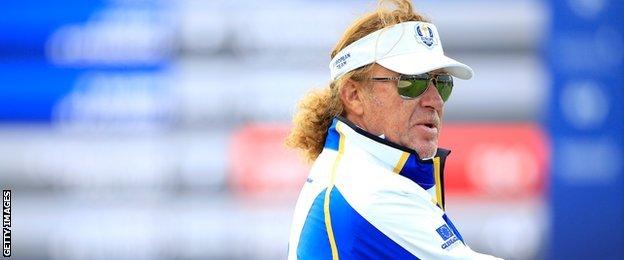 There is a convoy of candidates lining up in the years to come. Thomas Bjorn is hotly tipped to be captain in France, when he'll be 47, the same age as McGinley is now. Padraig Harrington will also be 47 in 2018.
Harrington, another vice-captain at Gleneagles, says he has gone a bit cool on the idea now that he has had a chance to see what the gig entails. Give him time and that might well change.
So there are no guarantees for Bjorn. He is a possible/probable, but not a definite. And beyond France? Westwood will be 47 in 2020, Ian Poulter will be 46 in 2022, Graeme McDowell will be 45 in 2024, Justin Rose will be 46 in 2026 along with Sergio Garcia.
You can make a case for all of these candidates and more. Great Ryder Cup players who could well make great Ryder Cup captains. You can also look at it and wonder if it is all a little too 'Great Britain and Ireland'.
Maybe next time there is a chance to acknowledge the true European nature of this team and go with Jimenez. Not because of some quota system, but because he has the credentials, if not the cheerleaders, for the job.
Bet on him at your peril, however. Clarke remains the Arkle in this race - if you can call it a race.