Tom Watson responds to criticism of his Ryder Cup captaincy
Last updated on .From the section Golf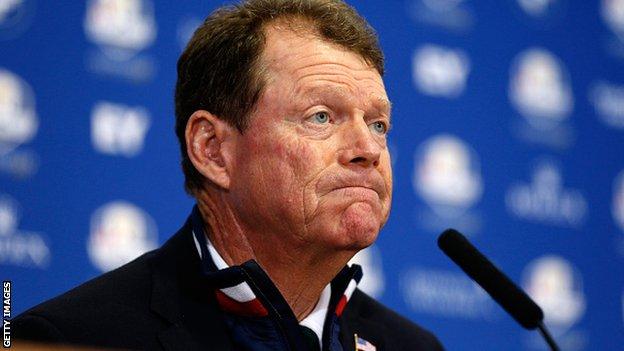 Captain Tom Watson has taken full responsibility for any mistakes made in the United States' Ryder Cup defeat.
In an open letter, Watson said: "I regret my words may have made the players feel I didn't appreciate their commitment and dedication."
PGA president Ted Bishop said a USA task force of former captains and current players would be compiled.
The defeat at Gleneagles was the USA's eighth in the last 10 Ryder Cups and Bishop acknowledged that Europe had developed a winning formula.
"I think we're going to take a complete review of everything concerning the Ryder Cup, beginning with the way we pick a captain and the players," Bishop told BBC Radio 5 live's Sportsweek.
"We're not necessarily trying to copy what Ryder Cup Europe is doing but they certainly have developed a formula of success.
"There are some consistencies that they utilise from Ryder Cup to Ryder Cup that have paid off for them. So we could certainly steal a page from their book."
Asked about Mickelson's remarks he said: "I think the timing of it was a little bit curious and I felt bad for Tom Watson in that regard. It would have been great if that conversation could have been confidential between Phil and Tom.
"I wasn't embarrassed but it was an uncomfortable setting and watching the body language of the players on the podium I think everybody was a little bit uncomfortable and it certainly wasn't the way we had hoped to end this Ryder Cup.
"It was tough enough to lose and then to have to face that kind of drama in the press room was pouring a little bit of salt in the wound."
Following the defeat, Mickelson stated his support for the methods of former captain Paul Azinger, who oversaw the USA's most recent victory at Valhalla in 2008, as Watson sat a few feet away.
Five-time major winner Mickelson, 44, was left out of the full day's play on Saturday on his 10th Ryder Cup appearance.
"I completely understand his reaction in the moment," Watson, an eight-time major winner, said in his open letter.
"Phil's heart and intentions for our team's success have always been in the right place. Phil is a great player, has great passion and I admire what he's done for golf.
"The bottom line is this. I was their captain.
"In hindsight whatever mistakes that were made were mine. And I take complete and full responsibility for them."
The next match takes place at Hazeltine in Minnesota in September 2016 and Bishop said the fact that captain Paul McGinley had been a vice-captain three times before taking on the European captaincy was significant.
"Paul McGinley proved that you can train and groom somebody to be a very successful Ryder Cup captain," said Bishop.
"One statistic that's pretty amazing from a United States standpoint is since 1999 Davis Love is the only Ryder Cup captain that previously served as an assistant captain and I think that's an eye-opening statement.
"I don't know how anybody can have their best chance to succeed as a Ryder Cup captain when they haven't first been a vice-captain once or twice."