Oliver Wilson: My belief has come back says Dunhill Links champion
Last updated on .From the section Golf
Englishman Oliver Wilson said a return of his self-belief enabled him to win his first European Tour title.
Wilson, who played in the 2008 Ryder Cup, had dropped to 792 in the world rankings but saw off world number one Rory McIlroy to win the Dunhill Links.
It was the 228th European Tour event he had entered, having turned pro in 2004.
"The biggest thing for me over the last month is I have started to trust my own intuition and trust in my decisions," the 34-year-old told BBC Radio 5 live.
How life changes for Oliver Wilson after his win
Gains a place in the 2014 World Golf Championship HSBC Champions and 2015 WGC Bridgestone Invitational
Jumps 636 places to world number 156 in the rankings
Exempt on the European Tour until the end of the 2016 season
Moves over €6m euros in European Tour Official career earnings
Previously held records for most number of second places without a victory and most money won without a title
"I don't think I really believed I could win a tournament like that so soon after the last couple of years but the belief definitely started to come back."
Wilson reached world number 45 in 2008 when he qualified for the European Team to face the USA at Valhalla, but after nine runner-up finishes between 2006-2009, he failed to retain his European Tour card at the end of the 2012 and played on the far less lucrative Challenge Tour.
He was outside the top 100 in the second tier competition when he received a sponsor's invitation to appear in the Dunhill Links.
Recalling some of the lowest moments he said: "I remember when I was losing my card in Wales I missed the cut by one and went back to my room and I was in tears, but I wasn't to know it was going to get much worse than that.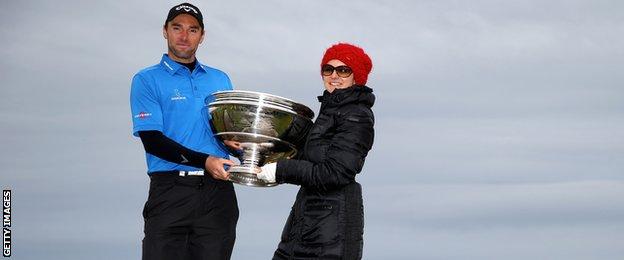 "There was a time I couldn't break 80 and even get close to making a cut. There were a few conversations I had on the phone where I broke down but people kept me going.
"It's expensive to go and play professional golf and when you're not earning anything. It's almost the cost equivalent of going on holiday every week when you're not earning anything back. It's stressful and hard on you and your family so there were certainly times when I was questioning what I was going to be doing."
Wilson had earned approximately 20,000 euros (£15,700) in 19 appearances across the Challenge Tour and European Tour this season but received 625,787 euros (£491,000) for his victory at St Andrews and an exemption on the European Tour until the end of the 2016 season.
"Two weeks ago I started working on a few different things and in that short space of time it turned my whole career around," he said.
"Looking back over the last week, mentally I was edgy and not overly confident of hitting some shots, but I had a technique that was able to stand up under pressure and that's the difference, when you can start to believe in your technique."
Wife Lauren, who unbeknown to her husband had flown to Scotland with her mother to watch the final round, said: "It's not always easy because you don't always say the right things, I definitely don't say the right things a lot of the time.
"I know how good he is and how good he can be and that it would never be an option to stop."