Oliver Wilson: Golf doldrums are thing of the past - Iain Carter

By Iain Carter
BBC golf correspondent
Last updated on .From the section Golf180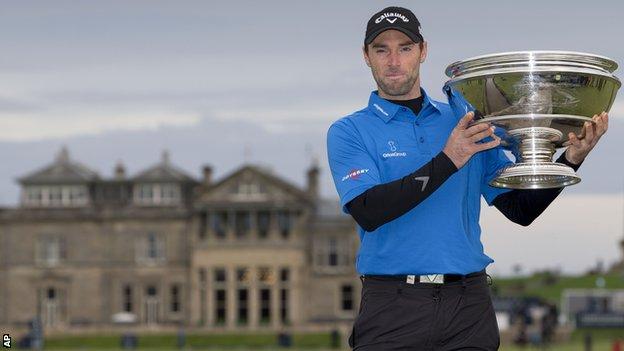 Imagine having the talent to be among the best in the world yet being consistently and inexplicably unable to make the most of that ability.
The 34-year-old was on the verge of quitting just six years after representing Europe in the Ryder Cup.
His decline from being one of the top dozen players in the continent to someone ranked 792 in the world was one of the saddest tales on the European Tour.
No-one has a bad word for Wilson; he is one of the most popular players among his peers and those who work in the game.
So when he capitalised on unlocking that buried talent at the famous Old Course to edge home ahead of Rory McIlroy and co, he became the star of one of golf's great feel-good stories.
"You get an invite and you want to make the most of it, but realistically is it going to happen? Probably not," Wilson told BBC Sport. "However long I've been a pro, it hasn't happened - even when I was playing at my best.
How life has changed for Oliver Wilson after his win
Gains a place in the 2014 World Golf Championship HSBC Champions and 2015 WGC Bridgestone Invitational
Jumps 636 places to world number 156 in the rankings
Exempt on the European Tour until the end of the 2016 season
Moves past more than 6m euros in European Tour Official career earnings
Previously held records for most number of second places without a victory and most money won without a title
"So to come here to St Andrews and play as well as I did, is amazing. I 'manned up' a little bit, stood up on some tee shots and committed myself.
"I've driven the ball awfully for the last two years, but with a new driver and new swing everything came back. The drive, the adrenalin, the focus just all fell into place."
All of these have been missing for Wilson since losing his card in 2011. He admitted he has come very close to finding something else to do. "I genuinely have," he said.
"When you can't break 80 on the Challenge Tour and can't get close to making a cut after playing top 50 in the world, playing the Ryder Cup, my drive dropped and last year was low."
Wilson felt he had turned a corner heading into the 2014 season but while form in practice was good, his results continued to offer no encouragement. "I kept thinking 'we're going to do something soon', but I just didn't. It was missed cut after missed cut," he said.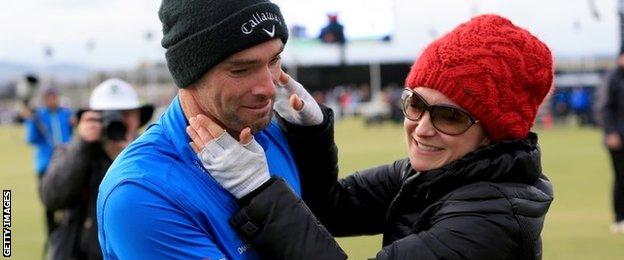 "It was rough. Everybody had written me off and you have conversations with all kinds of different people and they're all sort of talking down to you a little bit. A lot of them meant well but I'm left trying to prove to them that I'm all right.
"It's just bad golf, otherwise I'm healthy and everything's good. But I kept believing and I knew that I was capable and got the odd glimpse that it was still in there," added the player who had nine runner-up finishes at the previous height of his career.
Then came a big decision a couple of weeks ago when he decided to enlist the help of Robert Rock. Wilson's old caddie was now working with the midlands-based tour pro and had suggested he may be able to help.
"I sent him some images of my swing and he sent them back with some tips during the week I was playing in Kazakhstan on the Challenge Tour. I was 10 under through 17 holes, so I thought to myself 'this might work'.
"Then I worked with him all last week and for him to take the time out of the tournament to spend so much time with me and after the rounds to warm down - what can I say? You don't get that in any other sports.
"I'm eternally grateful for that."
This win brings a two-year exemption to the European Tour. Wilson's main objective was to ready himself for Qualifying School but now he has no need to attend.
Instead he can look forward to mixing it with the continent's elite once again. "I've said over the last few years that I will be so much better when I get back. Whether I genuinely believed I would get back, I don't know.
"I'm certainly a lot more realistic. I certainly appreciate what we do and what we get given and our lifestyle a lot more than I ever did before," Wilson said.
Add this sense of perspective to a swing that has proven it genuinely can hold up under pressure and you get the feeling Wilson's days in the golfing doldrums are, thankfully, a thing of the past.