Ryder Cup 2014: Tom Watson criticism wrong - Lee Westwood
Last updated on .From the section Golf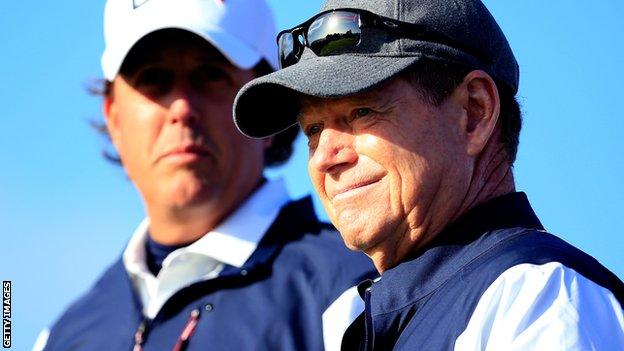 Lee Westwood has voiced his unease at the United States Ryder Cup team airing their "dirty laundry in public" after their defeat at Gleneagles last month.
Europe's Westwood, 41, believes such a reaction was distasteful.
"I don't like to see people's great reputations being brought down by something that shouldn't really happen in public," the Englishman said.
"It should all be done behind closed doors and sorted out there and not be done in the media."
Watson subsequently released an open letter in which he took full responsibility for any mistakes made in the United States' eighth defeat in the past 10 Ryder Cups.
Westwood - who earned two points to move to fifth on the list of all-time Ryder Cup scorers with 23 - was part of the European team that lost at Valhalla under Nick Faldo's controversial leadership in 2008.
And while that campaign was beset with problems, the players kept their counsel in the aftermath.
"I think there were a lot of people disappointed in '08 but we tried to come together and not say anything in public," added Westwood.
"I guess we'll see how easy it is to get the US team rattled by putting a bit of pressure on them. I don't think anything good can come of all this [for the Americans]."