Patrick Reed takes Ryder Cup spirit into Volvo World Match Play

By Iain Carter
BBC golf correspondent
Last updated on .From the section Golf176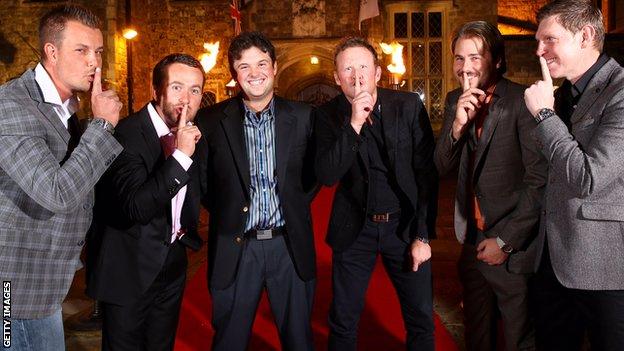 Members of the newly formed American task force charged with finding a winning Ryder Cup formula would do well to take note of events at the London Club this week.
Already we have witnessed unbridled enthusiasm for the biennial clash against Europe from the lone United States player in the field for this week's Volvo World Match Play.
Patrick Reed was unbeaten on his debut for the US at Gleneagles in September. He was the shining light for the visiting team as they fell to their eighth defeat in the last 10 contests.
Unlike many in the US set-up that has suffered regular losses over the last two decades, 25-year-old Reed genuinely "gets" the Ryder Cup.
And he knew he would from the moment he lined up with his team-mates on the eve of the Gleneagles showdown.
"When we were walking in, Ian Poulter was to the left of me because it goes alphabetical on the team and Rory McIlroy was right behind them," Reed revealed.
"I know them really well. They were just busting my chops and I was giving it back to them. This was before we had even started.
"Just to walk out on the opening ceremony and see how many fans were there and to see how excited they are about the game of golf and the tournament got me going.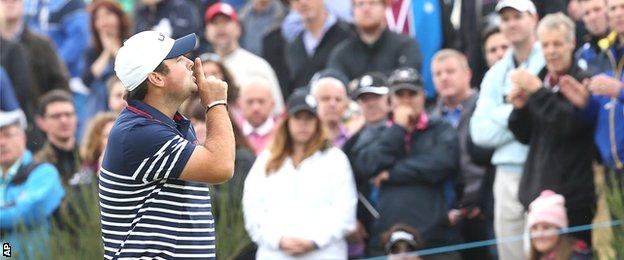 "I never thought you could feel that way about golf in my life."
Reed played inspired golf with fellow rookie Jordan Spieth and took on boisterous European fans on the final day as he put a silencing finger to his lips en route to his singles victory over Henrik Stenson.
That was someone revelling in the Ryder Cup atmosphere and is just the attitude that the PGA's task force needs to harness as it reviews the American Ryder Cup failings.
It is extraordinary that no room for Paul Azinger, America's last successful captain, has been found in the review body.
However, the inclusion of Phil Mickelson is to be applauded. Many feel that he spoke out of turn with his implied criticism of beaten skipper Tom Watson at Gleneagles.
It was, though, a brave move. Mickelson knew his vast popularity would take a severe hit by speaking out.
But by doing it in the way that he did, at the post-match news conference, his views could not be ignored. The result has been the swift assembly of the task force.
Reed, meanwhile, keeps his head-to-head psyche in place for this week's 50th anniversary World Match Play. As the only American in the field he knows a similar mindset to Gleneagles will be required in group matches, where all his opposition will be European.
Recent World Match Play finals

Winner

Runner-up

Result

2013:

G McDowell (NI)

T Jaidee (Thai)

2&1

2012:

N Colsaerts (Bel)

G McDowell (NI)

1 up

2011:

I Poulter (Eng)

L Donald (Eng)

2&1

2009:

R Fisher (Eng)

A Kim (USA)

4&3
He faces Jonas Blixt, Paul Casey and Jamie Donaldson and Reed's inclusion in the field brings an important transatlantic flavour to an event which is looking for a new title sponsor from next year.
Officials from the International Management Group, who promote the tournament, are confident it will remain on the calendar, but there's every chance of it moving away from the UK.
"For the future we have a number of options," IMG's global head of golf, Guy Kinnings, told BBC Sport. "We've been talking to a number of people about it, but we wanted to get through this year before we put details in place.
"We are entirely confident we will find a sponsor and venue for the event to continue. The fascinating question is do we find a permanent home like we had in the past or do we move it around as we have done in recent times?"
This year's tournament at the London Club in Kent means a welcome return to England, which has been starved of top European Tour events for too long. But, there is no guarantee that the Match Play will remain on these shores.
2014 Ryder Cup players at World Match Play
Europe:
Jamie Donaldson, Victor Dubuisson, Stephen Gallacher, Graeme McDowell, Henrik Stenson
United States:
Patrick Reed
"We were very keen to bring it back to the UK and in essence we would love it if the right opportunity arose to keep it here," Kinnings added.
"The crowds are great and it works well for TV coverage and the players are delighted to be back here.
"But, at the same time we have got to be commercially savvy and we've got to look at all the options that are out there and see what is the best for the long-term future of the event."
It's ironic that, in the wake of a hugely successful Ryder Cup for Europe and the UK, it remains a struggle to keep tournaments on these shores. The contract for the Wales Open at Celtic Manor has expired and the continental market remains depressed.
By contrast, Asia continues to provide enticing returns for sponsors and the Match Play might be the next event that heads East.
On the course, Europe beats America. Off it, the continent is being hammered by Asia.
What price a business task force being assembled to try to reverse that trend?