Ian Poulter: Tom Watson's Ryder Cup decisions were 'astonishing'
Last updated on .From the section Golf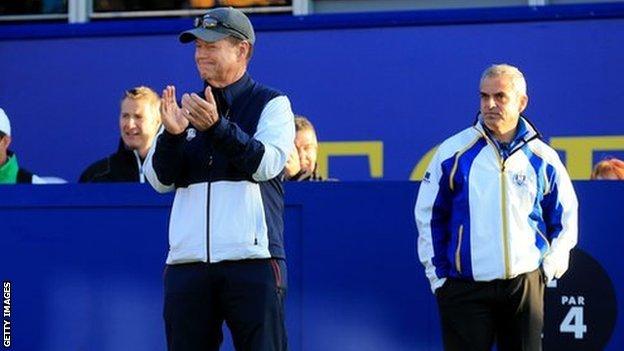 England's Ian Poulter has described Tom Watson's captaincy of the United States team at the Ryder Cup as "astonishing".
His management style was publicly queried by US player Phil Mickelson.
"Tom Watson's decision-making completely baffles me," Poulter writes in his new book. "It gave us a real boost. I find it utterly bizarre."
Poulter identifies Watson's failure to play Mickelson and regular partner Keegan Bradley in either of the Saturday sessions as a particularly strange decision.
Five-time major champion Mickelson and 2011 US PGA winner Bradley won all three of their matches together at the 2012 Ryder Cup, and were also paired for the first two sessions of this year's event, winning once and losing once.
"Most of us in the European team are astonished when we see the Saturday morning pairings and their names are not there," Poulter writes.
"It tells us that there are problems in the US team room. There have to be.
"It's the only explanation for leaving out two players like that."
Watson, who later issued an open letter taking "full responsibility" for the defeat, is also criticised for failing to adequately rotate his team in Poulter's book 'No Limits'.
"Watson's choices mean that seven of his players play 36 holes on Saturday," Poulter says. "I find it hard to see the sense in that. Some of them look shattered."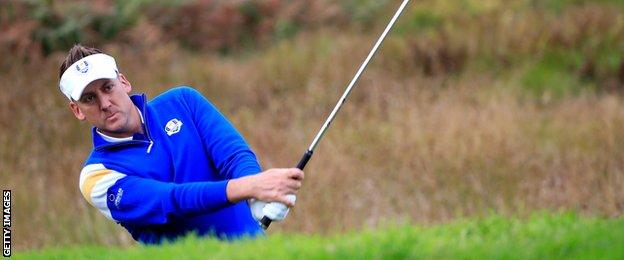 Poulter, a veteran of five Ryder Cups, is also strongly critical of 2008 Europe captain Sir Nick Faldo in the book.
Faldo led Europe to their only defeat in the last seven Ryder Cups at Valhalla, and attracted criticism during this year's event by describing Sergio Garcia as "useless" on television commentary.
"Faldo has lost a lot of respect from players because of what he said," Poulter writes. "[2008] is the only Ryder Cup we've lost in the last 15 years. And he was captain.
"So who's useless? I think Faldo might need to have a little look in the mirror."
However, Poulter praises Paul McGinley, Europe's captain at this year's competition.
"He wants to keep [his players] fresh and hungry," Poulter says of the Irishman's captaincy style. "I think he does that an awful lot better than Tom Watson.
"I'm full of admiration for the job he's done. He deserves every bit of praise coming his way."