Ian Poulter tweet leads to exit of American PGA president
Last updated on .From the section Golf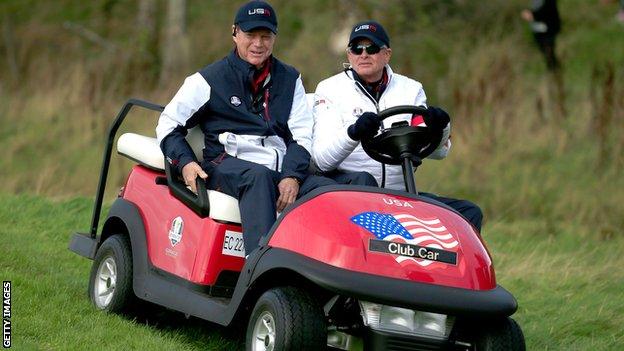 A tweet which called Ian Poulter "a little girl" has led to the departure of PGA of America president Ted Bishop.
Bishop was responding to Poulter's criticism of the Ryder Cup captaincy of Nick Faldo and Tom Watson in the Englishman's new book 'No Limits'.
Comparing Faldo's superior major and Ryder Cup record with Poulter's, Bishop tweeted: "Yours v His? Lil Girl."
The PGA confirmed Bishop's exit and apologised for his "unacceptable" and "insensitive gender-based statements".
PGA of America vice president Derek Sprague, who has been appointed interim president, said: "The members of the PGA of America must uphold the highest standards and values of the profession, as well as the manner in which we conduct ourselves at all times.
"We apologise to any individual or group that felt diminished, in any way, by this unacceptable incident."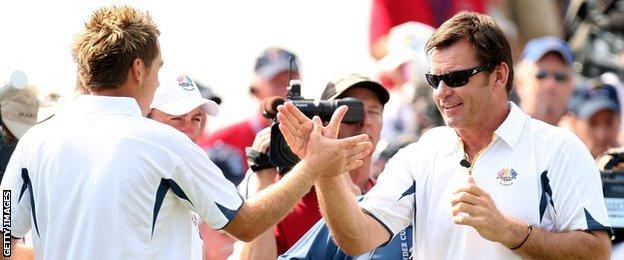 Englishman Faldo, who won six major titles and a record 25 Ryder Cup points during his career, drew criticism from the European team during this year's Ryder Cup.
The 57-year-old, who was Europe captain at the 2008 Ryder Cup, said while commentating on this year's match that Sergio Garcia was "useless'' during the 16½-11½ loss to the United States at Valhalla six years ago, adding that he had a "bad attitude".
Poulter, 38, said in his book: "Faldo has lost a lot of respect from players because of what he said."
Noting that it was Europe's only loss in the past 15 years and that Faldo was captain, he added: "So who's useless? I think Faldo might need to have a little look in the mirror.''
In Bishop's tweet, which has since been deleted, he said: "Faldo's record stands by itself. Six majors and all-time RC points. Yours vs. His? Lil Girl.''
In a separate post on his Facebook page, which was also deleted, Bishop added: "Really? Sounds like a little school girl squealing during recess. C'MON MAN!"
Poulter's called Bishop's 'little girl' comments "pretty shocking and disappointing".
In a statement issued to the Golf Channel, Poulter later wrote: "Is being called a 'lil girl' meant to be derogatory or a put down? That's pretty shocking and disappointing, especially coming from the leader of the PGA of America. No further comment.''
Bishop chose 65-year-old Watson as the 2014 US Ryder Cup captain and Poulter said in his book that Watson's decision-making "completely baffled" him, adding: "It gave us a real boost. I found it utterly bizarre."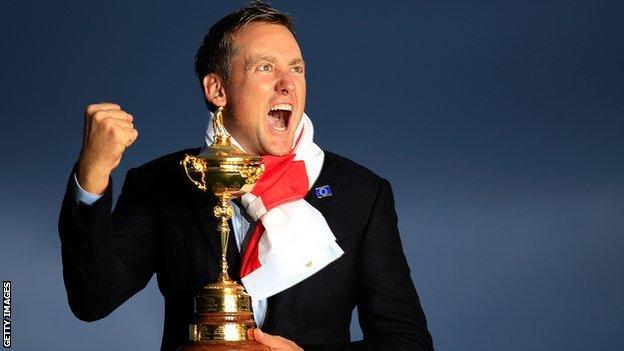 He identified Watson's failure to play Mickelson and regular partner Keegan Bradley in either of the Saturday sessions as a particularly strange decision.
Five-time major champion Mickelson and 2011 US PGA winner Bradley won all three of their matches together at the 2012 Ryder Cup, and were also paired for the first two sessions of this year's event, winning once and losing once.