Jason Palmer: European Tour card secured with one-handed chipping

By Iain Carter
BBC golf correspondent
Last updated on .From the section Golf125
Golf is an individual game and in the most literal of senses an Englishman has single-handedly made it to the big time.
Leicestershire-based Jason Palmer offers one of the most inspirational stories of the golfing year, having secured a European Tour card for next year.
He will be one of 15 graduates from the Challenge Tour having won in China and finished second in Oman in his last two outings. With one event to go he lies seventh on the feeder tour's rankings.
And there was a time when he would have laughed at the prospect of such a feat. After all, how could anyone play at the highest level when they don't have the ability to chip?
The 30-year-old from Kirby Muxloe had always been a promising player, but his game would go to pieces around the greens. The area known as 'the scoring zone' was a ruinous nightmare for Palmer.
He had the chipping yips, a condition that deprived him of any feel when trying to play what appears the simplest of strokes.
Eventually he unearthed a technique that worked for him. Now when he is within 50 yards of a green, he plays his wedge shots using just his right hand.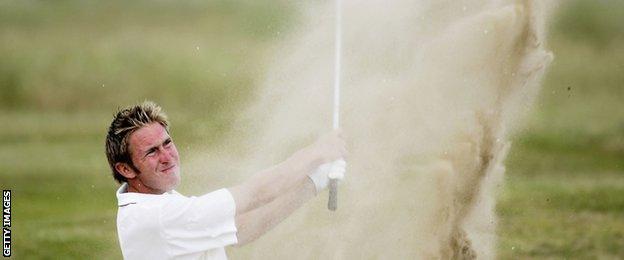 "I can remember the point when I decided to switch very well," Palmer, who is right-handed, told BBC Sport. "I had qualified for the Alps Tour through their Q School in 2009 but it was impossible to score well as every time I missed a green in regulation it resulted in a bogey.
"Sometimes it was even worse, my short game was so destructive. I could hit every shot imaginable; fat, thin, even the odd double hit!
"I was practising with my friend Neil Chaudhuri and told him that I'd had enough as my short game was diabolical. I then showed him that I was fine with one hand.
"The strike was there. It was crisp, ball then turf every time, and consistently going where I wanted it to go. He said the decision to go one-handed was a 'no brainer'.
"I was at rock bottom so I thought I'd give it a go - things couldn't get any worse. It freed me up instantly.
"All of a sudden I enjoyed missing greens and enjoyed the challenge of getting it up and down. I embarked on a great run of form and finished second on the Alps Tour that season."
This unorthodox approach is now an integral part of his game despite causing a few raised eyebrows among his fellow competitors.
"It certainly takes a few guys by surprise," Palmer said. "Particularly at first when nobody knew about it. I find it worse in pro-ams as I feel like the amateurs think I'm not taking it seriously.
"These days I pre-warn my playing partners that I'm about to chip with one hand.
Who is Jason Palmer?
Born:
8.10.1984
Turned pro:
2009
World Ranking:
265
Challenge Tour wins:
1
"I think as professionals we're conditioned not to inquire too much about our fellow pros' tendencies as we're all unique in one way or another. Amateurs are much more inquisitive as to why we are doing what we're doing."
Palmer says his scrambling stats - the figures that measure efficiency around greens - are "adequate" and he hopes his example might help alleviate the misery of others who suffer similarly.
"I know that a lot of golfers over the years have struggled with the yips either in putting or chipping and hopefully my story can prove to them that there is a way around it, no matter how radical it may seem.
"It seems there are no issues with those who adopt different grips when putting, but mine really is a rare case, going one-handed for chipping."
Palmer says the fact that he will be rubbing shoulders with Europe's elite next season is still sinking in.
"Surreal would be the word I would use," he said. "Two weeks ago I never thought that I would be stood here today with a European Tour card.
"It's great though, it's where I want to be and I'm really looking forward to it. It's been my goal since turning pro and this is my fifth year. So it seems like the right time to try and mix it with the big boys.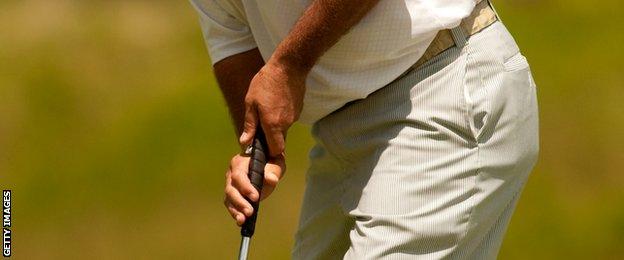 "I'm happy to keep going with my chipping style on the European Tour. It's totally unique but I can't play with two hands."
Players who prosper on the Challenge Tour have the perfect opportunity to equip themselves for the rigours of one of the toughest tours in the game.
This feeder tour comes to its climax in Dubai this week and while golf's "one-armed bandit" can already look forward to stepping up a level next year, others are facing a defining tournament.
They include Max Orrin, the man who beat Palmer in Oman last week. The former Walker Cup player now lies 17th in the standings knowing another high finish will be enough to fulfil his dream of a Tour card.
In this most singular of sports, delivering a performance when it is most needed is the key to success at whatever level it is played.
And it is also worth remembering golf's oldest adage, that it is not a game of how, but how many. Just ask Jason Palmer.