Ollie Farr: Shropshire unearths another European Tour player
Last updated on .From the section Golf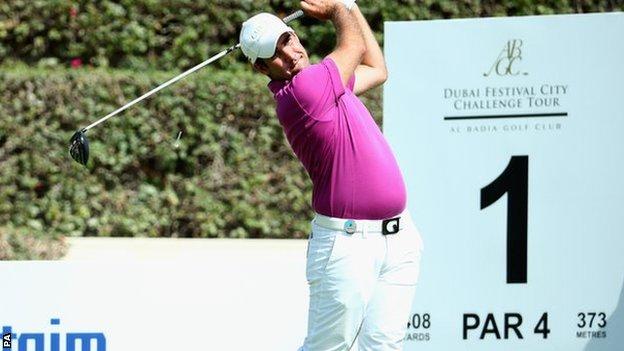 Any young Shropshire golfer hoping to make his way in the game over the past 20 years will not even have made it to the first tee before having the names Sandy Lyle and Ian Woosnam thrown at him.
Growing up playing amateur golf in a county where two major champions also cut their teeth has proved too daunting an experience for some.
But, at 26, Ollie Farr, the son of a golf professional, is more experienced and level-headed than some other young hopefuls who have been down this route. And, following the elation he enjoyed this weekend by qualifying for a European Tour card in 2015, he is keeping both feet firmly on the ground.
Ollie Farr's golfing pedigree
Ollie Farr, who was born in Redditch and is still based in Worcestershire at Boughton Park, where father Graham is the senior professional. He learned his golf across the border in south Shropshire at Ludlow, lives in Hereford and, like Ian Woosnam before him, also plays under the Wales flag.
"Qualifying for the Open and the US Open and trying to make the Ryder Cup - they're the events you want to be in," he told BBC Radio Shropshire. "But the first goal will be simply to keep my card by finishing in the top 110.
"And, at the moment, I'm still just trying to get my head round the fact that the tournaments I'll be playing in are the ones I've watched on TV growing up."
After enjoying a decent maiden season on the Challenge Tour, Farr went into the final event of the year, the Dubai Challenge Tour Grand Final at Al Badia, still not certain of a top-15 finish.
The 15 Challenge Tour graduates for 2015
England:
Andrew Johnston (1st), Sam Hutsby (6th), Jason Palmer (8th), Jason Barnes (15th)
France:
Benjamin Hebert (2nd), Michael Lorenzo-Vera (9th), Edouard Espana (11th), Jerome Lando Casanova (13th)
Germany:
Moritz Lampert (4th), Florian Fritsch (12th)
Korea:
Byeong-hun An (3rd),
Chile:
Mark Tullo (5th),
Spain:
Jordi Garcia Pinto (7th),
Wales:
Ollie Farr (10th),
South Africa:
Jake Roos (14th)
But he finished third in Dubai on six under par to earn him 10th place in the final order of merit, with a season's haul of 101,476 euros (almost £80,000).
"It was the most nervous I've ever been on a golf course but strangely I quite enjoyed it," said Farr. "I played some great golf and to come off the 18th knowing that I'd achieved what I'd set out to do was a feeling I cannot describe.
Shropshire's golfing roll of honour
Sandy Lyle:
1985 Open winner, 1988 Masters champion, played in five Ryder Cups (1979, 1981, 1983, 1985 and 1987; also vice captain in 2006), 18 European Tour wins.
Ian Woosnam:
1991 Masters champion, played in eight Ryder Cups (1983, 1985, 1987, 1989, 1991, 1993, 1995 and 1997; also captain in 2006), 29 European Tour wins.
Peter Baker:
Played in one Ryder Cup (1993; also vice captain in 2006), three European Tour wins.
"I'll be playing for a lot more money next year, but I'm not going to change too much.
"I've got work to do in the winter months as I'm already planning just how to improve my game, but I've got a working formula that seems to be going well.
"There's a lot of hard work and sacrifices to be made but I'm on a wave and, fingers crossed, I'd like to keep riding it."