John Hahn: American shoots round of 58 in tour qualifying
Last updated on .From the section Golf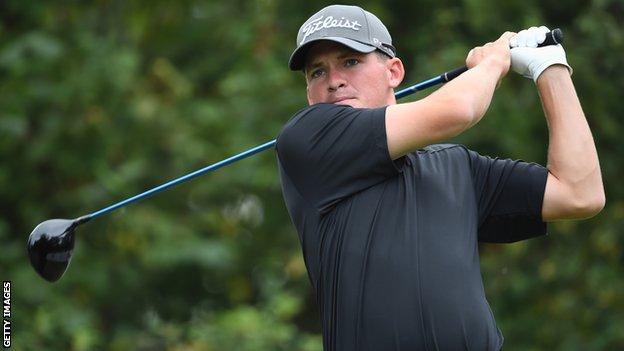 American John Hahn fired a treasured sub-60 round to enhance his prospects of reclaiming his European Tour card.
Hahn, 25, went round in 58 at the qualifying school over the par-70 Tour Course at Spain's PGA Catalunya Resort.
However, his score, which included 12 birdies, will not count as a record as preferred lies were used.
Hahn's fourth-round score took him from joint 114th into the top 15 with two rounds to go, with the top 25 earning a place on next season's European Tour.
How low can you go?
No-one has posted an official sub-60 round in a European Tour event
Rounds of 60 have been recorded 18 times on the European Tour
Former Open champion Darren Clarke has done it twice - in Monte Carlo in 1992 and Ireland in 1999
The United States player, who finished 120th in the European rankings this season, was on course for another possible sub-60 round at the Italian Open in August after reaching the turn in 28 in his final round.
However, he ended up with a 65 on the way to finishing tied for 35th place.
Hahn's round of 58 at qualifying school has been bettered in European Tour events, with Scotland's Scott Jamieson and South African Jaco van Zyl both carding a 57 at the 2013 Nelson Mandela Championship.
But those scores did not count as records either, with the course at the Royal Durban Golf Club shortened and reduced to a par 65 because of heavy rain.