Richard Bland: Golfer hails "best" ever year
Last updated on .From the section Golf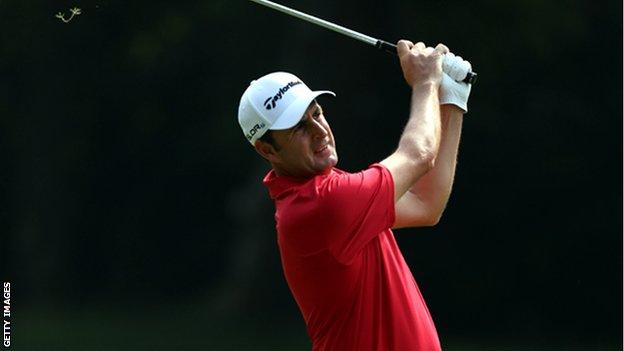 Hampshire golfer Richard Bland says his success on this year's European Tour has been a "big step forward" for him.
The 41-year-old, who finished fourth at October's Portugal Masters, earned over £368,000 - his best-ever haul - but just missed out on qualifying for the lucrative Race To Dubai season finale.
When asked how he reflected on the past year, Bland told BBC Radio Solent: "With a lot of positivity.
"I was a little disappointed I didn't make top 60 (qualifying for Dubai)."
He continued: "However, a year ago I was lying on an operating table having a knee operation and missing the first part of the season. I probably played more consistently this year. I've had more top fives so it was a big step forward.
"You always want to make the Race for Dubai because it is the showcase tournament and to have it snatched away is tough to take but the positives outweigh the negatives."
Bland will turn 42 in February and says his targets for the next year include getting his first win on the Tour and making the top 60 - to qualify for Dubai.
And he says if he continues to improve and stay fit he is confident he can make that breakthrough.
"They are the tournaments you want to play as you want to test yourself against the best in the game," he added.
"My stats are better this year in every department and that's all you can look for. It's been an all-round thing. I didn't shoot that many poor scores, I need to turn the 68s into 65s and 64s which get you into contention.
"But I'm really looking forward to next year, more than any other year.
"I've had good years before and not backed it up so I want to back it up with an even better one. I don't know how long left I've got. In terms of the European Tour I'm in the autumn of my career so I want to take advantage of the time I've got left."