Graeme McDowell on 2014: Ryder Cup, McIlroy & Poulter
Last updated on .From the section Golf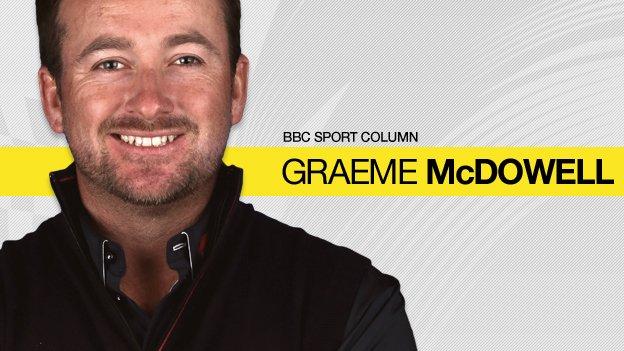 With the European Tour having come to a close for 2014, we can safely say it was a year that belonged to my friend and Ryder Cup team-mate Rory McIlroy.
It was a great year for the continent, with Rory taking his two majors and Martin Kaymer winning the US Open. Then, of course, there was also our successful defence of the Ryder Cup at Gleneagles.
Here are some of my thoughts as I look back on events on the Tour this year.
My personal highlight of the 2014 season
Coming back from three down against Jordan Spieth in the top match on the final day of singles at Gleneagles.
At one point I really felt like that day was getting away from me. Captain Paul McGinley had asked me to do a job and I was letting the team down. I had to dig in and try to send some positive messages to the rest of the guys.
The big turning point was Jordan missing his eight-foot putt on the seventh to go four up. I followed him in on eight and nine for birdies and then came his three-putt on the 10th - a chink in his armour - and away I went.
Winning your own singles match just makes it that little bit more special on the Sunday afternoon of a Ryder Cup.
There are a lot of emotions you go through on a day like that. To win like I did and have Rory there to be the first to celebrate with me - given everything that happened with us in the year - was very special.
I felt like I'd stepped up to the plate in leadership terms with my role alongside Victor Dubuisson. For the first time I realised my maturity as a player and it was a breakthrough on a lot of fronts for me.
The best moment of the year
From such an incredible year for European golf, I could pick out many special moments.
Jamie Donaldson's winning shot at Gleneagles, Martin Kaymer's putt at 17 at Sawgrass - but I think I have to select a Rory moment, so I will go for him winning the Open at Hoylake in the way he did.
For a single moment I'd say it was his eagle on the last on the Saturday afternoon. That was so special and really sent a message out to the entire field.
But it was the entire week and his total domination which sparked off a run of golf - he won the WGC Invitational and US PGA in his next two outings - that was just obscene.
It was pretty special stuff, especially watching him embrace with his mum, walking off the 18th on the way to pick up the Claret Jug.
How long will Rory McIlroy remain world number one and how many majors will he win?
Rory is maturing and getting better and better as a player.
His form in the second half of this year has blown away a lot of people. I think we are witnessing at least a five-year spell as world number one. I think he is going to dominate in the way Tiger Woods did in the early 2000s.
The question of how many majors he will win is more a question of how many he wants to win.
The most special thing about Tiger was his drive and desire, growing up with images of Jack Nicklaus's 18 majors as his inspiration. That kind of mental strength is tough to measure in a player.
Of course, a lot can happen in the next five years but, if Rory continues to play the way he is doing, he could win three, four or maybe five more majors in that time.
He could then be close to 10 in total and whether he wants to go beyond that is entirely up to him.
My best Ian Poulter story from the Ryder Cup
By Poults' own very high Ryder Cup expectations, Gleneagles probably didn't match up to his heroics at Medinah. His chip-in on Saturday morning gave us a glimpse of the Ryder Cup legend that he is and his contribution in the team room that week was huge.
There was lots of fun and friendly banter that week but, for me, the wind-up of the week was when my caddie Ken Comboy and I downloaded the Postman Pat theme tune and played it to him in the team room.
We also had a pair of glasses, a moustache and Postman Pat hat for him, but they never got produced. As we all know, and he says it himself, he's the "postman" because he always delivers.
The biggest change in golf I'd like to see next year
We would all like to see the revival of the iconic events on the European Tour. It's been a tough seven or eight years financially, losing events in Spain, Germany and the UK.
But things are changing, we're getting new sponsors and events like the British Masters and the European Open are going to return.
We need to fully capitalise on what's been a stellar 2014. The PGA Tour is so strong, we all get that, but we as European players are very passionate about getting the European Tour back on the map.
What can we do to get more people back into golf?
We all know the sport has been struggling in terms of participation numbers and kids are the key to reversing that.
We have to make the game cheaper, more accessible, faster and more fun. Growing up in Ireland, one of the things was how cheap and accessible it was. Just look at how many successful players Ireland has these days and I don't think that's a coincidence.
When I go to different parts of the world I see that golf is still elitist. It doesn't encourage people who can't afford to play. We need nine-hole par-three courses like the one I grew up on. I don't understand why we don't see more of that, especially in the United States.
We need ways to bring the masses in and to do that we have to make it fun, sexy and cool. We have the young icons - the likes of Rory, Rickie Fowler and Jordan Spieth - and now it is a case of leveraging that to boost the game.
Who is the bright young thing we will be talking about a lot next year?
The American Brooks Koepka, who recently won the Turkish Airlines Open.
Europe is packed full of young potential stars, like Tyrrell Hatton and Tommy Fleetwood but, to me, Koepka is the one who has made the breakthrough and is ready to challenge on the big stage next year.
He hits it a mile and is a precocious talent. He is the archetypal 21st-century golfer.
Furthermore, he has cut his teeth playing in Europe and he gets the benefit of going down that route. I think he wants to continue to travel because he knows it will help make him an even better player. He's already reaping the rewards.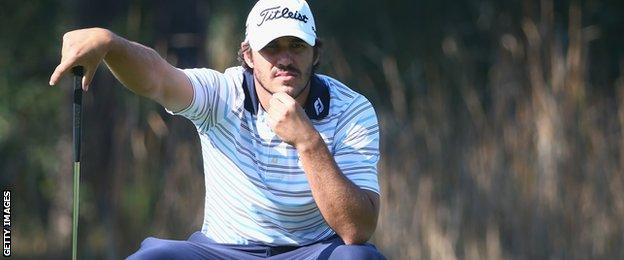 My sporting highlight for 2014 outside golf
I get a lot of stick for the way America influences me these days, but I do live in the States and the NFL is one of my favourite sports.
I suppose I'm losing touch with my old faithful Manchester United - they haven't provided much for me to smile about lately - so I'm picking the Super Bowl.
I'm a big Denver Broncos fan and, although the result didn't go our way, it was still very special.
I was at Pebble Beach, where I won my US Open in 2010, and that weekend I was with my dad getting ready for the AT&T pro-am.
We were sitting in a house overlooking 17-Mile Drive and the stunning Monterey Peninsula, watching the Super Bowl and it was great to be part of an incredible scene and fantastic atmosphere.
Graeme McDowell was speaking to BBC golf correspondent Iain Carter.