Jordan Spieth and Danny Willett lead advance of young talent

By Iain Carter
BBC golf correspondent
Last updated on .From the section Golf84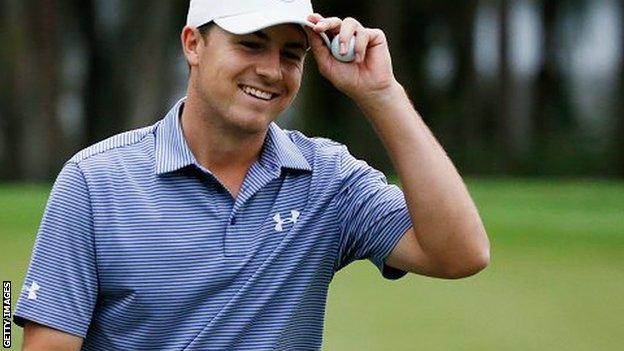 Ernie Els once landed himself in trouble by admitting there are occasions when pro golfers get out the wheelbarrow and fill it with cash.
The former Open champion's metaphor helped describe certain tournaments that exist primarily to bolster players' already bulging bank accounts.
In the last week, we've witnessed a couple of events that usually fall into this category - Tiger Woods' 18-man World Challenge Tournament in Florida, and the 30-strong field that competed at Sun City in South Africa.
However both tournaments were much more than vulgar money-making exercises. They proved their substance by yielding exciting winners with performances that create proper launch-pads for the 2015 season.
Admittedly Jordan Spieth, who romped to victory at Orlando's Isleworth club, and Danny Willett, who triumphed in South Africa, are both significantly richer than a week ago.
Willett pocketed £680,000 from the second victory of his career while Spieth collected £640,000 just a week after landing the Australian Open title to complete a stellar end to his year.
But the bigger benefit is the boost they gave to their overall golfing wealth. Both players delivered memorable displays that suggest they will win plenty more in the future.
Who is Danny Willett?
Born 03/10/1987 in Sheffield, England
Turned pro in 2008
European Tour wins: 2 (BMW International Open 2012, Nedbank Golf Challenge 2015)
World ranking (as of 8 Dec): 56
We've known of Spieth's potential since before he turned professional in 2012. And the 21-year-old's spirited challenges at the Masters and Players' Championship earlier this year enhanced his status as one to watch.
There was also a decent Ryder Cup debut at Gleneagles, where he formed a formidable partnership with fellow Texan Patrick Reed.
But it is during the past fortnight that he has genuinely elevated his standing.
A brilliant closing 63 in Melbourne had world number one Rory McIlroy purring in admiration. "You could give me another 100 rounds today at The Australian and I wouldn't sniff 63," McIlroy admitted in a congratulatory tweet.
Spieth then travelled 9,000 miles to the United States and romped around Isleworth in a record 26 under par to beat the rest by 10 strokes. It was the biggest winning margin of the year.
Yes, it was a limited field 'exhibition' but it still boasted a high-calibre line up. The strength and value of such a comprehensive victory should not be underestimated.
"He's playing some pretty special golf right now," said Woods, who finished tied last, 26 strokes behind.
For Woods, the significance of the week was simply his return to action.
He has clearly been working on a new swing to the neglect of his short game and a succession of duffed chips should not sound too many alarm bells at this stage.
Whether his tournament warrants the ranking points it is accorded is open to debate, but Spieth's return to the world's top 10 is thoroughly deserved.
Willett, meanwhile, is hurtling towards the all-important top 50 after his South African triumph. The Nedbank Challenge has a rich history and the Yorkshireman joins elite British company in becoming a winner there.
Sir Nick Faldo, Ian Woosnam, Lee Westwood and Colin Montgomerie are past champions of a tournament that has been on the calendar since Johnny Miller first won it in 1981.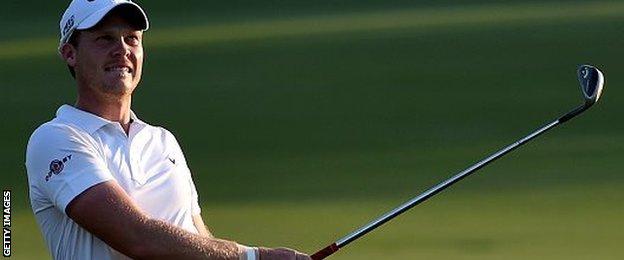 This victory has capped a landmark year for the likable Willett. He has climbed 60 places in the rankings and, since the US Open in June, had recorded five top-10 finishes prior to this triumph.
Now up to 56 in the world, he is within touching distance of eligibility for a dream schedule that would allow him to play all of the biggest tournaments on both sides of the Atlantic.
But it was the manner of this win that was most impressive, shooting 65-66 over the weekend at Sun City. "He did everything really well," said compatriot Luke Donald, who finished third, six strokes behind.
"He drove it amazingly well on a tough, tight golf course. Every time the pressure was on he hit it down the middle," added the former world number one.
Fellow Englishman Ross Fisher was runner up and played in the final trio alongside Donald and Willett.
"Me and Luke didn't lose it - Danny went out there and won the tournament," Fisher said.
Willett moves on to Leopard Creek to continue his European Tour season this week. Regardless of how he plays, he knows the platform is in place to push on in 2015.
In the women's game, 22-year old Northern Irishwoman Stephanie Meadow came agonisingly close to securing a full LPGA card. She lost a marathon play-off spread over two days but still receives 'conditional' status on the tour.
And Charley Hull, 18, has earned a similar standing by finishing 28th at that LPGA Qualifying School tournament.
More immediately, Hull heads this week to Dubai for the Ladies European Tour's 2014 finale with her sights set on becoming the circuit's youngest Order of Merit winner.
In both the women's and men's games these are exciting and changing times. Indeed, potential abounds. And by the barrowload.