How can golf respond to Rory McIlroy's call to widen its appeal?
Last updated on .From the section Golf
The number of people playing golf is falling and Rory McIlroy believes speeding the game up at grassroots level could reverse that trend.
Sport England figures show the amount of 16 to 25-year-olds playing the game regularly almost halved between 2009-10 and 2012-13.
What other initiatives could help golf widen its appeal?
We have been looking at your suggestions, from lowering the cost of play to more offbeat ideas.
Is it too expensive?
One major obstacle is money. It is an expensive hobby for youngsters. How about some of the mega millions earned at the top end of golf being used to subsidise struggling clubs and younger players? bigted
My son was a junior member at a prestigious London club until he was 18. Once he had been to university and returned home he would have had to become a full member which he can't afford. Clubs should do more to provide a bridge from junior membership to full membership. Peter
Joining fees are the issue, to join a decent course near me I'd have to find £3,000 on top of membership. If I relocated again in a year's time that's a sunk cost. Not too appealing when trying to save for a house. Meanwhile, those most settled in life, the retiree who can play seven times a week, doesn't have these concerns - clubs will pay the ultimate price for pricing a generation out of the game in 20 years. AndyL
People playing golf once a week, every week, in England

Year

14-25 year olds

16-25 year olds

All ages (16+)

2009-10

95,700

860,900

2010-11

73,100

833,200

2011-12

55,900

850,500

2012-13

61,400

52,400

751,900
Make it cheaper. Green fees, lessons, gear, balls, all too expensive. Golf clubs and manufacturers at fault. Dave Harrison
Most clubs offer payment plans and there has never been so much used golf equipment available as now. There's no need to buy new kit and many would benefit from using a half set in a lightweight bag rather than the mobile homes on wheels that trundle round our courses making such a mess in the winter months. Chrisf
Slow play has nothing to do with the falling number of younger players playing golf. The primary reason is COST - to play one round; to be a member; to buy golf clubs et al. Gary R
Shorter courses and a timer?
Clubs need to widen the gap between groups on the time sheet, offer nine, 12, 14 and 18-hole competitions and subsequently offer specific memberships to match the competitions and the members' needs. Also clubs should look at the concept of zone golf, pin positions ranging from easy, to medium and hard. The game needs to be 1. more affordable; 2. less stressful; 3. enjoyable. Christian Porter
To attract young golfers we need to show the fun side of golf and get rid of stupid dress codes to make it more accessible. Sam Hatton
Time stopped me playing golf at 11. Went to tennis. A game of nine holes got me back: Family fun. Ray Bundell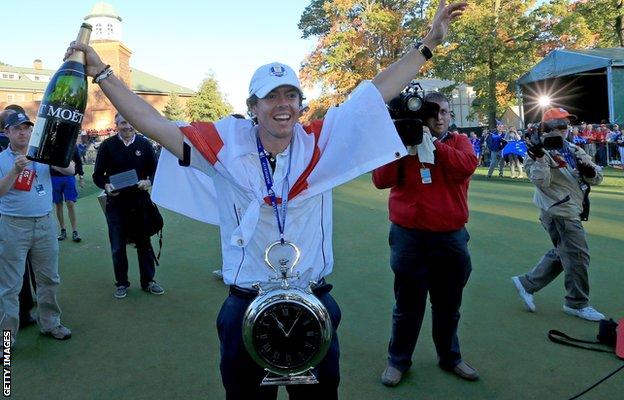 How about a timer. Players should have a set time to take their shot. This would add urgency and pressure. Christian
Have specific blocked out times for junior fourballs so three or four groups can play together and then speak about the game after. Electric Kid
Shorter courses where more sensible club selection and ball accuracy with a difficult layout is the way. Nozzie
The player who is deemed first to putt on the green should putt out completely, saving oodles of time - marking the ball, cleaning the ball, lining up the ball etc. Lyle Hill
Design or adapt courses to have three six-hole loops. So time-restricted people can play the first six, or the first twelve. Maybe have competitions where an 18-hole round score could be accumulated over, say, a week. Alan
What about jet packs?
Make it a contact sport with players marking each other as in hockey....lots of running around the golf course!! Kennedy Maswaure
Golfers should use jet packs to move around the course instead of walking or using golf carts. Jay
Analysis by BBC golf correspondent Iain Carter
Golf is undoubtedly failing to adapt to modern time pressures and needs to wake up to that fact. It's increasingly difficult to justify the amount of time needed to play a round within the confines of modern family life.
Initiatives are needed to speed up play. More severe penalties are required in the pro game which sets the example for the sport at large. Courses need to be set up with less rough meaning less time spent searching for balls.
T
he golf ball travels too far; shorter courses mean shorter rounds. And clubs should encourage nine-hole golf in family friendly environments.
This is one of the few sports families can play together, from grandparents to grandchildren, yet there are too few initiatives to make the most of this.