Olivia Jordan-Higgins: Jersey golfer aims for LPGA tour card
Last updated on .From the section Golf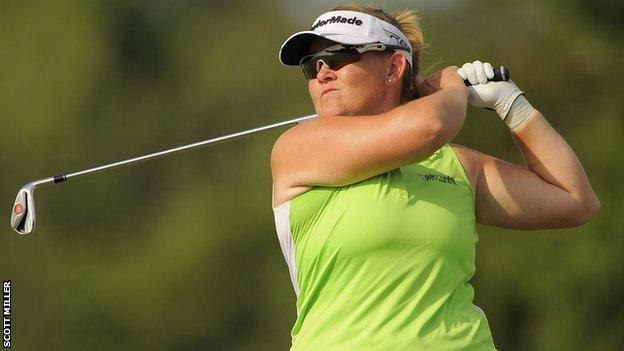 Jersey golfer Olivia Jordan-Higgins says she is not giving up on her dream of making the LPGA tour.
The 26-year-old ended her fourth season in the United States in 20th place on the Symetra Tour, 10 spots away from a card for the main tour in 2015.
Last year after she was just on the feeder tour.
"It's a dream I've always had since I picked up a golf club and I'd like to think I'd keep going and never give up until I achieve that dream," she said.
Olivia Jordan-Higgins on the Symetra Tour
2014: 20th with earnings of $31,294
2013: 11th $114 away from gaining her full LPGA card as she earned $33,495
2012: 16th after injury forced her to miss the final tournament of the season, earning $30,118
2011: 48th in her debut season, earning $11,320
"The last four years I've only just missed out, so I have the talent to be able to make it, it's just a matter of everything coming together.
"For me it's about becoming more consistent, having more top 10s and trying to make every cut throughout the year."
Jordan-Higgins won one tournament on the tour and had three other top-10 finishes this year, but her 20th-place finish in the money-list represented her worst showing since her debut season in 2011.
"I started off really slowly and I can only put that down to not having got over the heartbreak of 2013, when I finished 11th," she told BBC Radio Jersey.
"I then started to put too much pressure on myself and really lost my love for the game for quite a while.
"I had to work hard to figure out what made golf fun again, and eventually I figured it out towards the end and managed to get a win, but I just left everything too late."