Golf in 2015: Rory McIlroy career Slam? Tiger Woods comeback?

By Iain Carter
BBC golf correspondent
Last updated on .From the section Golf150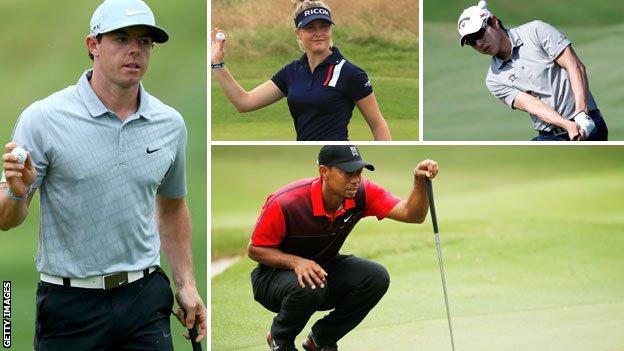 Rarely have we been able to anticipate a more enthralling golfing year.
While Rory McIlroy reigns supreme he contends with a potentially debilitating court case. Tiger Woods, meanwhile, continues his latest comeback and the game in 2015 promises abundant levels of excitement and intrigue.
In the coming 12 months, the R&A and European Tour take on new bosses while broom-handle and belly putters head for the scrapheap and Olympic qualifying tables start to grow in relevance.
Here are 10 key questions and answers for golf in 2015.
1. Will McIlroy complete a career Grand Slam at the Masters?
"There's going to be a lot of hype when I drive down Magnolia Lane in April," McIlroy told BBC Sport. His comment is fully justified because with the Open, US Open and two PGA Championships already to his name, the 25-year-old needs only victory at the Masters to complete the full set of majors.
He would be only the sixth man to achieve the feat after Gene Sarazen, Ben Hogan, Gary Player, Jack Nicklaus and Tiger Woods.
Augusta sets up perfectly for McIlroy but last year's share of eighth place is his best finish in half a dozen attempts to land a green jacket. "I'm getting goosebumps just thinking about it already," he added.
McIlroy's biggest challenge will be retaining focus on golf while battling with former agents Horizon in the Dublin courts early in February. It is estimated €30 million is at stake and McIlroy is expected to spend substantial time giving evidence from the witness stand.
Details of his private life and financial arrangements are likely to fall into the public domain if the parties fail to find agreement. A period of mediation ordered by the judge did not yield a solution and both sides seem determined for the case to go the distance.
McIlroy begins his season in Abu Dhabi on 15 January but it will be his post-trial form at events such as the WGC Championship at Doral in March that will provide the best indicator of how he is likely to fare at Augusta.
2. Can Tiger Woods make a successful comeback in 2015?
Apart from "is it your round?" this is the question I'm asked most frequently. It's impossible to provide a genuine answer. You write off Woods at your peril - in his last injury-free season he won five times in a stellar 2013.
However, none of those victories came at the majors and these are the events that define his career.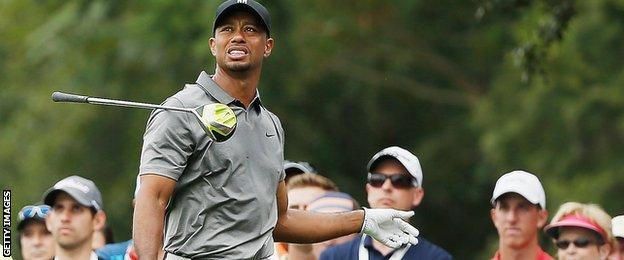 Woods has been stranded on 14 majors since June 2008. In the intervening period he has squandered several opportunities. He claims full fitness and has a new swing guru in the unheralded Chris Como.
Now aged 39, the other big questions surround his ability on and around the greens, especially up against a fearless generation spearheaded by McIlroy, Jordan Spieth and Rickie Fowler.
That said, an Open joust with McIlroy over the Old Course in July is well within the bounds of possibility.
3. Can Charley Hull win a major?
There is no reason why not and, in fact, her best chances of victories may lie in the biggest tournaments.
They are usually played over longer layouts and Hull's prodigious length off the tee provides an instant advantage. The Kettering-born 18-year-old is still very raw, but a natural ball striker and fearless putter.
Charley Hull's rapid rise
Aged nine:
Won the UK National Ladies' Championships at Turnberry
Aged 10:
Played with Morgan Pressel in British Open Pro-Am
Aged 14:
Highest-ranked English female amateur golfer in the world
Aged 16:
Won her singles match against Lindy Duncan as part of the Great Britain and Ireland Curtis Cup team in 2012
Aged 17:
Made her professional debut, played in the Solheim Cup, won her first tournament and named Rookie of the Year on the Ladies European Tour
Aged 18:
Finished top of the Order of Merit on the European Tour
Turnberry could prove a suitable venue for a major breakthrough when it stages the Ricoh Women's British Open this summer. It was there that Hull won a Ladies' Golf Union (LGU) Championship as a nine-year-old.
Watch out, too, for Stephanie Meadow from Jordanstown in Northern Ireland. The 22-year-old finished third at last year's US Open and has the talent and temperament to land some of the biggest prizes in the game.
4. Will Dustin Johnson tell us why he missed so much golf last year?
Probably not, and why should he when the authorities do not reveal whether players are serving suspensions?
The big-hitting American is expected to return at Torrey Pines in early February, having taken his leave of absence early in August 2014 to confront "personal challenges". Returning at that San Diego tournament would mean Johnson will have spent six months on the sidelines.
The return of a character capable of generating as much interest as he does power from the tee box will be a welcome boost for the game. Let us hope the issues that prompted his absence are consigned to history.
The PGA Tour, meanwhile, is likely to remain under pressure to be more transparent with their disciplinary measures.
5. What will be the impact of new bosses in key roles?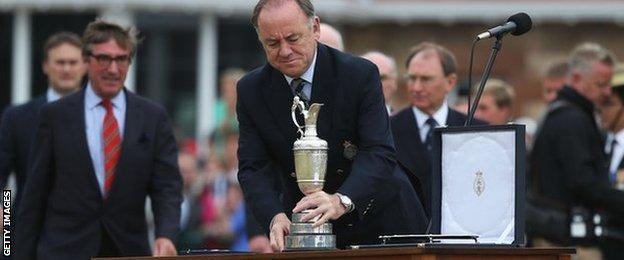 These are changing times at the top of the game. Peter Dawson retires as R&A chief executive in September and two-handicap chartered accountant Martin Slumbers will be his successor. Slumbers will spend six months working alongside Dawson before taking over. It is a tough act to follow.
Despite his conservative demeanour, Dawson has been a radical leader with the vote in favour of allowing the admission of women members to the Royal and Ancient Golf Club capping a tenure of progressive modernisation.
Huge challenges await whoever replaces George O'Grady as boss at the European Tour. Ensuring the continent's biggest stars remain loyal to the circuit is the top priority in market conditions that still favour the PGA Tour on the other side of the pond.
Head hunters have been appointed and the recent addition of two leading businesswomen, Jutta af Rosenborg and Sophie Goldschmidt, as non-executive board members indicate changing times at the Tour.
6. Can the distance golf balls travel be reined back?
This is the biggest challenge faced by golf. The ball flies too far but the authorities are powerless. Good luck to Mr Slumbers and co with any attempts to convince manufacturers to consider making products that yield shorter shots.
7. Will we be interested in the Olympic qualifying tables?
We certainly should be. They are up and running on the International Golf Federation website, with 59 places in the men's and women's events up for grabs (plus one for the 2016 Brazilian hosts in each 60-player field).
The top 15 in the world automatically qualify provided the limit of four players per country is not exceeded. The tables are updated each week and as we head closer to the Rio Olympics, expect them to take an increasing share in the golfing narrative.
For what it is worth, Justin Rose and Jamie Donaldson would currently be the British men's competitors and Catriona Matthew and Charley Hull would be the female entries.
8. Will we see a progressive decline in the use of anchored putting methods?
This is the expected trend in 2015. By this time next year the technique will be outlawed. It means that while extended putters can still be used, they cannot be implemented with the use of a fixed anchoring point on the body like the belly or sternum.
This means a big rethink for the likes of Adam Scott, Tim Clark, Keegan Bradley and Webb Simpson. Expect some experimentation over the course of the coming season from some of the biggest names in the game.
9. Will Sang-Moon Bae play a full season?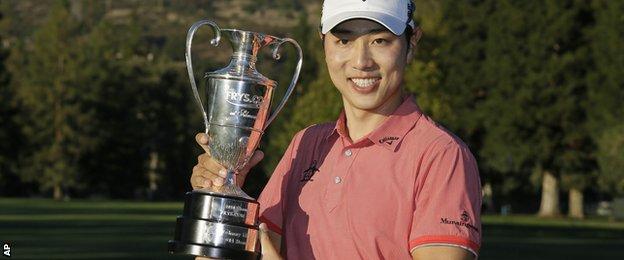 The 28-year-old lies second in the current FedEx Cup standings but may have to return from the United States to his native South Korea at the end of January to start two years' national service.
Bae is a two-time winner on the PGA Tour and has instructed lawyers to fight his case to allow him to continue his playing career uninterrupted.
10. Can a golfer win 2015 BBC Sports Personality of the Year?
Sadly, it seems an unlikely prospect given the fact McIlroy failed to land the award after such a spectacular season in 2014. His second place behind Formula 1 world champion Lewis Hamilton was a wake-up call for golf, a sign that successful play is not resonating or transcending as it should.
One leading golf administrator told me he felt the game had "let Rory down" in not creating an environment where his excellence could be fully appreciated by the wider population.
Golf needs to take a leaf from F1's book and fashion the sport to make it appeal to the widest possible audience.
That process has to begin now to take full advantage of a year that promises so much.