Paul McGinley yet to decide who to back for 2016 Europe captaincy
Last updated on .From the section Golf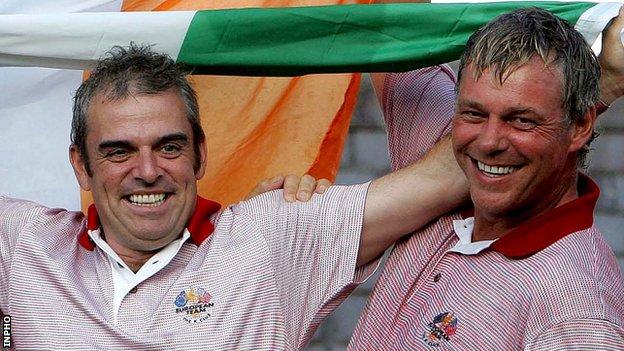 Paul McGinley says he is yet to decide who he will recommend for the 2016 European Ryder Cup captaincy.
Darren Clarke is the strong favourite to succeed McGinley as European skipper but the Dubliner insists that he is remaining neutral at this stage.
Relations between the Irishmen soured after Clarke withdrew his support for McGinley's 2014 captaincy bid.
"Would Clarke be a good captain? The one thing I cannot do is express an opinion on that," said McGinley.
The victorious 2014 European skipper's successor is expected to be appointed in the next two months with Miguel Angel Jimenez and Thomas Bjorn being mentioned as other possible candidates for the role at Hazeltine.
Darren Clarke's Ryder Cup record

Played 20 matches over five competitions, 1997 - 2006

Lost just once in nine fourballs outings, winning six

Overall record (W-L-H): 10-7-3

Vice-captain twice - 2010 & 2012 - a winner on both occasions
The selection panel will also include former captains Jose Maria Olazabal and Colin Montgomerie, as well European Tour officials, but McGinley's opinion is likely to carry particular weight after his triumph at Gleneagles.
"We're still communicating, there are a number of people involved in making that decision - current players, potential players going forward, and people who are associated with the Ryder Cup," added McGinley.
"I'm gathering information from everyone and I want to get a really solid view of what everybody thinks before I bring my ideas forward."
2011 Open champion Clarke is the strong favourite to take the post having played in the Ryder Cup five times and helped lead the team as vice-captain in 2010 and 2012.
Clarke initially backed McGinley's bid to be the 2014 captain, only to put himself forward and then move on to supporting Colin Montgomerie.
That led to strain in the duo's relationship although McGinley insisted after his team's 16½-11½ success last September that he would not let their differences influence his opinion on who should succeed him.