Rory McIlroy: 2015 Masters victory will complete career grand slam

By Iain Carter
BBC golf correspondent
Last updated on .From the section Golf135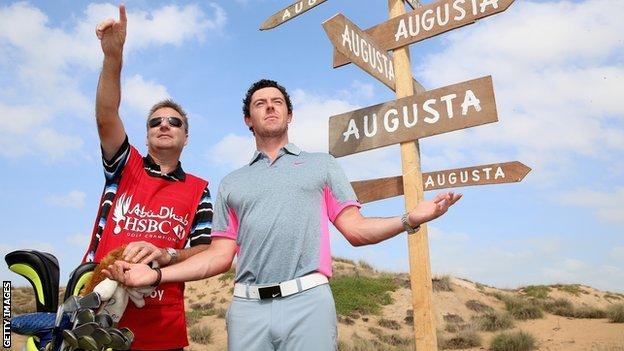 World number one Rory McIlroy says his ambition for the first part of the golfing year is to maintain an aura that he so brilliantly built in 2014.
On the way to his current visit to the Middle East, the 25-year-old continued a personal tradition by noting down seven goals on the back of his first airline boarding pass for the new season.
The fact that the other side of the document was imprinted Seat 1A is testament to his current level of success.
McIlroy won last year's Open and PGA Championship - to add to his PGA victory in 2012 and US Open title from 2011 - and will go to Augusta in April trying to become the sixth man to complete a career grand slam of all four current majors.
Career grand slam winners
Jack Nicklaus
and
Tiger Woods
have both won all four majors at least three times, while
Ben Hogan, Gary Player
and
Gene Sarazen
have won them all at least once since the Masters started in 1934.
Bobby Jones,
who co-founded the Masters, is the only man to win the Grand Slam of all four majors in the same year. He did so in 1930 when the Grand Slam was made up of the US Open, US Amateur, Open and British Amateur.
His objectives for the year surround personal processes that allow him to play his best golf. He also wants to remain the game's most feared name on leaderboards.
And this forms a primary objective as he starts his season at the HSBC Golf Championship in Abu Dhabi this week.
"It's always a good sign when other players are talking about you," he told BBC Sport.
"Look, I obviously want to go into every golf tournament being the guy to beat. And I want to be going into the Masters being that same guy.
"I think with the performances that I put up last year that's what happened.
"And I feel that the way to continue to do that and have that so called aura is to keep producing these performances consistently, so that's the goal.
"It's to get into contention as many times as possible, test your game under the heat of battle and see where you stand against everybody else."
This week's season opener is the first of five tournaments he intends playing before his attempt to secure his first Augusta green jacket. He will compete in the Dubai Desert Classic the week after next, before Florida stops in West Palm Beach and Doral.
If all goes to plan, the most likely scenario is that he will play the Arnold Palmer Invitational at Bay Hill in March for his last outing before the Masters.
Throughout this period, McIlroy's biggest challenge will be to avoid the distraction of his forthcoming court case against former agents Horizon Sports. It is an acrimonious dispute with the player likely to have to give evidence when the trial starts in early February.
McIlroy refuses to accept that it will have a negative impact on his game.
"Right now I just do what my lawyers tell me to do," he said.
"And that's to sit back and just concentrate on golf and that's basically what I've been doing. It hasn't been much of a distraction so far this year.
"There were a couple of bits and pieces I had to do last year but honestly I haven't really thought about it. I've just been playing golf and practising and trying to get myself ready for the season."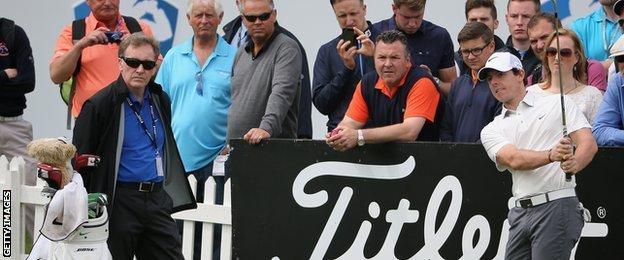 Aside from a Christmas Eve chat with coach Michael Bannon, McIlroy steered clear of his clubs for almost a month before resuming on 5 January. He says his form on the range has been encouraging and he is full of enthusiasm for the new season.
He said: "I'm trying to keep whatever momentum I have and keep going forward from last year. I feel 2014 has really set me up for another great year this year but it was nice over the Christmas period to reset and recharge a little bit."
Past form suggests he will contend in Abu Dhabi this week. Last year he finished second after a third-round rules infringement when he failed to take full relief from a drop off a spectator crossing.
It was the second time he has fallen foul of the rules in this event and he wants no repeat this week when the likes of Justin Rose, Martin Kaymer and Rickie Fowler lead the opposition.
"Two out of the last three years I've had the fewest shots here, but just got on the wrong side of the rule book a couple of times," McIlroy smiled. "It's a great place to start the season, preparation-wise.
"I've been in Dubai for the last week and practising and working hard there.
"It's a very strong field to start the year so I can't think of a better way to start the season and to compete against some of the best players in the world on a golf course that I'm comfortable at and hopefully one I can win on sooner rather than later."
Victory this week would go a long way towards satisfying that early season goal of remaining the game's most feared player.