Tiger Woods, Rory McIlroy, links majors - 2015 should be special
Last updated on .From the section Golf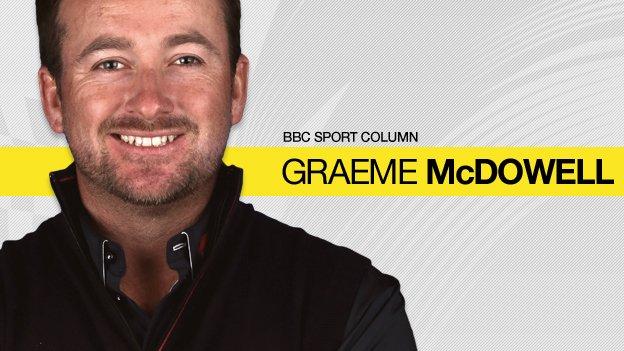 In his first BBC Sport column of 2015, Graeme McDowell looks ahead to what lies in store for Tiger Woods and Phil Mickelson, two of the game's biggest personalities.
He also discusses what fellow Northern Irishman and world number one Rory McIlroy might achieve and who is in line to be Europe's next Ryder Cup captain.
The 2010 US Open winner also looks at the prospect of playing three majors on links courses, the state of the modern game - and his personal goals.
Lefty and Tiger - a raucous weekend in Phoenix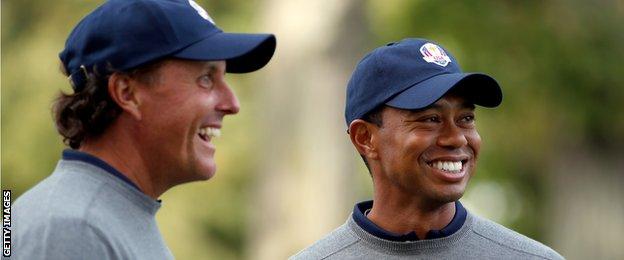 With both of the biggest needle movers in golf coming off disappointing 2014 seasons, by their own high standards, and for very different reasons, the golf world will be on the edge of their seats in anticipation for what 2015 will hold for the men we call "El Tigre" and "Lefty."
Woods's quest for 18 majors to eclipse Jack Nicklaus's record is a story to intrigue the world of golf for many years to come.
Mickelson v Woods

Name
Phil Mickelson
Tiger Woods
Age

44

39

Major Wins

5

14

Masters Wins

3

4

US Open Wins

0 *Finished 2nd on 6 occasions

3

Open Wins

1

3

PGA Championship Wins

1

4
This year will give us a taste of what's in store for the future of possibly the game's best ever player.
The talent and commitment of Mickelson are never in question and he will look to bounce back this season.
With both guys teeing it up at the Phoenix Open (from 29 January), on American Football's Super Bowl weekend (also in Arizona), it should make for a more raucous than usual 72 holes at TPC Scottsdale.
'Rory makes the game look incredibly easy'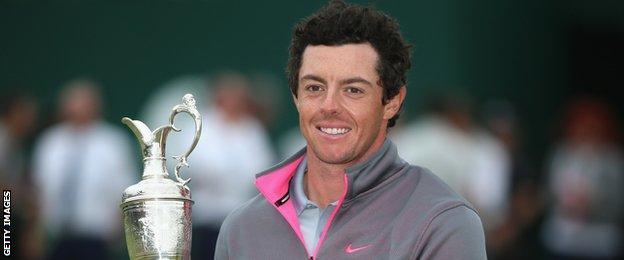 As the world's number one player makes his season debut this weekend at the Abu Dhabi HSBC Championship, it will be a tough for Rory to replicate his 2014 form.
By his own admission he didn't achieve all his goals last season (although he must have come close?), and he sounds just as driven and focused as usual.
When he is on it, he makes the game look incredibly easy. The run of golf he put together from The Open through to the PGA Championship last year was a glimpse of this kid's capabilities.
How many majors he will win is seemingly up to him. It is impossible to measure the desire of an elite athlete. If Rory has the record number of 18 majors in his head, he certainly isn't going to tell us for a few years yet.
He is an incredibly exciting player to be leading the game right now and a very suitable role model for young aspiring golfers. This is especially important in a sport that desperately craves increasing participation numbers.
'Clarke & Jimenez are both great personalities'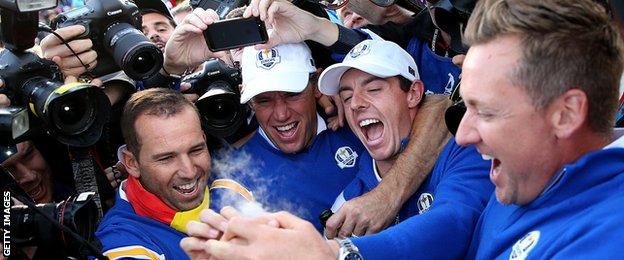 The golf media's insatiable appetite for Ryder Cup scandal was surely quenched in the aftermath of Gleneagles in 2014.
Everything surrounding the US team was analysed to the Nth degree and the world waits to see how both teams will approach 2016 at Hazeltine.
For Europe, my fellow countryman Darren Clarke and Spain's Miguel Angel Jimenez are interested in following the great success of Paul McGinley as captain. Both are great personalities, cigar smokers and beloved in America.
Paul took a winning template, sharpened it, polished it and executed it with stunning precision. He showed that leadership qualities rather than playing credentials are more important when inspiring a team.
The approach from the PGA of America and Team USA will be much more intriguing this year. The phrase "task force" was getting worn out in post Gleneagles chatter, and the personnel involved in such a unit will be interesting.
It is impossible to fault Paul Azinger's approach in 2008 and his involvement is surely imminent.
'There is no better venue than The Old Course'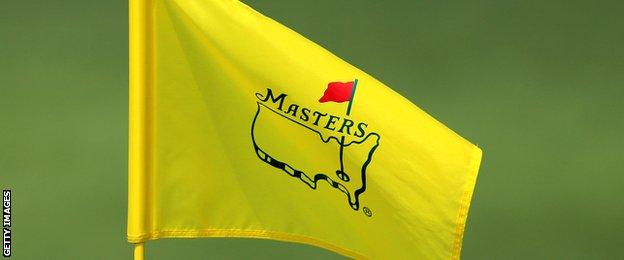 This will be a very special year for major championship venues.
There is nothing better than Augusta National in April to kick off the major year. Eight months is a long time for the golfing world, players and fans alike, to hold their breath in anticipation of the next major which is, of course, the Masters.
Will the left-handed roll continue? Six of the last 12 Masters have been won by left-handers - three by Mickelson, two by Bubba Watson and one by Mike Weir. It is an incredible stat because the only other lefty to win a major is Bob Charles, who was the first when he won the 1963 Open.
With Augusta's right to left nature, I guess it authenticates the statement, 'you can talk to a slice, but a hook won't listen'.
In practice this means the left-handed, right to left fade is much more controlled than the righty draw! 2015 will see a unprecedented run of links golf in the majors.
Europe's major dominance
McIlroy's Open and US PGA double, plus German Martin Kaymer's US Open win, meant 2014 was the first time in the modern era that Europe has claimed three majors in the same year.
It begins with the US Open west of Seattle at the Trent Jones-designed Chambers Bay, which hosted the US Amateur a few years back. It certainly looks the part and is supposed to be a very authentic links test, reinforced by the possibility of some good old British weather.
Speaking of which, The Open Championship will be back at the Home of Golf at St Andrews. There is no better venue than The Old Course. You genuinely feel like you are walking in the footsteps of the greats of the game. The golf course is such a natural spectacle and has a unique feel.
Herb Kohler's Whistling Straits will welcome back the PGA Championship after the dramas of bunker-gate, when Dustin Johnson touched the sand to incur a two stroke penalty the last time we were there.
This would effectively be the third links major venue in a row, even though I'm not completely convinced about Pete Dye's design playing like a true links.
'350-yard bombers are the norm these days'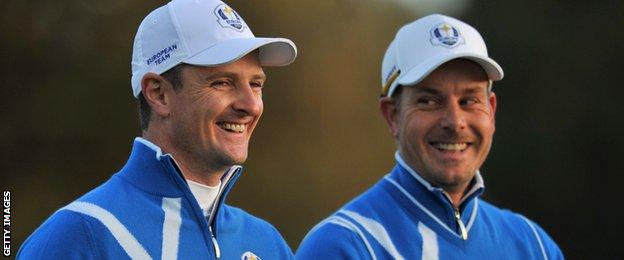 A quiet four years from Woods has offered the opportunity for new stars to step up and prove themselves as the potential successors.
With the likes of Rory, Rickie Fowler, Henrik Stenson, Justin Rose, Patrick Reed and Jordan Spieth, to name but a few, the game is in very solid hands.
It seems like 350-yard bombers are much more the norm these days and the old "Drive for show, putt for dough" adage is being rewritten to, "Drive it far, putt from closer to the jar" (or something like that!).
Rickie Fowler
He is only the third man to finish in the top five of all four majors in a season in the modern era. The American joined Jack Nicklaus (1971 and 1973) and Tiger Woods (2000, 2005).
The modern young player brings a physicality on a consistent basis that we have never seen before.
Thirty years ago the athletes in golf like Greg Norman and Sir Nick Faldo were few and far between. Nowadays it feels like six-foot tall players with 120+mph clubhead speeds are the future of the game. It's exciting, but there is no doubting technology has changed the game forever.
Hungry for more Sunday afternoon success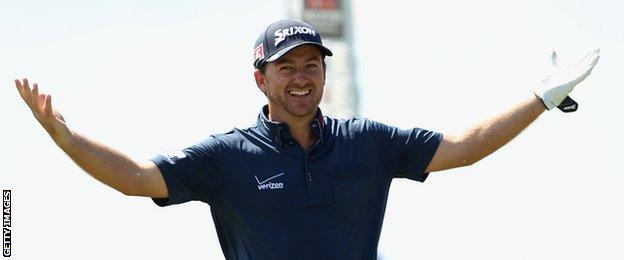 I look to 2015 having completed my most consistent year to date. It was perhaps not my most spectacular, but there is some great stuff to build on with a pleasing top 10 ratio and only one missed cut.
It's been an amazing couple of years personally; getting married in September 2013, followed by the arrival of my daughter Vale in August 2014.
As life starts to balance on that side, I feel my focus for golf intensifying and my hunger for more Sunday afternoon success on the big stages increasing.
A nice winter break spent in the gym and working on my technique comes to an end as I make my season debut at the Dubai Desert Classic at the end of the month.
I am very excited about the year ahead and my schedule remains very similar to last year. One of my many goals will be to throw myself into the success storylines of the year. Speak soon.