Golf's future: 'Time and format can be looked at relatively easily'

By Iain Carter
BBC golf correspondent
Last updated on .From the section Golf280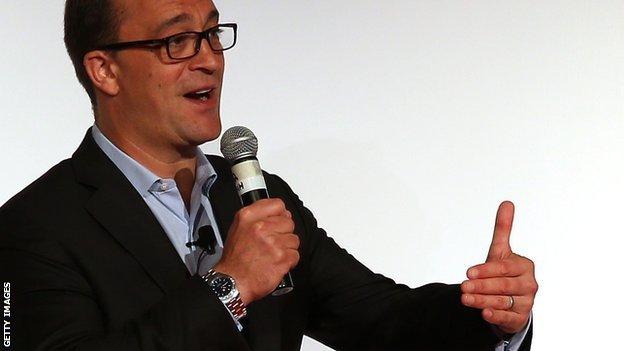 One of golf's biggest sponsors has warned the game is at a crossroads and not keeping up with changes in society.
The sport returns to the Olympics next year and Giles Morgan, the head of sponsorship for HSBC, believes this provides an opportunity that cannot be squandered.
Morgan's company spends millions of pounds on golf, backing several tournaments including the Open, the WGC Champions event in Shanghai, the women's matchplay and last week's Abu Dhabi Golf Championship, won so dramatically by Frenchman Gary Stal.
All of HSBC's golf contracts are up for renewal in 2015 and Morgan is concerned that the game is not moving with the times.
"It's a crossroads moment," Morgan told BBC Sport. "I think that we will look back over this period and see where golf has gone.
"There are lots of positives about golf but the world, particularly with digital communications and people's time, has changed in the last 15 years beyond anybody's wildest dreams.
"I'm not sure that golf has kept up with that change.

"And therefore I think, because it attracts high investment, has famous superstars, its men and women, its old and young and it's relatively healthy, there are lots of good reasons it can look at all of the ingredients and then re-bake the cake."
Inclusion in the 2016 Olympics is not the only reason why the game has the chance to harness a new approach.
Fresh personnel will occupy key leadership roles this year when Martin Slumbers takes over from Peter Dawson as boss at golf's governing body the R&A, while the European Tour appoint a successor to George O'Grady as chief executive.
"I don't think the sport's in trouble but I do think that those who are in charge of the game need to be brave," Morgan added. "They need to take some risks.
"No one would have said 25 years ago that Twenty20 cricket would be the success it is and it has grown. It doesn't mean that through Test cricket those who are the purists don't still get their diet.
"England versus Australia is still vital to the game of cricket, but Twenty20 has embraced a whole younger generation to play broadly the same game."
World number one Rory McIlroy
"Everything's so instant now and everyone doesn't have as much time as they used to. So you maybe try some way of speeding the game up."
Read more from McIlroy
Although Stal's victory, which came after Martin Kaymer squandered a 10-stroke lead, was the perfect advertisement for 72-hole stroke play, Morgan believes there are enough weeks in the calendar to provide tournaments with new faster formats.
He suggests the game should embrace the foursomes alternate shot format and bring together top men and women at the same events.
Morgan would like to see similar technologies to those used in cricket's Big Bash to allow for players to be interviewed mid-round. "It would be informative and instructional and would bring more people into the game," he said.
"At the moment no one is making the first move to end a logjam and the first move has to come from the game of golf. The sponsor can't move, they can invest.
"I think time and format are the sort of things that can be looked at relatively easily, that could preserve all of the greatness of the game but make it a bit more rapid for people's consumption."
People playing golf once a week, every week, in England

Year

14-25 year olds

16-25 year olds

All ages (16+)

2009-10

95,700

860,900

2010-11

73,100

833,200

2011-12

55,900

850,500

2012-13

61,400

52,400

751,900
Golf's future has exciting potential, particularly with a young generation that has 25-year-old Rory McIlroy at its vanguard. Morgan accepts that this helps make the game remain attractive to sponsors.
He also believes Olympic inclusion provides genuine grounds for optimism. "Now is the time because in 18 months the whole world will be exposed to golf through the Olympic Games. That cannot be underestimated.
"This will broaden the appeal and, if they can get the appeal right with new superstars, there's a self perpetuation.
"I'm not worried about the 72 holes stroke play format in Rio. I'm more worried that post the Games we are in a position to be selling this sport.
"It still has the most wonderful values with no corruption, so many good things. But if they don't do anything about it [to capitalise on the Games], I fear that while it will still be very attractive to some people it might fall into slow decline.
"The potential of the diversity of the game has never been fully realised; that men and women, young and old can play at any level, from professional right down to the very grass roots.
"I believe golf has an opportunity to make itself more attractive and if they do, more sponsors will come in, more television will follow, more spectators will follow and the virtuous circle will grow," Morgan added.
With big contracts up for renewal Morgan takes a firm business approach. There's no suggestion HSBC are about to walk away from the game but equally no public guarantee they will continue to back golf.
It will be a balance sheet decision once the return on their investment has been fully analysed.
It is a sport where sponsorship is vital and Morgan accepts that for many years golf and the banking sector "have been a good fit".
But HSBC's sponsorship boss warns: "If in 10 years people are not engaging in the sport, not playing it or watching it and it's not relevant to the people we want to do business with, it follows that it won't be the right way to engage with them."
It seems a message golf at all levels can can ill-afford to ignore.