Martin Kaymer 'glad' he blew 10-shot lead at Abu Dhabi event

By Iain Carter
BBC golf correspondent
Last updated on .From the section Golf91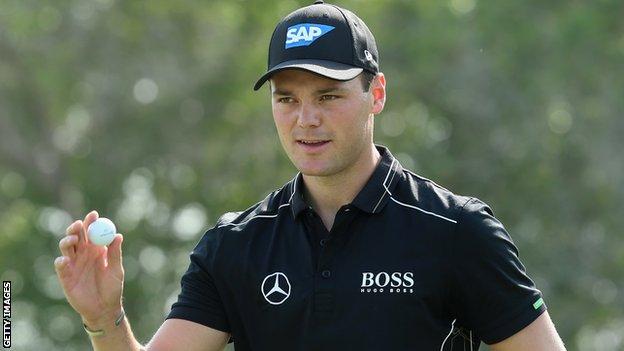 Martin Kaymer says he is "glad" he blew a 10-stroke lead to lose the Abu Dhabi Championship earlier this month.
The US Open champion has analysed the reasons behind the uncharacteristic collapse which handed the title to unknown Frenchman Gary Stal and stunned the golfing world.
Kaymer is regarded as one of the best front-runners in the game and was rated a 500-1 on chance for his fourth Abu Dhabi title before slumping to a final round 75.
Such a failure has the potential to undermine his confidence in future events, but the 30-year-old German is convinced it will make him a stronger player.
For some golfers these might seem brave but hollow sentiments, but in Kaymer's case there is every reason to believe he will emerge better for this painful experience.
As well as possessing a golf game that has taken him to two majors, a Ryder Cup-clinching putt and a spell at the top of the world rankings, Kaymer is blessed with plenty of perspective.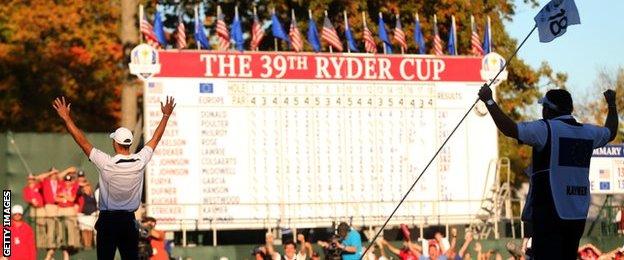 Furthermore, the coincidental presence in the immediate aftermath of his brother Philip and father Horst played a key role in putting this stunning defeat into its proper context.
It was unusual that both family members were present when a shattered Kaymer emerged from a round containing the triple and double bogies that contributed to his shocking capitulation.
"It's very rare [that they were with him] and I was glad that my brother was there all week," Kaymer told BBC Sport. My dad came in the same night. It was good that I didn't have to reflect on my own."
The Kaymer family held their inquest on the day after his defeat. "They asked me questions that are maybe uncomfortable," he said.
"But they make me move forward easier and you might not have even asked yourself those questions.
"They are a little bit on the outside so they see it more obviously and therefore I was very glad that we had that day together."
The upshot of this family gathering was a realisation that the loss will ultimately make Kaymer a better player.
Martin Kaymer factfile
Born:
Dusseldorf, Germany (then West Germany), 28 December 1984
Turned professional:
2005
World ranking:
12
Major victories:
US Open 2014, US PGA Championship 2010
Did you know?
Martin won the PGA Grand Slam of Golf last year, beating Rory McIlroy, Bubba Watson and Jim Furyk
"There were a lot of challenges that I had to face that day that I was not really prepared for," he admitted.
"I thought I was but I wasn't. A few unexpected things happened over four or five holes that I needed to deal with and things happened subconsciously that somehow have an effect on your game.
"If I'd been more calm, maybe, a little bit more into the golf that day and not so much into the other stuff that happened, I would probably have handled it a little bit better.
"If I'd won it would have been great. A fourth Abu Dhabi trophy in my house, a little more dollars in my account and a few more world ranking points.
"But it wouldn't have made much of a change, it would have been expected. Then the unexpected happened and then when you have time to reflect, you are actually glad that it happened.
"Obviously the result is not the one you hoped for, but you are glad it happened because you have a new experience on the golf course and for you as a person as well," he added.
Kaymer is reluctant to divulge exactly what went wrong with his game on that fateful Sunday afternoon. "No one really wants to talk about their weaknesses. I'm the same, I would like to keep those for myself," he said.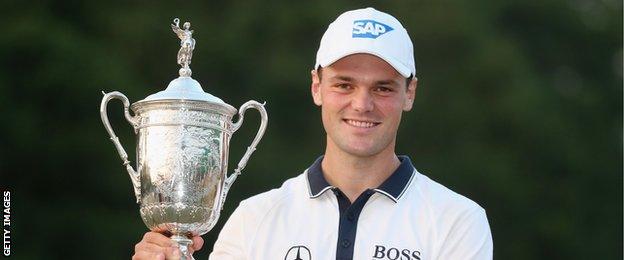 "You realise certain things that happened. It's one thing to just think them but to say them and obviously to people that are very close to you means you can be very honest.
"It hurts a little bit and it's difficult, but that's the only way to move forward.
"Fortunately we spoke about those things and we can reflect a bit more and I know what went wrong and that is something that is very, very important."
Kaymer returns to action for the first time since his Abu Dhabi demise when he tees it up in this week's Dubai Desert Classic. He is part of a field that boasts the world's top two players, Rory McIlroy and Henrik Stenson.
The way that McIlroy responded to blowing a four-shot lead in the final round at the 2011 Masters serves as an inspiration to Kaymer. The Northern Ireland player promptly won the US Open by eight strokes in his next major outing.
It may be asking too much to expect Kaymer to bounce straight back to winning ways in the Dubai desert this week.
But the initial signs suggest that next time he earns a big lead, he will be far better equipped to make the most of it.