PGA caddies launch lawsuit over $50m bib sponsorship
Last updated on .From the section Golf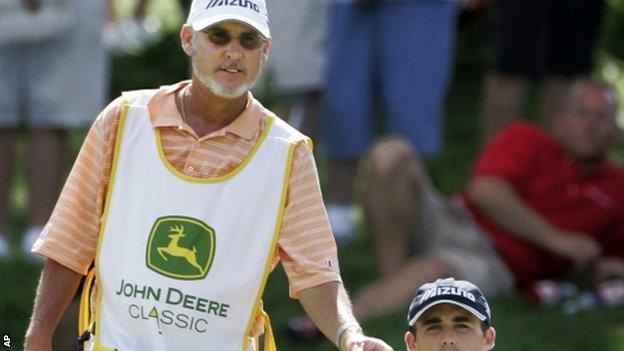 More than 80 caddies have launched a lawsuit against the PGA Tour claiming a share of $50m (£33m) earned from wearing sponsored bibs.
The action was filed on Tuesday in North California, and stems from a year-long dispute.
The caddies contend they receive nothing of the millions made by the Tour from bib sponsorship.
They also accuse the Tour of denying them access to healthcare and pension plans.
Mike Hicks, caddie for the late Payne Stewart when he won his last US Open in 1999, and Kenny Harms, who caddies for 31-year-old Kevin Na have been named as two of the representatives in the collective class action.
The lawsuit outlines a series of grievances against the Tour, including being treated "as second-class participants of the game" who during tournaments have to "use portable lavatories that lack running water".
As a result, the caddies are asking for a share of the profits from the sponsorship along with "damages and disgorgement" for wearing the bibs in the past.