Billy Casper: Three-time major winner dies aged 83
Last updated on .From the section Golf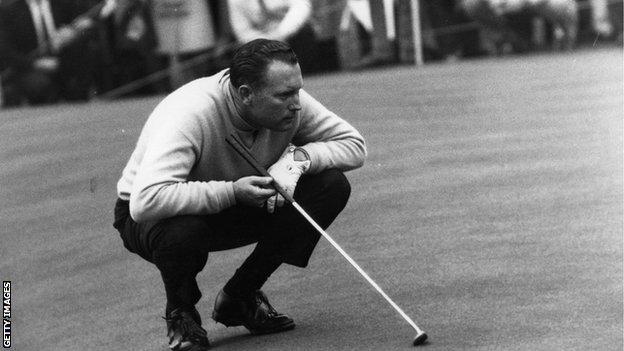 Three-time major winner and former US Ryder Cup captain Billy Casper has died aged 83, the US PGA Tour has announced.
Casper won the US Open in 1959 and 1966 and the Masters in 1970, and claimed 51 PGA Tour titles between 1956 and 1975.
The PGA Tour said Casper suffered a heart attack and died at his home in Springview, Utah, on Saturday.
Jack Nicklaus was among those to pay tribute and said of the "underrated" Casper: "Those who did compete against him knew how special he was."
Nicklaus, 75, who won a record 18 major titles in his career, added: "When I looked up at a leaderboard, I wasn't just looking to see where a Palmer or a Player or a Trevino was. I was also checking to see where Billy Casper was."
Gary Player also paid tribute to his former rival, saying: "I played a lot with Billy, and I always thought Billy had a wonderful short game.
"He was always a thorough gentleman."
Casper was inducted into the World Golf Hall of Fame in 1978 and sits seventh on the PGA Tour's all-time victories list.