R&A chief executive Peter Dawson defends live Open move to Sky

By Iain Carter
BBC golf correspondent
Last updated on .From the section Golf302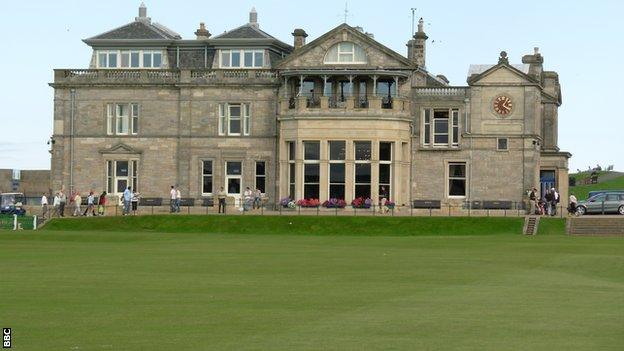 Golf fans have inundated the sport's governing body with angry responses in the wake of the decision to remove the Open from live free-to-air television.
Live coverage will switch from the BBC to Sky in 2017 under a five-year deal signed last week.
Peter Dawson, chief executive of the governing R&A, says the move is a good one for the Championship and the future of the game.
"I can't deny that we've had quite a full postbag from individuals out there who are disappointed by the decision," Dawson told BBC Sport.
"Some of them have used quite intemperate language as well, if I may say so.
"We are getting some reaction from people who don't have Sky and are accustomed to watching the BBC coverage and who don't yet fully understand the options that they will have.
Future of golf's oldest tournament on BBC TV
The BBC will show this year's Open at St Andrews and the 2016 tournament at Royal Troon live on television
The BBC, which has previously broadcast the tournament live, will show a two-hour daily highlights package between 20:00 and 22:00 in 2017
From 2017, the BBC will continue to provide live radio coverage of the tournament on BBC Radio 5 live, and to cover the tournament online
"But we've had to look at this very carefully this time around. We've been with the BBC for over 60 years and they've been part of the Championship's evolution and growth."
Dawson points to live radio coverage remaining on BBC Radio 5 live and prime-time highlights on BBC television every night of the Open when the new deal kicks in. He believes overall viewing figures will not suffer as a result.
He also says the R&A was left with little choice other than to go with the Sky bid.
"As the negotiations proceeded, it became clear that the highlights option was where the BBC thought it was best to go," he said.
"There will be a huge number of people looking at the highlights and Now TV will offer the Sky live broadcast at very, very modest cost to people who are not Sky subscribers."
As Dawson's postbag indicates, it remains a contentious decision, particularly at a time when participation numbers in golf are falling.
This period of decline has coincided with the loss of UK-based European Tour events from BBC television and now the Open is going as well.
"Participation and its linkage to free-to-air television is quite difficult to find a formula for," Dawson said. "It's intuitively right to think the more TV coverage there is, the better participation will be.
"But we can point to sports that have had free-to-air coverage where participation has fallen and we can point to sports where there's been subscription coverage where participation has risen.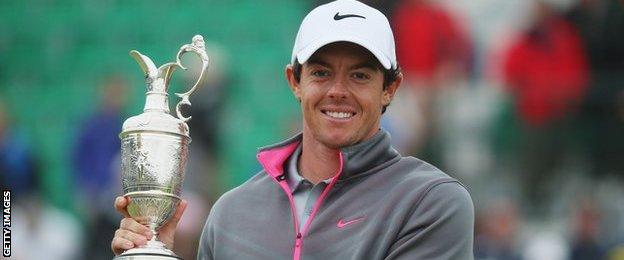 "It's a long time since there's been a lot of golf on free-to-air. I don't think it's true that four days of the Open disappearing will have a material effect on participation.
"And the increased revenues that we will receive from the new broadcast arrangement will allow us to plough significantly more money back into participation initiatives up and down the country and worldwide."
Dawson, who is retiring in September, says today's golf stars will not be pushed to the margins as a result of the deal. He points to the continued popularity of football through its pay TV package allied to Match of the Day highlights.
Golf has to make the most of its current era with such an exciting talent as Rory McIlroy at its vanguard. The world number one will defend his Open title at St Andrews this summer.
Dawson believes Mcilroy has the potential to become the next Tiger Woods in terms of his impact on the game. "I do, I certainly do," he said.
"Rory is now coming through in a very similar manner, perhaps not quite at Tiger's level yet, but coming on strongly.
"He's a wonderful young man, personable, got the interests of the game at heart. He's a great player to watch, he's exciting and hits it marvellously well and we're all looking forward to him being here in St Andrews in the summer.
"Ticket sales are very strong and he's going to be a big draw, there's no doubt about that."
McIlroy will surely attract a big audience on television this July as well but whether that will be as easy to do come 2017 remains to be seen.