Peter Lawrie claims fizzy drinks battle behind slump in form
Last updated on .From the section Golf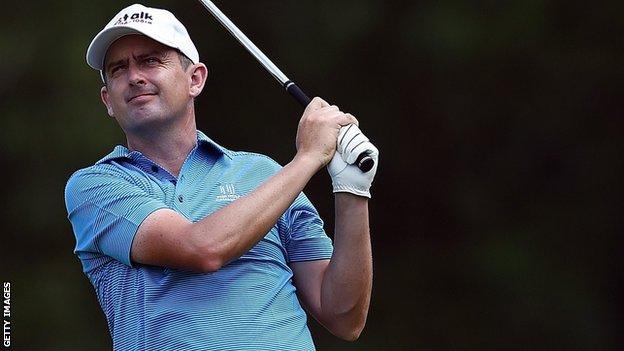 Peter Lawrie says he suffered a huge slump in form while trying to address what he calls a fizzy drinks addiction.
The Irishman said he was drinking several litres of cola a day and had a near breakdown when he tried to quit.
Lawrie slumped from just outside the world's top 100 players to a ranking of 896 at the end of 2014, such was his dramatic dip in form.
"I cut it out completely and went from such a high on sugar to a dramatic low," he said. "I never recovered."
Lawrie stopped drinking the fizzy drinks shortly after finishing 10th at the 2013 Irish Open.
Facts about sugar
Evidence shows most adults and children in the UK eat more sugar than is recommended as part of a healthy balanced diet
Food and drinks that have a lot of added sugar contain calories, but often have few other nutrients
Sugar found naturally in whole fruit is less likely to cause tooth decay than juices or blends because the sugar is contained within the body of the fruit
Source: NHS Choices
Talking to Irish radio station Newstalk, he said: "I lost all confidence in myself. I wouldn't say I went through a breakdown but I definitely got exceptionally emotional.
"It was very difficult to deal with all of the situations coming at me.
"Whether that had anything to do with my mental state in any shape or form, I have no idea.
"I drink two or three cans a day (now) but I was drinking litres of the stuff. Even in the hottest country, like Malaysia, I'd have a Coke on the golf course because I was addicted to it."
Lawrie, who has one win on the European Tour - claiming the Open de Espana in 2008 - has made the cut in his last three starts and finished tied for 16th at last week's Malaysia Open, his best result since the Irish Open.