Olivia Jordan-Higgins: Jersey golfer ready for LPGA Tour tilt
Last updated on .From the section Golf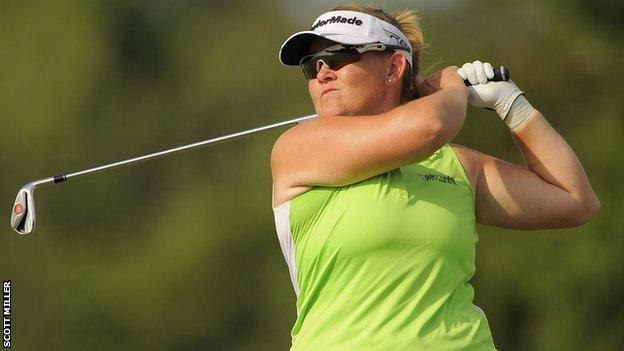 Jersey golfer Olivia Jordan-Higgins says she is confident that 2015 could be the year she makes the LPGA Tour.
She begins her fifth season on the Symetra Tour in the United States this week, with the top 10 at the end of the year
"I've got a little bit of confidence about this year," the 26-year-old told BBC Radio Jersey.
"It's just a matter of making my year consistent so I can finish inside the top 10."
Jordan-Higgins finished last season in 20th place, 12 months on from being just on the feeder tour.
Olivia Jordan-Higgins on the Symetra Tour
2014:
20th with earnings of $31,294
2013:
11th $114 away from gaining her full LPGA card as she earned $33,495
2012:
16th after injury forced her to miss the final tournament of the season, earning $30,118
2011:
48th in her debut season, earning $11,320
"I feel like I've done everything this off-season that I possibly could to be prepared - to put myself in the best position possible to be mentally, emotionally and physically ready," she said ahead of the first event in Arizona.
"I've had a couple of wins in the past couple of years and that really helps with the confidence.
"I've spent a lot of time in the gym doing a lot of golf-specific experiences to try and be more consistent with my ball-striking.
"I think it's had a big effect on my driving off the tee - it's made the ball go a bit further and it's pretty straight all the time."