Darren Clarke has all qualities required for Ryder Cup captaincy

By Tom Fordyce
Chief sports writer at Hazeltine National
Last updated on .From the section Golf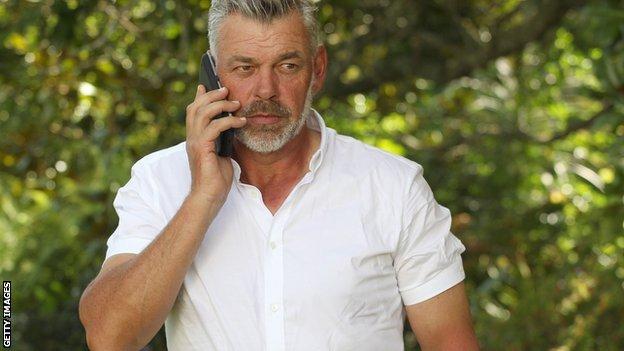 A list, in no particular order, of the ideal qualities required by a successful Ryder Cup captain: a stellar playing record in the contest, experience as a vice-captain; deference from his own players and respect from the opposition's; the ability to flourish under pressure, a relish for precision planning.
It is also a complete contrast to the situation the Americans find themselves in, when after a post-mortem on par with anything managed by English cricket after Ashes whitewashes, they have taken the Peter Moores option of going back to a man who has already been tried and found wanting.
Perhaps it is Davis Love III who might be in greater need of the acronym that inspired Clarke during his wonderful 2011 Open win at Royal St George's: PTAFW, or Prove Them All Flipping Wrong, give or take an f-bomb or two.
Northern Irishman Clarke is not entirely the affable, Guinness-loving bon viveur of public image. He can be impatient and become quickly frustrated, which partly explains why it took so long for his rich talent to draw fitting reward in the biggest tournaments.
A love of punctuality and politeness is no bad thing in golf. The other 'P' in his personality, perfectionism, is not always the asset it might seem in a sport so capricious and resistant to control.
Then there is the good memory for bad deeds done against him, which gave rise to well-sourced stories of a metaphorical Black Book containing the names of those who had not treated him as he felt they perhaps should. Not for nothing has he had the nickname Prince of Darkness, tongue in cheek or not.
Clarke has never revealed the identity of those marked men, although having not been selected for the 2008 Ryder Cup by Nick Faldo despite two high-profile wins that summer (including the Dutch Open by four shots a week before the captain's picks were revealed) you might hazard a guess at one.
Sublime statistics
Darren Clarke had a 100% record in the 2006 Ryder Cup with three wins from his three matches.
Yet he is unlikely to draw the same resentment from his players as Faldo did - and continues to do - after the crushing defeat at Valhalla.
Clarke's selection may have been made by Europe's five-man panel of Ryder Cup aristocrats and administrators. But it has been endorsed by all the senior players after last year's thumping of the United States at Gleneagles - Ian Poulter, Lee Westwood, Graeme McDowell and, most importantly of all, Rory McIlroy, the game's dominant talent.
You might smell trouble in that. A leader chosen by those serving under him is sometimes unable to make the tough decisions required. Where does friendship end and authority begin?
Clarke is likely to be able to judge as well as anyone can. In five Ryder Cups as a player he ended on the winning side four times, most famously as a wildcard at the K Club in 2006 when, six weeks after the death of his wife Heather to cancer, he won all three of his matches in a maelstrom of emotional energy.
As a vice-captain under Colin Montgomerie at Celtic Manor in 2010 and Jose Maria Olazabal at Medinah in 2012 he calmed some and rallied others in those dramatic final-day denouements.
He understands too just how much is now expected of a captain, when the team picks and pairings are almost the easiest part of it.
There is so much glad-handing, so many media appearances and dinners and smiling and waving, that you must be both fit and energetic and sage enough to know when to delegate to those around you.
Ryder Cup records

Darren Clarke

Miguel Angel Jimenez

Thomas Bjorn

Player appearances

5

4

3

Wins as player

4

2

3

Points

11.5

5.5

3.5

Vice-captain appearances

2

3

3

Wins as vice-captain

2

3

3
By the end in Gleneagles, the United States' 65-year-old captain Tom Watson was so exhausted by it all that he resembled a grandfather mistakenly put in charge of a stag-do: physically spent, ready for bed, a chasm between his own life and those of the young men around him.
Clarke will be 48 by the time his team flies to Hazeltine. Having lost four stone last year to drop from a 41-inch waist to a svelte 32 (he had to dump most of his wardrobe at the local charity shop as a result), he should be in appropriate shape.
His predecessor Paul McGinley received such praise for the job he did in Scotland, not least for the end result but for all the thought over many months that went into it.
Clarke is likely to focus on the same small details, even if as a lifelong Liverpool fan he is less likely to invite Sir Alex Ferguson into the team room for an eve-of-tournament speech.
The pressure he will relish, as his display at the K Club proved: roared onto the first tee, tears in his eyes; the drive of the day down the fairway, a birdie to follow.
His is a clubbable charisma, born of an attitude that saw him turn pro as much because he loved playing as any specific ambitions.
While he does not drink quite as much as he used to - or at least not quite the same drinks - the unfettered approach which saw him drink through the night after his Open win and conduct his press conference the next day in a somewhat Andrew Flintoff-style has not entirely left him.
"We're only here once," he told BBC Northern Ireland last year. "You've just got to enjoy it. I'm happy to be thought of as somebody that has a good time. A normal bloke who is fortunate to play golf, sometimes well."
Team player
Darren Clarke is joint second in the all-time list of most successful Ryder Cup partnerships alongside Lee Westwood, with six points from their eight matches together.
That's the knockabout stuff. His two wins at the World Golf Championships have earned him serious respect in the States, his 11 ½ points as a Ryder Cup player the same with the supporters.
Clarke's 2011 Open win, at a stage of his career when many thought the chance had gone, secured his status as a player. His appointment as Ryder Cup captain comes, by contrast, at the most opportune moment.
Europe have never before won four on the bounce. The US have never before endured such a dismal trot, winning just once this century. Revenge is planned. Clarke will savour the challenge.