Michael Hoey says Darren Clarke is 'ideal choice' to lead Europe
Last updated on .From the section Golf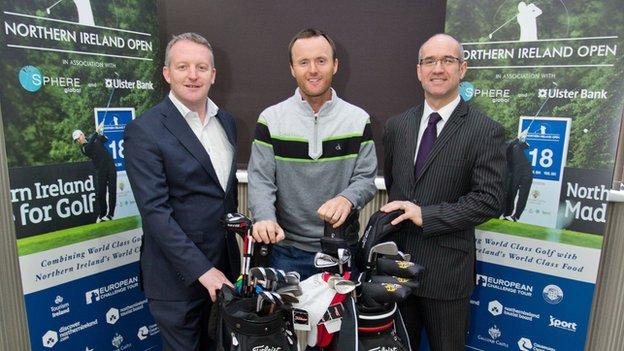 Michael Hoey believes Darren Clarke's popularity in the US makes him the ideal choice to captain Europe at next year's Ryder Cup at Hazeltine.
"My caddy Gerry has been calling him 'Mr Captain' for the past six months," said Hoey at Thursday's Northern Ireland Open sponsorship announcement.
"They really like Darren in the US and you need that at a Ryder Cup there."
Hoey added:"They like the cigars and the fact that he has a few Guinness - although maybe not as many as he used to have.
"I played with Paul McGinley in Kuala Lumpur and he said while they had had their differences over the Ryder Cup, that there were over that and it was just about getting the right person for the team."
Victorious European 2014 skipper McGinley was on the five-man committee which unanimously picked Clarke for the Hazeltine role on Wednesday.
But while the Ryder Cup captaincy has been grabbing most of the golfing headlines, there will be plenty of golf to play before that.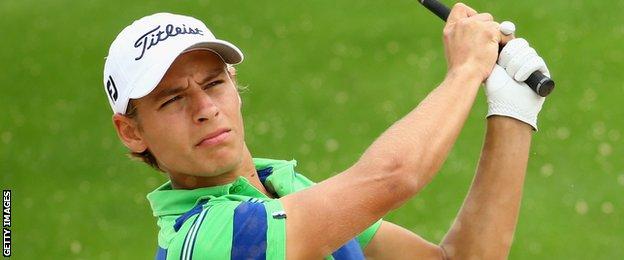 Northern Ireland Open tournament ambassador Hoey joked that his big target for this year will be to make the cut at this year's Galgorm event, which will have an earlier slot of 6-9 August.
"I will definitely make the cut this year. You can quote me on that," laughed Hoey, recalling his early exits in 2013 and last year, as the tournament figurehead role appeared to weigh heavily on his golf game.
By his nature, Hoey, who turned 36 last week, is not someone who seeks the limelight but that has been over-ridden by his determination to give something back to a sport that has been good to him.
"The date change should help the Irish guys's numbers," believes the Belfast man.
"I think Gareth Maybin will probably definitely play in it."
Last year, Johan Edfors, Ross McGowan and Kenneth Ferrie were among the European Tour winners who joined Hoey in the field while Galgorm competitor Oliver Wilson went on to win the Dunhill Links Championship in Scotland five weeks after the Ballymena event.
Sweden's Joakim Lagergren triumphed at Galgorm last year and his ability was demonstrated again at the Indian Open on Thursday as an opening 65 left him sharing the lead in the European Tour event.
Hoey was happy to put on his promotional hat on Thursday as he took on a robot designed by the Galgorm tournament's new joint-title sponsor, Campsie-based Sphere Global, in a putting challenge at the company's headquarters.
The Belfast man matched the robot's achievement on slotting one out of three 20-foot putts although Hoey took his efforts while performing his increasingly popular impersonations of Padraig Harrington and Graeme McDowell.
The county Londonderry company will be the primary backers along with the Ulster Bank who have sponsored the tournament since its inception two years ago.
"I won the pro-am at Galgorm with Sphere Global's managing director Sean McNicholl last year and I got him a few tickets for the golf when he was out in Dubai recently," added Hoey.
"He likes his golf and it takes people like that to make a difference with golf tournaments."
With no regular European Tour event taking place that week, there is a confidence that a strong field will assemble at the Ballymena venue.
The event has broken European Challenge Tour attendances record in the two years that it has been played.
In 2014, over 34,000 spectators came through the gates in 2014 to witness Lagergren pick up the £21,500 winner's cheque.
The 2013 and 2014 events were both staged in the final week of August but it was always Galgorm's intention to try and secure the earlier date.